By Paul Osakpamwan Ogbebor
TODAY….
"In my passion for enhanced military knowledge, I had in London in 1987 bought a book on the British Royal Military Academy at sandhurst: A Documentary by Michael Yardley, which I completed reading during my flight between London and Lagos. The knowledge about Sandhurst coupled with that gained during my 1971 study visit to the United States Military Academy at West Point gave me the incentive to write a book on the Nigerian Defence Academy at Kaduna." With these words, Paul Ogbebor opens his knowledge box on Nigeria's elite military academy and the Indian and British connections. The first in this two-part book serial.
Passion for military
In my passion for enhanced military knowledge, I had in London in 1987 bought a book on the British Royal Military Academy at sandhurst: A Documentary by Michael Yardley, which I completed reading during my flight between London and Lagos. The knowledge about Sandhurst coupled with that gained during my 1971 study visit to the United States Military Academy at West Point gave me the incentive to write a book on the Nigerian Defence Academy at Kaduna.
As a pioneer cadet, my aim of writing this book, therefore, is to present an eyewitness account of the birth and early development of the Academy… In writing this book, I have depended mostly on remembered events and photographs, some of which I personally took by virtue of being chairman of the Defence Academy Photography Club for the duration of Course I. Even all efforts to get photographs from members of Regular Course II were in vain. The reasons for the hiccups included the Nigeria Civil War, which broke out a few weeks after the commissioning of Course I cadets as officers with most going straight from the Academy to their formations in preparation for the commencement of the civil war.
Unfortunately, many neither ever returned alive nor ever saw their belongings. In the same vein, members of Course II were trained, commissioned and deployed under war hysteria. In addition, many of the Nigerian pioneer staff were deployed to the war-front, most of whom are now dead, while the pioneer Indian officers returned to their country. And even their replacements, after many years were replaced by Nigerian officers, who themselves trained in the Academy. No proper records were really passed along from generation to generation in the Academy. The same could be the bane of any institution with no regard for proper records.
Despite the missing links, thanks to God that I, as a pioneer cadet who started and saw the Academy develop in the first four years, am alive to pass on my eye witness accounts which I documented in this book. I have endeavoured to capture the uncertainty which characterized the commencement of the Academy as a project. This is evident in our reporting to commence training on 20th January 1964 while the institution was officially inaugurated in March 1964; neither having the requisite academic staff for as much as 40 per cent of the period nor having a full compliment of military staff.
This being the reason no members of Courses I and 11 were commissioned into the Air Force. However, the requisite officers came on adhoc basis to teach the core subjects. The most, vivid evidence was that further intakes were not made until 1966 when only 22 members of Course II joined the Academy when Course I was already in their third year. Thus, the question whether or not the Academy could be sustained was apt. Gladly, the fear of the unknown never affected the cadets resolve to work very hard, to complete the course and be commissioned as Regular Combatant Officers.
Although, the 61-member cadets· of Course I came from all across local government areas, provinces and the then four regions of Nigeria, in spite of the cadets varied cultural, linguistic and religious backgrounds, we involuntarily and perfectly harmonized; resulting in the Academy's production of world class regular combatant military officers as our only goal… We also performed creditably well in other aspects of our military studies, which earned us commission into the Army and Navy on 17th March 1967. Above all, we also achieved excellence in other endeavours, including sports. We never failed to carry on the military tradition of "work hard and play hard."
The Great Quest
MRS. ASEMOTA who was a co-teacher at Our Lady of Lourdes Catholic Girls Secondary Modern School in Benin City met me in June 1964 and asked where I was that I did not resume with them at school. I told her that I was then a cadet at the Nigerian Defence Academy, Kaduna. Mrs. Asemota exclaimed and queried that she thought I had a secondary school education. And if so, what then was I doing in the Army.
My family also had the same disappointment at the time they realized that I was in the Nigerian Defence Academy and not in Ahmadu Bello University, Zaria to study any of those preferred disciplines like Medicine, Law, etc.
The much Nigerians and especially members of my ethnic group, the Binis knew about the Armed Forces, which were then the Army and the Navy just coming up was from the legacy of the First and Second World Wars' were the soldiers who were already demobilized and were roaming the streets clad in medals. The ex-soldiers had retired to the cities; spending the little fortunes they brought from the war fronts in drinking, telling war stories endlessly and being favoured with security jobs in the colonial masters' offices.
Certainly, soldiering was regarded as a career for drop-outs, illiterates, criminals and the Godforsaken whose existence nobody cared about like the scum of the earth. With such public image of soldiering, who would blame either Mrs. Asemota or my family for being apprehensive of my choice to be a soldier after attaining a good secondary school education? The usual expectation then was for me to join the bandwagon of white-collar work force, which was in vogue.
My cousin Mr. Folorunsho David Ogbebor, now late, had served in the Burma Campaign during the Second World War. He was lucky to have been engaged as a warder in His Royal Majesty Prison Service after his demobilization.
He would come from his station, the city of Calabar, a town situated in eastern Nigeria, to Benin City to spend his annual leave with my father. He would wake up early in the morning with a cup of palm wine in one hand and a cane in the other hand; blasting out orders and drilling the children on the usual house keeping duties before going to school. He would clad himself in the olive green army uniform, which was made-up of rolled-up long-sleeves shirt and khaki knickers. He would wear a pair of big black boots and tightly wound-round putties; a black belt over the severally rolled round waist cummerbund; a wide flap hat and then adorn his chest with medals. With a big stick in one hand, he would start parading the then narrow sandy streets of Benin City visiting friends.
Uncle Folorunsho, as he was usually called, was then my idol and first contact with soldiering. Although I was only six years old, I used to sneak into his room to wear his oversize boots, shirt, the big hat, and tried to march about in them. But I dared do that only when he was not in the house or when he was asleep.
Soldiers used to come to Benin City occasionally on flag marches. They would be clad in full battle order, and march around the streets singing "Leave your father, Leave your mother and join the Army, one more river to cross, one more river, one more river, one more river to cross."
The song with the marching was like opium to me. It used to excite me so much that I would slip away from my parents and go about with the soldiers all day. Then they would retire to their camp, which was situated at the present site of Edo State Ministry of Works and Transport Headquarters in the city of Benin. There they erected and lived in olive green tarpaulin tents. While at the camp, they would move about in green vests; playing various games of football and hockey. They would sing and eat mostly canned foods including bread; appearing merry at all times. In order to become psychologically part of them, I would escape from the house and hide by the camp fence to watch, wishing I could be one of them.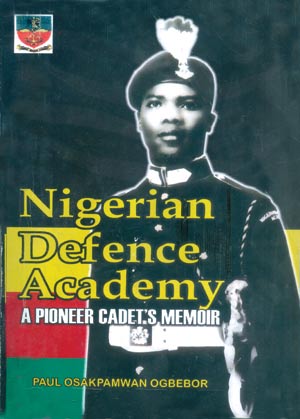 Thus, my second contact with soldiering was impressive and excitingly captivating. The memory was long lasting; resulting in my practicing soldiering at home even after the soldiers had long moved out of Benin. I still remember how I would go to a nearby cocoa farm to pluck the fresh green leaves with which I made myself the green army dress and then march and sing "Leave your parents, join the Army, one more river to cross."
I had a cousin Mr. S. I. Victor who noticed my profound interest in soldiering. He came home one day and said that if I would go on all errands he sent me, he would take me to watch a war movie at the cinema. From that minute on, I became entirely submissive to him. I washed his clothes, polished his shoes, served his meals and did whatever he wanted. Truly, he lived up to his promise when he took me to Olowu Cinema, which was the only movie theatre in Benin City, to watch a film called Battan.
Battan was a battle film of an operation in the Burma Campaign of the Second World War. In the film, the Japanese launched an attack and dislodged the allied forces from their defence positions. The Japanese were smallish and masquaradly camouflaged with tree branches and fresh green leaves. Their advances were as if the entire jungle was moving which frightened the allied forces into a disorganized withdrawal and defeat.
I was so thrilled that I escaped to watch the film a second time. But since I had no money, I pleaded with the proprietor's wife Mrs. Olowu to allow me join her children in hawking refreshments or condiments of sweets, kola nuts and cigarettes to the customers and she obliged. By that, I was able to gain free entry to watch the film.
Unfortunately for me that night, the generator supplying electricity broke down and disrupted the movie show. Thus, the fans went on rampage and I was injured in the resultant stampede.
Coincidentally, my absence from the house was noticed. On my return home, my father gave me very severe thrashing. In spite of these tragedies, the adventure has remained indelible, and in fact, a pleasant experience in my memory to date. This is mostly because the movie offered me the first opportunity of seeing soldiers in combat in a battlefield, which further triggered my interest in soldiering.
In 1960, I had gone with a classmate, Eugene Egbuniwe to spend and celebrate Nigeria's Independence at Enugu, another city situated in the eastern part of Nigeria. At 4 p.m. of the first day of October 1960, there was a military display: including a tattoo in which soldiers dressed in full battle order staged a mock battle of an attack operation during which they crawled on their stomachs and fired guns. I was so over-whelmed at seeing military manoeuvres live which were similar to the ones I had watched in that war film called 'Battan' that I unconsciously went on my stomach and crawled into the arena to share the action with the soldiers.
Unfortunately, one fierce-looking soldier picked me up. He was about to throw me over the fence when another soldier saved the situation. The Good Samaritan soldier identified with my fervent interest and asked if I would want to be a soldier, my answer was affirmative. He scribbled on a paper and told me to write an application and forward it to the address if I wanted to become a soldier.
The Enugu contact with soldiering became a turning point in my life. I could no longer contain my interest. So on returning to school at Saint Patrick's College in Asaba town, I immediately applied for enlistment into the then Royal Nigerian Army. I however got a disappointing reply when they advised that since I was already in class three, I should wait until I finished my secondary school education and obtain the West African Examination School Certificate. It was only then I could qualify to apply for consideration to become an officer in the Army.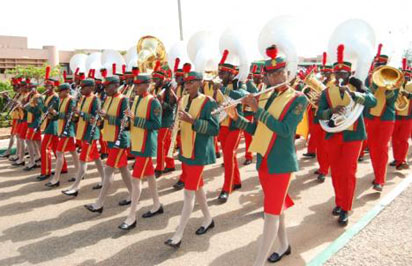 I considered the letter a disappointment because I did not understand why I should not be enlisted into the Army there and then even with my partial secondary school education. In fact, my disappointment was compounded by my ignorance of what entering the army as an officer meant. But my interest in soldiering was again rekindled when in my final year in secondary school, the Army had in reaction to my earlier application remembered to send me the form for the entrance examination into the Army.
The Examination
I studied hard and sat for the examination, which held in Ibadan township. The fun of the examination was in the general paper in which we were asked to arrange in ascending order of seniority a mixed grill of badges of ranks of the Army. I can still remember my answers on that fateful day. My arrangement in ascending order of seniority began with the rank of a major-general; followed by a major, sergeant-major, colonel, lieutenant-colonel and capping the order with the rank of a captain which I surely knew was the nomenclature for leaders and heads of any sports or outfits in a secondary school. I am sure I only passed that examination because of my very strong background in mathematics and other sciences on which we were also tested.
The military added to their feather when I was lodged and fed at the examination centre in Ibadan free of charge and then given the sum of fifteen shillings (which was then the equivalent of two United States dollars) for my transportation. However, destiny has a way of turning a disappointment into a blessing if only one is patient. This was also the case with the Nigeria Police that picked me up right from school and camped me at Ikeja Police College Lagos for sports. Consequently, by the time the Army entrance examination result in which I was successful was redirected to me from Saint Patrick's College in Asaba to Southern Police College in Ikeja, Lagos, the interview and final selection into the Army had been concluded.
As providence would have it, the then Colonel (Dr.) Austin Peters noticed me during the sports meet at the Surulere sports ground where at my tender age and size, I excelled in the 880 yards (800m) and one-mile races when I competed for the Nigeria Police Force. The Colonel invited me and queried what I was doing in the Police instead of the Army that would offer me better career prospects. When I told him how I got my result late, he immediately gave me a note to one Captain Ebo at the Army Headquarters along Marina, Lagos that was then the Capital city of Nigeria. Thus, Captain Ebo took my particulars during my visit.
With the intervention of Colonel Austin Peters who was the Director of Nigeria Army Medical Services, I got to know later, I was invited for the next Army Selection Board for Course No. 8 of the Nigeria Military Training College (NMTC) in the city of Kaduna. The interview and selection took place at Kaduna in August 1963 and lasted for one week. To the glory of God, my dream came true as I was finally selected.
The Nigeria Military Training College (NMTC), Kaduna No. 8 Course was to have started in September 1963. The initial training was to have been for four months in NMTC Kaduna after which the successful cadets were to proceed to various foreign military institutions for the detailed officers' course and commissioning. For instance, I could have been admitted into Course No. 7 if my result in the 1962 entrance examination had not come to me after the interview had ended.
TOMORROW….
Ogbebor writes on his admission into NDA, The Nigerian Armed Forces, Repositioning For A New Status, Nigerian Adoption of the Indian Experiment among other must-read revelations.