By Emma Ujah, Abuja Bureau Chief
ABUJA—Security has been beefed up at the Federal Ministry of Finance, following an alarm by the Coordinating Minister for the Economy and Minister of Finance, Dr. Ngozi Onkonjo-Iweala, that indicted oil barons were harassing her.
Former member of  House of Representatives, Mr. Dino Melaye, had led a protest to the ministry on Wednesday, over an alleged N2.7 billion contract to one Pinacle Nigeria Ltd, but the minister debunked the allegations and explained that her ministry does not award road contracts.
The minister told Vanguard on phone that "we don't  pay road contractors in the  Ministry.  Ministries that award contracts pay their contractors so anyone who says that we pay contractors is ignorant of the system.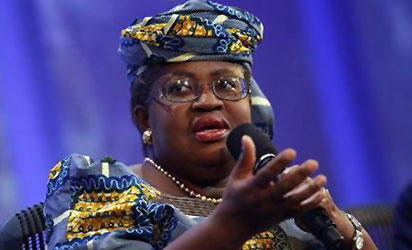 "Dino and his group are sponsored.  I have it on good authority that the demonstrators, numbering about 20 were paid N 3,000 and a T-shirt by indicted oil barons in the subsidy probe to try to harass me but they have failed.
"They are trying to intimidate me but I won't allow it.  I will not take it.  They don't want me to clean up the system as we are doing in the ministry.  You can quote me that they will not succeed in silencing me, no matter their antics."
It was learnt that some oil firms indicted in the Nuhu Ribadu report have joined forces with some of those involved in the subsidy scam and now threatening Dr. Okonjo-Iweala and those considered to be in support of the probes.
Security sources added in Abuja, yesterday, that intelligence operatives had uncovered plots to discredit members of President Goodluck  Jonathan's administration who played active roles in the various investigations.