By JACOB AJOM
The Minister of Sports and Chairman of the National Sports Commission, Mallam Bolaji Abdullahi has disclosed that the report on the one-day Presidential Retreat held inAbuja in October is ready and his ministry has already commenced implementation of the recommendations made by the working group.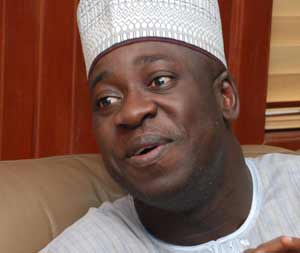 Speaking at the Eko 2012 international seminar inLagosyesterday, the minister said, "now that the report is ready, the next step is implementation; which we have already started."
The minister added that the inauguration of the board for Nigeria Academicals Sports which is saddled with the responsibility of driving sports development at the grassroots and the formation of an U-17 National Sports Festival billed fort next year were part of the recom-mendations from the retreat. "It is wrong when people say we are not doing anything after the retreat."
He said that the organising committee for the U-17 National sports festival will be constituted after Eko 2012 sports festival. "It will give the kids an opportunity to compete at that level," the minister said.
He also informed that all hands were on deck to ensure theNigeriaPremier League season begins before the end of the year.
"The Nigeria Football Federation, the NPL and the Sports Commission are all working to ensure everything works out fine. We are confident that everything relating to the league is settled and the season begins as soon as possible."
On the seminar put together by the organising committee for Eko 2012, the minister said, "we are confident thatLagoswill do well. With what they have done so far, it shows that they are already beginning to think ahead