LAGOS (AFP) – Nigerian oil production will fall by 40 percent by 2020 without new investments crude producer, a top Exxon official said Friday while arguing against proposed changes in the industry.
Mark Ward, head of ExxonMobil's Nigeria unit as well as chairman of an association of oil majors operating in the country, reiterated petroleum industry criticism of proposed increases in taxes and royalties.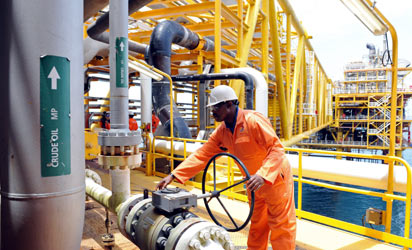 The proposals are part of a planned sweeping overhaul of Nigeria's oil industry that has been delayed for years and which is currently before parliament. It would also include a restructuring of state oil firm NNPC.
Ward said the current legislation included fiscal terms that were too harsh and would block investment.
Uncertainty over whether the overhaul will be approved and in what form has already caused an investment slowdown in a nation that relies on the industry for more than two-thirds of government revenue and nearly all export earnings.
"It would be good to have a good (law) passed so there is clarity and there is certainty on the investment climate, the fiscal terms as well as the restructuring," Ward told a gathering of industry figures in the economic capital Lagos.
"However, if what we see today is passed without significant changes, it will cause just the opposite: investment will dry up …"
Citing industry estimates, he said Nigeria's production will decline by 40 percent by 2020 without new investments. The country is currently producing between 2.0 and 2.5 million barrels of oil per day.
"Or it could potentially grow as much as 50 percent within the same period of time with the investments planned of about $100 billion over that period," he said, speaking of the industry as a whole.
Oil Minister Diezani Alison-Madueke has described the bill as fair to the government, oil firms and Nigerians, who have long pushed for a fairer shake from an industry that has left the country's Niger Delta region badly polluted.
As the legislation currently stands, the industry would pay more in royalties and taxes, though there is dispute over precisely how much.
At the same time, anti-corruption activists say the bill does not do nearly enough to bring meaningful transparency to the industry, which is widely seen as awash with corruption in Africa's most populous nation.
Ward noted that new production in various regions of Africa meant Nigeria must work to maintain its leading position.
He also pointed out some of the difficulties in doing business in Nigeria.
Ward said Exxon's experience showed that seeing a major contract through in Angola, Africa's second-largest producer, took about six months. In Nigeria, a simple contract could take three to four years, while a more complicated one could take five to six years, he said.