Dr. Doyin Okupe is a familiar face in the Presidency, having worked as the Special Adviser on Media and Publicity to former President Olusegun Obasanjo before being tapped by President Goodluck Jonathan early this year to handle some very critical and image-related issues for him and the administration.
Although his appointment was greeted with opposition particularly from his South-West home base, he has so far deftly managed to overcome the initial furore and given President Goodluck Jonathan some image mileage and put the opposition on their toes.
 Okupe has stoutly defended his boss and the seat of power, insisting that Nigerians are yet to see the best of Mr. President, given the numerous projects and programmes he claims are yet to mature.
In this interview, he speaks passionately about what Mr. President is doing to move Nigeria forward and why Nigerians should have faith in his transformation agenda. Okupe says Jonathan is more concerned with fixing Nigeria than thinking about 2015, which he says will be determined by God and Nigerians. Excerpts:
You have claimed that President Jonathan would emerge as the most loved Nigerian President at the end of his tenure. Given the problems on ground how could this happen?
The President himself has said that in public and private. Look, let me tell you that as an insider I also know what he has been doing since he took over as President of Nigeria. I am very certain in my mind that Nigerians are going to applaud him and even if he does not want to run for election, Nigerians are going to force him to run again because of the level of performance.
I am also aware of what he is doing with infrastructure and roads. I have confidence that he is going to achieve success. It is also becoming obvious that with the passage of time, the issues of insecurity will also be brought under control. He will succeed in that direction too. The economy is also being prudently managed by the best set of people that Africa can put together. And indices are already coming out in our favour. Various international agencies and fora are commending Nigeria for its transformation agenda and management of its economy.  When the economy is put right and power and infrastructure are in place, I am certain, Nigerians will come to appreciate the extent of work that this man has been doing silently since he came on board.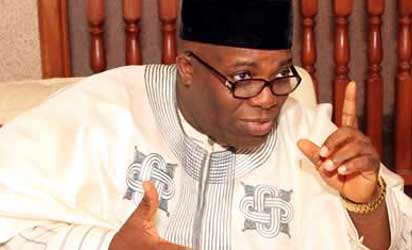 Do you think that President Jonathan can achieve all these within the lifespan of his first term?
Let me tell you, the President is not a showman, not a theatrical man, who wants to play to the gallery. This president does not talk but acts. This president I know. I hope I am not overstepping my bounds. Jonathan has given himself a deadline of 2013-2014 to deliver. I am sure most of these things would be done and Nigerians would come to see the level of his seriousness and sincerity.
Is that why he signed Performance contract with ministers?
Of course, the contract is to keep every minister on their toes and to enable the President to judge them objectively. If he asks anyone to go, it does two things: it makes people who are serious-minded to sit down and get their jobs done and also convinces those who are not doing well to know why they should not complain if they are shoved aside.
Nigerians are not convinced about the sincerity of this government to tackle graft. Do you believe the government is serious about the issue?
Nigerians are just generally frustrated and fed up with government because of past failures. Nigerians have become very cynical and skeptical about government because of past failures. But I want Nigerians not to judge Jonathan by the failures of the past.
This is a sincere person untainted by the politics of the past and an innocent politician not deeply entrenched in the principalities that have ruled us. Nigerians must be careful in criticizing him. There is no justification to chastise this administration where the issue of corruption is concerned. It was this government that started the subsidy probe before it was taken over by the National Assembly.
They may not take him serious about fighting corruption because he declared that he did not give a damn when he was asked to publicly declare his assets.
No, that is not what he meant. It was taken by people totally out of context.  He meant that he had declared his assets before and that there was no need to make him to do the same all over again. He meant that he had complied with the provisions of the law. That was the literary meaning of what the President said.
Are you happy doing this work for Mr. President given the spate of direct and indirect attacks and criticisms leveled against you by many Nigerians?
You know what? I was not forced to take up this job. Even before I took up this job I was acting outside government in a similar capacity. So it is something that I have decided to do as a choice and I am an experienced person and I am not doing this thing for popularity.
I am doing the job because I have a deep conviction about Goodluck Jonathan and since I came in, the conviction has even more than tripled because I have seen the amount of work, commitment and the fairness of mind by him to do well for the country. This president from what I have seen does not have the capacity to do evil.
I have never seen that from a political leader. He has no capacity to do evil. None! Even under provocation, he just lets it go and faces what he has to do. And it is amazing and that encourages us to follow him all the way. I believe in a leader ruling with the fear of God and I have found in this man a man that fears God. And that is why he is going to overcome all opposition in the land.
Are you therefore convinced he will win the 2015 Presidential election, if he decides to run given that he had promised to do only one term?
I am not aware of when he said he would run for only one term. Only God and the people of Nigeria will decide what will happen in 2015. But I think what is uppermost in the President's mind is to solve the basic needs of Nigerians by improving power, infrastructure, roads and check insecurity in the land.
When he achieves all these, Nigerians will decide what to do with him. In fact, when we get to the bridge we will learn how to cross it. That is what I can say about 2015 for now.