By Omoh Gabriel
Aso Rock, the seat of federal government, has become a fortress of all sorts. There, you have political power, position, influence and dishing out of largess to the favoured. One of the easiest ways of dishing out largess in Nigeria is through contract award. Food for instance can be supplied by anybody; so to help the girls who are close to the power that be, fruits and other food ingredients are supplied on contract.
This is why the government can afford to vote N1.3 billion for feeding and refreshment at the seat of power. In a country where there is mass unemployment of the nation's youth, poor infrastructure, irregular power supply, the federal government can afford to vote that huge sum for entertainment.
The question is for whom? Most of the civil servants, government functionaries and political office holders are paid salaries. Their monthly take home package already has provision for entertainment allowance.  In a period of economic difficulties, it is expected of leaders and citizenry to make sacrifice by forgoing certain privileges to move the economy forward. Nigerian leaders are known to ask citizens to make sacrifice without doing the same.
The arrogance of federal civil servants makes it look as if they have conquered the rest of us and must lord over us. How can a handful of people in government spend this much, yet the Permanent Secretary in the State House, Mr Emmanuel Ogbile, will come out in the open to say that the N1.3 billion budgeted for refreshment, meals and other miscellaneous expenses in the 2013 budget is inadequate?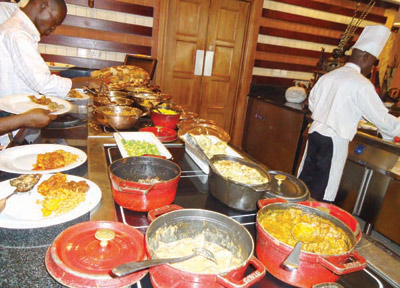 Ogbile was quoted as saying this in Abuja on Tuesday while defending the State House's 2013 budget estimates before the Senate Committee on Federal Character and Inter-Governmental Affairs. The total budget estimate for the State House in 2013 is N14.715 billion.
Ogbile explained that out of the N1.3 billion, "the Federal Executive Council (FEC) holds every Wednesday and we take care of them through this budget". Take care of them how? Give them citing allowance or feed them? Have they no food at home? Don't they eat before coming to meetings?
Mr. President, can't these ministers and others participating in the meeting go on break, eat their own food and return to the meeting? How long can we continue with a few Nigerians milking the nation blind? If this amount is properly utilized, will it not take some youths out of the nation's street?
Nigerians can now see why politics in Nigeria is a matter of life and death because once elected, it is bye to poverty for the occupant of the position and his entire siblings because they come to live in government quarters and eat free food, free transport, in fact, free every thing.
Imagine Ogbile saying "I have taken pains to explain that this money is not just to fund the residence of the President and that of the Vice President. The experience I have had is that this fund is grossly insufficient. It's not even enough." He listed other expenses that were taken care of in the refreshment and meals vote to include National Economic Council, Council of States, Presidential retreats, National Merit Award, Children's Day, and hosting of dignitaries.
A breakdown of miscellaneous expenses in the presidential budget showed that N203.7 million was allocated for refreshment and meals, N107.4 million for honorarium and sitting allowance, while N37.27 million was budgeted for publicity and advertisement.
Others include: medical expenses of N50.3 million; postage and courier services, N10.03 million; welfare packages, N195.06 million; subscription to professional bodies, N4.58million, as well as sporting activities, N32.9 million. Meanwhile, feeding of animals, including animal supplements for the veterinary clinic had N30.58 million.
Are we surprised that we are the way we are? That the economy has not moved as fast as desired is because of the fact that in Nigeria's budgeting system, there is no value for money. All that we do is put figures together; so long as it satisfies the desire of those in position of authority that is all that matters.
It is time this government faces reality and does away with provisions in the budget that add no value to the ordinary Nigerians. Those in government are not the only people that are entitled to enjoy the wealth of this nation. All Nigerians are.
In a situation where about 70 percent of the population is officially said to be poor and live under $1.5 dollar a day, it is share madness for government to spend huge amount feeding themselves at meetings when the rest of the citizenry are hungry and dying of starvation.