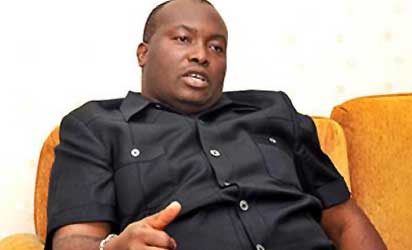 Ifeanyi Uba
BY CLIFFORD NDUJIHE, Deputy Political Editor
THIS is certainly not the best of times for Managing Director of Capital Oil and Gas Industries Ltd, Mr. Ifeanyi Uba.
Few weeks after quietly marking his 41st birthday unlike the society-shaking bash he had in 2011, the Anambra-born businessman is facing challenges from many quarters.
He is still smarting from a 10-day detention following his October 9 arrest by the Special Fraud Unit, Milverton Ikoyi, over the alleged involvement of his companies in N42.291 fuel subsidy scam. Uba also has a stormy matter to trash out with the President of Coscharis Group, Dr. Cosmas Maduka, who has vowed to recover the $164 million or N26.24 billion the oil merchant allegedly owes him for a botched oil deal.
The Central Bank of Nigeria (CBN) listed his company as one of the 113 corporate organizations heavily indebted to banks. The debt profile of Capital Oil is said to be in the region of N48.014 billion, which AMCON said it had "restructured and awaiting performance."
At home in Anambra, Uba also has to contend with a horde of political opponents who are said to be ready to battle him to a standstill over his rumoured 2014 governorship ambition and perceived affinity with the National Chairman of the All Progressives Grand Alliance, APGA, Chief Victor Umeh. A section of APGA backed by the Anambra State Government is said to favour Anambra North, which has never produced the governor, to produce the helmsman in 2014. Uba is from Nnewi in Anambra South.
Indictment by panel
Uba's company was indicted by the Aigboje Aig-Imoukhuede-led 15-man presidential panel constituted by President Goodluck Jonathan to verify and reconcile the findings of the report of an earlier investigation panel set up by the Ministry of Finance on fuel subsidy payments valued at over N2 trillion.
Capital Oil and Gas was said to be culpable for fraudulently obtaining N42.291 billion from the Federal Government by falsely pretending that it imported and sold 538.7 million litres of petroleum during the 2011 fiscal year through 26 transactions.
Set up on July 5, the Aigboje Aig-Imoukhuede-led panel, which submitted its report on July 24, indicted Uba's company and 20 other oil marketing and trading firms for fraudulent activities to the tune of N382 billion. It recommended that the indicted firms should be prosecuted
In the beginning
Until September 3, 2011, when he marked his 40th birthday with fanfare, Uba, arguably was not on the spotlight. He 'quietly' went about building his business empire, philanthropy and making some meaningful contributions in employment generation with the establishment of his oil marketing firm.
His Capital Oil played a notable role in kerosene distribution at a time the cooking fuel was most needed in many homes via his nationwide Kero-Direct scheme. Aside giving direct employment to many Nigerians, Uba had about 5,000 beneficiaries in his scholarship scheme and two million widows in his poverty alleviation scheme.
On firing range
However, for electing to mark his 40th birthday with pomp during which over 100 pages of adverts worth millions of Naira were published by Nigerian newspapers, Uba inadvertently set tongues wagging and before long, he became a marked man.
His travails
Following Aig-Imoukhuede's committee's recommendations, Uba was arrested on October 9 and later taken to court. Efforts to bail him, on self recognition, hit the brick wall and he was remanded in prison custody on the order of Magistrate Martins Owumi of the Lagos State Magistrate's Court.
The order was sequel to an affidavit in support of an application for remand sworn to by Chief Superintendent of Police, Francis A. Idu and filed before the court. He could only secure his bail 10 days after and the matter is still pending in court.
Kinsmen pick holes in Uba's incarceration
However Uba's ordeal is not going without challenge from his kinsmen. Given that 21 oil firms were indicted, some Anambra citizens wondered why Uba was singled out for prosecution.
Indeed, Anambra Generation Next (AGN), a group of young professionals of Anambra State, said political battle for Anambra in 2014 might not be divorced from the issue.
Urging politicians in the state to eschew politics of bitterness, acrimony and vendetta and pursue noble causes that would engender peace, unity and development in the state, the group, in a statement by its Secretary-General, Mr. Obiajulu Nwosu, said it was appalled by the campaign of calumny being orchestrated by a son of the state against Ifeanyi Uba.
"Making unprintable allegations against his brother on national TV is only a throwback to the crude and dirty politics that have bedeviled Anambra State in recent years and have continued to cast it in an inglorious light.
While we believe and also advocate that every business deal and agreements must be transparent and fair, we also know that disagreement do exist in some business transactions, in such cases the judiciary comes to play as an arbiter in ironing out any grey areas of the business and also render justice.
That is the civil thing to do rather than resort to convicting a business partner in the media," it said, adding that "followers of Anambra State politics know that the current challenges against Chief Uba is not unconnected with his taunted political ambition in the state and the current crisis in the leadership of the ruling party in the state, the All Progressives Grand Alliance, APGA."
The AGN said "the obvious close relationship" between Umeh and Uba "is the root of the current onslaught against him because of the erroneous belief in some quarters that he is the one funding Umeh in the battle of supremacy with the other faction of the party. For this reason he has become a target of countless media attacks.
In the interest of the overall good image of our dear state we call on all politicians in the state to be more civil in the pursuit of their respective political goals and allow the Anambra electorate to decide the political fate of every aspirant in the state."
In like manner, Uba's kinsmen from his native Nnewi community and a non-governmental organization under the aegis of the Anambra Peoples' Movement (APM) have decried the manner the business man was arrested and detained. They accused some unnamed top officials of the Federal Government of working hands-in-glove with security agencies in an attempt to tarnish the image of the oil magnate.
APM Leader, Chief Tempest Udenze, said the way Uba was had raised more questions than answers: "One of which is whether Capital Oil and Gas Ltd, a duly established corporate entity that has legal rights to sue and be sued is no longer so? Why wouldn't the relevant federal agencies follow this simple time-tested path of our laws?"
He continued: "In as much as our organization is not favourably disposed to any form of fraud whatsoever, we wish to state in very clear language that selective justice is no justice at all. Such is unconstitutional, unfair and unacceptable to all good conscience.
If the Federal Government, as it were, is sincere in its motive, they should go for the main culprits that are well known to all as earlier published. Or is it true they have paid their ways out as usual, and set the attack dogs after a young Nigerian who dared into/do well in a sector that had remained exclusive preserve of some pseudo gods.
Else, why single out Ifeanyi Uba alone? If he is indebted to anyone, let legal debt recovery methods be used instead of a jackboot hands-in-gloves format"
The group noted that Uba's travails appeared to have started the moment he announced his interest in the politics of Anambra and warned that "the person who shall occupy the Awka Government House come March 17, 2014 will never be imposed on us from Abuja, Lagos or by any cabal, but must be a popularly elected candidate of the people."