LONDON (AFP) – Rafael Benitez admitted his Chelsea side were in need of a confidence boost after successive scoreless draws in the new manager's opening two Premier games in charge.
Benitez's men were held by Fulham in the Premier League at Stamford Bridge on Wednesday, four days after the draw with champions Manchester City.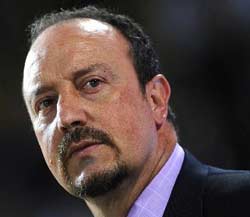 And the Spaniard admitted that marked a disappointing start to his time with the west London club, where he has been appointed as interim manager until the end of the season.
Benitez insisted there were positives from the Fulham stalemate but he added: "You cannot be satisfied when you haven't won these games.
"City are a top side, a team with a lot of options. "Today (against Fulham) I saw a lot of positive things, sustaining the attacks and regaining the ball very high. I didn't like the two chances we gave away on the counter-attack, and when we didn't move the ball too quickly, but it's a question of time.
"We've only had a few training sessions. We need more time.
"The main thing is to win games. If we do we'll be there and we can win competitions. We need to start doing that and the confidence will come back."
Chelsea have now gone six league games without a win and their problems in front of goal against Fulham were reflected in another frustrating performance from Fernando Torres.
The forward, who flourished under Benitez at Liverpool, had few opportunities and has now failed to score in almost 11 hours of Premier League action, a run the new Chelsea boss also put down to a lack of confidence.
"It's a question of confidence," Benitez explained. "He's not scoring goals, so it's confidence. But it's not easy when you're playing against lots of defenders. You could see how they defended against him.
But it's not just a case of Fernando… You saw how they defended with a lot of bodies there. It wasn't easy for him, or Hazard or Oscar.
"We were on top of them, regaining the game higher up the pitch, and might have won it in the last minute."
Chelsea have now slipped seven points behind league leaders Manchester United but Benitez insisted the European champions remain in the domestic title race.
"It's still a long way to go," he said. "We have to keep going. We'll have chances. Remember last season when City were ahead and it was easy. Then they needed to win their last game.
"It's a long, long competition. Why can't we (win the league)?"
The Chelsea supporters were less vocal in their criticism of the appointment of Benitez on Wednesday than they had been last weeked and the new man at the helm was adamant his players remain unaffected by the tensions between fans and manager.
"If you talk with them, and we do all the time, they're quite happy with the things we're trying to achieve. It's a question of time now.".
Fulham manager Martin Jol believed Dimitar Berbatov was the stand-out player and that his side could easily have claimed all three points in this derby.
"At 80 minutes we had two possibilities to 'make it'," Jol said. "I'm not disappointed to only get a draw away from home, but disappointed we didn't make more of those chances.
"Berbatov was almost unplayable and linked our play, and we had a few chances. After the game everyone said Berbatov was fantastic, and he was, but the other players worked every so hard.
And the Dutchman added: "I knew we are a difficult team for them to play against. If you keep a clean sheet… they have to take initiative, and we could break them time after time."