By Simon Ebegbulem, Benin City
As Governor Adams Oshiomhole of Edo State is set to commence his second journey as Governor of Edo state, the Congress for Progressive Change (CPC) in Edo state and other stakeholders, have called on the people of the state to come out enmasse on Monday, 12 November, 2012 to usher in the Comrade Governor to his second term in office.
It would be recalled that the Governor was sworn in as Governor of the state in 2008, after the Appeal Court declared him the authentic winner of the April 14, 2007 governorship election in the state which he contested with the Prof.Osarhiemen Osunbor of the Peoples Democratic Party (PDP).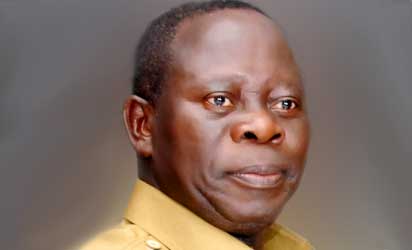 The people of  the state unanimously expressed their appreciation to his developmental strides by voting him back to office in the July 14, 2012 governorship election where he defeated the PDP candidate, Gen. Charles Airhiavbere with a large margin.
Though the election issue is before the governorship tribunal in the state,  the out come seems to be favouring the Comrade Governor after the tribunal struck out the aspect of Airhiavbere's petition that had to do with the educational qualification of Oshiomhole. The tribunal described the petition as a pre-election matter and declared that it lacked the jurisdiction to hear the matter.
However, Airhiavbere appealed the judgment but the general view is that the appeal may not hold water at the Appeal Court since the issue of educational qualification is always handled by a high Court and not an election tribunal.
However, Oshiomhole who has remained undaunted with Airhiavbere's petition, kicked off activities to mark his second coming in a very colorful style, with the presentation of the 2013 budget proposal to the state House of Assembly last Thursday.
The ground finale of the occasion will be held at Samuel Ogbemudia Stadium on Monday Nov 12, 2012 and its expected to attract dignitaries from different parts of the country and abroad.
In the budget tagged "Taking Edo State to the Next Level", capital project got priority with 60 per cent while recurrent 40 per cent, an indication that his second term will continue on his developmental projects.
He submitted the budget proposal of N150,045,377,060 billion to the State House of Assembly for consideration with capital expenditure taking 60% of the budget. According to the Governor, "the 2013 budget proposal is geared towards lifting our state to the next level of development beyond the steady and sustainable progress we have made in the last four years.
The 2013 budget is not only targeted at the completion of ongoing infrastructural projects but  at accelerating the growth and development of the state".
The Governor disclosed that the sum of N87,409,475,855 billion representing 60% is being proposed as capital expenditure while the proposed Recurrent Expenditure is N62,637,901,205 billion which represents approximately 40% of the budget, adding "we are sustaining the tradition of putting more funds into the capital expenditure."
In the sectoral allocations, Works is to take the lion share of the Capital expenditure followed by Education. Oshiomhole said: "the proposed N87.40 billion capital project will be allocated to the following priority areas:  Works (road) N33.35 billion, Education N14.44 billion; Drainage and Sewage Environmental Protection N13.29 billion, Health, N2.80 billion and Water N1 billion."
According to him, "the budget allocates the sum of N33,351,000,000 billion for all road infrastructure across the state.  This will be used to complete ongoing inter and intra-city road projects in addition to funding new road projects".
The sum of N13,293,000,000 billion is allocated to Flood and Erosion Control and Environmental Protection, N8 billion allocated for the execution of projects under the Benin City Storm Water Masterplan while education has N14.6 billion capital and N12.1 billion recurrent expenditure.
The Governor said the sum of N6.78 allocated to  Health has N2.8 billion for capital expenditure.In the area of electricity, the Governor said "in the 2013 fiscal year, it is the intention of government to complete on-going rural projects, embark on new ones and procure more transformers and feeder pillars.  Therefore, government has proposed the sum of N765 million for the 2013 fiscal year".
The Agriculture and water Sub-section got N400 million and N1 billion respectively. Oshiomhole said: "the essence of taking Edo State to the next level is hinged on the concept of carrying out institutional reforms to guarantee and sustain irreversible development", thanking the Speaker and members of the Assembly for their co-operation.
On funding the budget, Governor Oshiomhole said the sum of N116,499,778,045 billion is proposed as recurrent revenue with N86.51 billion as statutory receipts and N26.97 billion Internally Generated Revenue.
He said projected Capital receipts amounts to N64,341,876,840:00 billion while a projected deficit of N23,065,599,915 billion is to be funded through the World Bank Budget Support Facility and additional credit lines.
Responding, the Speaker of the State House of Assembly, Hon.  Uyi Igbe assured that the budget would be given speedy consideration. While he kick starts his second term in grand style, some leaders of the state who spoke with Saturday Vanguard, expressed their confidence that Oshiomhole's second coming in office will better than his first term.
According to a statement signed by the state chairman of the CPC, Comrade Godwin Erhahon, "the popular re-election of Oshiomhole is in appreciation of his unprecedented developmental achievements and a demonstration of love of good governance and productive rule by Edo people.
We pray for the success and sanity of the inauguration on Monday. We advise Oshiomhole to remain focused and dutiful as his achievement remains a great inspiration to the under privileged who are now confident that if Oshiomhole could make it without early parental sponsorship, they too can make it.
CPC believes that the fact that Oshiomhole's first and second term, inaugurations in 2008 and 2012 happened contemporaneously with that of President Obama of America is no mere coincidence but God's design to direct Edo politicians towards imbibing the patriotism of their American counterparts who consider the state above selves and play politics without bitterness, with losers congratulating winners immediately results are announced".
Speaking ahead of the inauguration, first civilian governor of Edo state, Chief John Odigie Oyegun, asserted that "I don't have that fear that he may not perform this time around because I am lucky to be close to him and I share his vision. He is not the type of man that leaves things unfinished.
He has an eye on history and he will want to be remembered for being the architect of modern Edo state. All he needs to do is to follow up on what he has started because the foundation has already been laid. He is not that type of person who will come and start stealing or acquiring wealth, no.
And the way I look at him, he is somebody that Nigerians will call up tomorrow. He has made a name and people are watching him and assessing him. He is a world figure and he recognizes that. There is no fear at all that the best is yet to come and Edo people will benefit from his vision for our state".
On his part, former Deputy Governor of the state, Rev Peter Obadan, admonished the Governor to look at institutional building. "He should look at the structures that will carry development beyond his time. The roads he has built, the schools, how can these projects be sustained.
So these are areas he needs to look up to because I know he is going to bring in more projects. The schools he has built, do they have fine laboratories? He may have to look at the content of education and secondary school laboratories.
We love his reforms in both the health and educational sectors and it should be sustained. He has been consistent in executing his programes and I expect a continuity of that. I also expect him to look at the issues that will enhance the economic growth of the state.
"He's been able to maintain a high level of security in the state and I expect an improvement in that direction. He should continue on the part of greatness. I do expect him to complete the projects he has started and if possible take on new projects because they are capital intensive" he stated.
Obadan added that "I will advise that in picking his cabinet he should pick experience people, he should ensure that he is not pressurized into picking sycophants.
He should pick those who will assist him in achieving a set objective. No tree makes a forest so he should pick trusted lieutenants that will help him achieve his dreams. He must be very careful in picking his working men.
I think he should ensure that citizens from Edo state who are in the business world are attracted to the state to invest because we have our people out there and they should be encouraged. Much is expected from him this time around and that is why he got that support during the election.
Oshiomhole is not in that class of leaders who will fail to perform in their second tenures because even in the set objectives which we are privy to, to the ordinary man it is insurmountable but he is a man that believes he can achieve those goals which will transform Edo state and he wants to leave a name behind. He is not going to draw back in terms of project execution in the state.
I think he is rather going to improve on what he has achieved, he want to leave a mark. He said he will excel more than what his great predecessors have achieved. I believe he will do well and do great".
Commenting also, a chieftain of the ACN, Elder Sunny Uyigue, expressed hope too. "We are full of hopes. People have seen what he did in his first term and we are very optimistic that he will do better in his second term.
He is going to transform the state. After he must have finished the person taking over after him will find it difficult to fit into his shoes. He is highly progressive in his ideas. But he should also look at all the bike riders driven from other states that are now in Edo state.
Benin is now their dumping ground because instead of them helping the economy of the state they constitute nuisance. He should look at their activities because some of them are thieves. God will bless him in his effort to sanitize the school system. He should not relent he should do more.