BY PETER EGWUATU
LAGOS — THE Asset Management Corporation of Nigeria, AMCON, weekend, said its intervention in the banking sector saved 90 per cent of employees that would have lost their jobs in the banking sector.
The corporation also decried the adoption of due process and bureaucratic process of getting things done in Nigeria, saying: "Despite the implementation of massive bureaucracy, corruption has not declined in the country."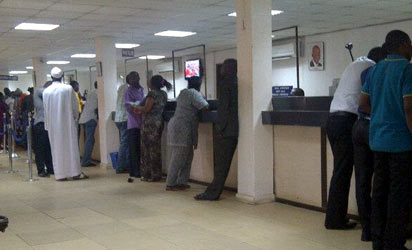 Managing Director, AMCON, Mr. Mustapher Chike-Obi, who stated this at the second Investors' Forum organised by FBN Capital in Lagos, said: "Do we need all the bureaucracy to get our things done better? We should be result oriented. We must build roads whether with or without due process. We don't have good roads in Nigeria."
On AMCON's intervention in the banking sector, he, said: "People thought we came to take over the banks, not knowing we intervened to prevent Nigerian banks from collapsing and helping depositors from losing their money. Also, our intervention helped 90 per cent of the employees in the banking sector from losing their jobs because these banks were in serious negative balance sheet. What we have accomplished now is to take their balance sheet to zero position."
Faults regulatory agency over fixing of tariff
While commenting on power, Chike-Obi, said: " I have been asking everybody who knows about power why we have a regulatory agency that set tariff for Nigerian power? It seems to me that in Nigeria today over 90 per cent of electricity is not regulated. It is not even generated and since diesel is unregulated, that means the power is largely unregulated in terms of tariff.
"Nigeria also seems to me to be one place in the world where you do not need an electricity tariff because if the tariff gets too high people can switch back to their generators and there is a corrective mechanism from too high energy prices.
"I bring this up because I look at all the preferred bidders or winners in Gencos and Discos and it struck me that I did not see a single one of them with genuine international financial partners. They all have good technical partners and they all have plans to raise money from Nigerian banks but I wonder looking at the quantum of money needed in the power sector, if the quantum of money can be raised locally without genuine international financial help.
"That is the question I do ask and am really concerned about it because power is very essential for this country. We need to know whether we should be setting types or be encouraging people that can generate, transmit and distribute power and then charge whatever they like because only in that I believe personally that we can get what is required."
On how things are done in Nigeria, Chike-Obi said:  " When I came back to Nigeria from USA where I lived for many years, I was told  this is how we do things  and that I need to follow due process. This is how we do things and all that. Don't bring your American attitude. We have to follow due process and transparency is the kind of word they use and all that.
"I used to tell them but these ways of doing things have not worked for this country. We have a massive bureaucracy called the Bureau of Public Procurement. You have to go through many things before you satisfy them. But do we need to go through all these things before we get things right? Our people are not concerned about results. This process of doing things has not helped us in many ways. It must be changed and we must be conscious of results Some Nigerians are not concerned about results. All they want is due process that does not produce any result and corruption keeps rising.
" At AMCON, we need brand new computers which will cost $12 million and I was told we need to advertise to do this and that  and it took us two years to get the computers because of due process. This is not good for this country."