By Ikechukwu Nnochiri
ABUJA — Embattled erstwhile Governor of Bayelsa State, Chief Timipre Sylva, yesterday, begged the Abuja Division of the FederaL High Court to quash the six-count criminal charge preferred against him by the Economic and Financial Crimes Commission, EFCC.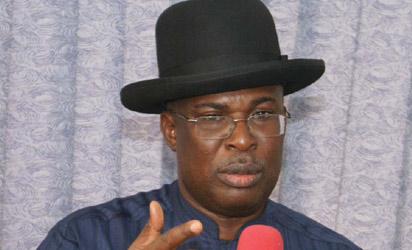 The anti-graft agency had alleged that he masterminded the illegal diversion of funds totalling about N6.5 billion from the Bayelsa State treasury while he was in power.
Specifically, EFCC maintained that the fraud was perpetuated between October 2009 and February 2010.
It alleged that Sylva connived with others at large to loot the funds, noting that the crime was perfected under the false pretence that the monies were used to argument the salaries of civil servants in Bayelsa State.
The offence he allegedly committed which bothers on conspiracy, money laundering and obtaining by false pretence, is contrary to section 1(1)(b) of the Advance Fee Fraud and other Fraud Related Offences Act, 2004, as well as section 14(1) of the Money Laundering (Prohibition Act) 2004.
According to EFCC, it is punishable under section 1(3) of the Advance Fee Fraud and other Fraud Related Offences Act, 2004.
However, Sylva yesterday challenged the jurisdiction of the court to try him over the alleged offence, insisting that going by the proof of evidence before the court, there is no prima-facie nexus linking him to the alleged fraud.
Though the court earlier slated, yesterday, to commence full-blown trial on the matter, nevertheless, owing to the application for quash, trial Justice Adamu Bello adjourned the case till January 15, 2013, to enable the EFCC to respond to the application.
EFCC had through the charge it filed on February 24, accused Sylva of stealing, just as it identified three persons whose bank accounts it said were used as conduits pipes for alleged illicit transfer of funds secured through loan from Union Bank Plc in the name of the Bayelsa State Government.
Names of the said accomplices were given as Habibu Sani Maigidia, a Bureau De Change Operator with Account No. 221433478108, in Fin Bank, Plc, Enson Benmer Limited with Account No. 6152030001946, in First Bank, Plc and one John Daukoru with Account No. 04800250000418, in United Bank for Africa Plc.