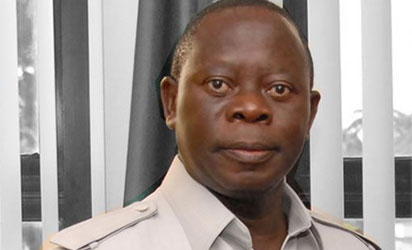 Gov Oshiomhole
BY SIMON EBEGBULEM
BENIN—GOVERNOR Adams Oshiomhole of Edo State has approved the removal of the Permanent Secretary in the Ministry of Culture and Tourism, Mrs Caro Edo-Osagie, from office with immediate effect for alleged dereliction of duty.
In a statement by the Commissioner for Information, Mr. Louis Odion, the former Permanent Secretary was directed to hand over all government's property in her care to her immediate subordinate within 24 hours.
In continuation of the on-going sanitisation of the state education sector, Governor Oshiomhole, yesterday, announced the removal of 41 Zonal Inspectors and Chief Inspectors of Education and Local Government Education Officers over alleged non-performance and negligence of duty.
The decision, according to him, is the outcome of a continuing performance audit. Also, the governor announced the demotion of the Vice Principal of New Era College, Mr. S. E. Akhabue, from Grade Level 15 to Grade Level 14, for allegedly being a perpetual late-comer.
Meeting with the affected school inspectors and officers at Government House, the governor disclosed that the administrative details of the change in the school inspectorate would be made known in the next few days.
It will be recalled that the governor had paid series of unscheduled visits to public schools across the state in the last two weeks where he made mind-boggling discoveries bordering on absenteeism or dereliction of duty by teachers.
Addressing the inspectors, Governor Oshiomhole said: "It's obvious from what I've seen today and from what you've told me, that you've all breached your basic duties, which are to monitor schools and file basic reports which, among other things, should include reports on those present and absent so that government can take steps to assist those who want to work to remain and those who don't want to work to go home.
" Edo state government has lost millions of naira of taxpayers' money because of your failure to perform your duties."