By Ebele Orakpo
Mr. Pelumi Salas Aribisala is the Group Managing Director of Ogunmod Farms located in Ile-Ogbo, Osun State and 100-plot farm in Ibadan, Oyo State. The BSc. Microbiology graduate from the Obafemi Awolowo University, Ile-Ife, in this chat with Financial Vanguard, said although he is a microbiologist by profession, that  he is a farmer by calling.
Aribisala who prefers to be called a farmer rather than an agriculturist because of the desire to identify with the people, noted that Nigeria can generate over 50 per cent of her budget from agriculture  within a space of five – ten years, if the government and people are serious. Excerpts:
Motivation:
According to Mr. Pelumi Aribisala who manages a 300-acre farmland, what really made him go into farming was the dream of making Africa self-sufficient in food production to put the lie to the impression created by western media that the African continent and its people are a hungry and deprived lot.
"What really motivated me into agriculture was the fact that I hate it when I watch CNN or BBC and they show us as hungry people. They make us look like we do not have anything whereas in Africa, we have both natural and human resources in abundance. In fact, the western world depends on Africa. As a result of that, I took it upon myself that I want to see a day that I will be able to say that from my farm, I am feeding Africa, at least once every week. That is my dream, my vision and my goal and I am really working towards that," he said.
How it all started:
Narrated Aribisala; "One thing I believe is that you always need a shoulder to stand on so that you can see far. At the same time, the shoulder may not be financial. I have a brother who owned about 10 acres of land on which he had planned to build a hospital and I asked him to let me use the land. Although he refused initially, he eventually released it to me.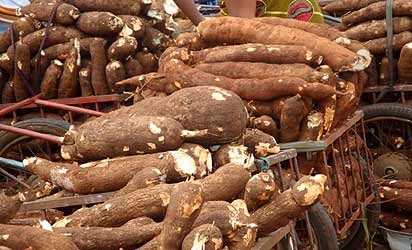 I started with oil palm and today, I have about 30 acres covered with oil palm and the whole farm is about 300 acres. It is still very small because my target is to have one million hectares of farmland. We have cassava, especially the yellow vitamin A bio-fortified variety from HarvestPlus, plantain, maize, vegetables etc. My idea of a farm is a complete farm, people call it integrated farming but I call it farmaculture whereby everything you do on the farm is useful on the farm. From your crop, you feed your animals and from the animals, you generate waste and you go into waste management.
"We produce biogas and we grow medicinal mushrooms on water hyacinth, rice straw, and sugarcane baggasse. We use every waste we can generate from the farm. We do crop production and animal husbandry. I started with snails, we also have grass-cutters, a few cows and soon, we will go into fishery and piggery. We have quite a number of things; anything you can find on a farm, when you get to us, you will find it."
Training:
"I train people on everything I do. We trained some corps members during the orientation programme in Oyo and Ekiti states. Those in Ekiti have started their mushroom cultivation. I also trained them on waste management and they are doing fine. Those in Oyo State were trained on agriculture, waste management and other agro-allied related areas. We have about 30 corps members from the NYSC farm in Iseyin that have decided to go into agriculture. "
They are financing it themselves but we are facilitating some things for them like getting tractor from Oyo State Ministry of Agriculture free of charge. They only fuel it.
We want to use them as a model. They have planted their cassava, watermelon, dug their fish pond. There is a medical doctor among them. He was the first to dig his pond and started with about 2,000 fingerlings and now,  we have about six of them that are into fish production. They will not do it the usual way, we are looking at bringing technology into everything we do.
"I have programmes/proposals and a lot of things that I have designed that if we have a serious government or serious organisation/group that will buy into it, within a space of about five – ten years, we can be generating more than half of the country's budget from the programmes and they are firmly rooted in agriculture."
My dream:
"We are looking at acquiring another 300-500 hectares in Iseyin area. We want to ensure that food is out of the list of Nigeria's problems. Recently, at a three-day conference in Lagos, organised by the Commonwealth Youth Alliance for Leadership and Development in Africa, youths from all over Africa came together to discuss leadership and developmental issues in Africa. While there, I formed a group, 37 of us; and we will be working in synergy so that what I am doing in Nigeria, they also will be doing in their different countries.
"We exchange ideas and before you know it, we are feeding Africa. We don't have money but we have ideas and we know that there are organisations that have this money and want to use it for agriculture. It is not just ideas on paper; ideas that have been working on the field. I call it agricultural revolution and environmental stewardship. I tell people I am an agricultural revolutionist and an environmental steward," he said.
Initial capital:
Apart from the 10 acres he got from his brother, Aribisala said he was able to build on that because he believes in ploughing back his profit into the business. "My investment strategy is this: Do not eat your profit, always plough it back. It is a geometric way of growing capital. I also got some money from family and friends, those that really believed in what I was doing  and they believe I could do better.
"I was able to put all these together so any land I see, I buy and because of my relationship with the farmers and the villagers, I did not really have to have the cash for the land. All I needed to do was show them what I wanted to do on the land.   Once I show interest on a piece of land, I give them a business idea. 'I'm going to work on this land for X number of years; this is the little money I have which I generated from my farm.' Then I pay them a little, we  sign the papers which they keep with their lawyer. Then in about one year or so, I am able to pay them fully."
Regretting the average Nigerian's impatience, he said farming needs patience. "Youths nowadays are generally lazy and that is why I  go from place to place, using my own story as an example to inspire them. I have never received any grant or loan from government. If they bring it, I have what I will use it for.
Even if I am given billions of naira today, I already have programmes for the money. I know what I can do to help a state generate more than they are getting from the federal allocation. I know what I can do to help Nigeria be at the forefront of every facet of agriculture. So money is not the issue in agriculture because you may have money and still not succeed. Government can address unemployment and food insecurity through agriculture and waste management."