By Ebun Sessou
Dr. Kingsley Ezeatakwulu Osakwe was born in Aba, Abia State on June 5, 1946 into the family of late Mr and Mrs Osakwe. His father Francis Egwuenu Osakwe was a businessman  who acquired so much wealth at his tender age and his mother, Bernice Iyenuwa Osakwe was a petty trader .
He spent the first sixteen years of his life as a prince in his father's house in Nigeria, while, another sixteen years of his life was spent as a pauper on the streets of Germany and Poland.  At 32, he picked up the pieces of his life again. He ventured into a business in Germany where he was trading on grade II clothes popularly known as second hand clothes.
Although, he passed through ups and downs in life, he was able to surmount his problems. Today, he is founder of a Crisis Control Foundation, an organisation that promotes human rights. He is our guest in this edition of Past Perfect as he takes us round the challenges of his life and how he overcome. Excerpts
I saw myself in a very wealthy family. My father was the inventor of motor spare-parts trading in Nigeria in the 40s, and so, he became very rich in his early 40s. He had deals with the Colonial Masters to be bringing cargoes and luxurious cars for sales as well as maintenance of spare-parts. And he was  into the purchase of crashed helicopters as well. I was the second son and the fourth child.
I was  sixteen years and in my third month in secondary school when my father died. And his younger brother inherited his wives and properties by tradition. That was when I was exposed to the ill of our tradition. My mother rejected the tradition and was denied all her inheritance as the first wife. She was only given a room from the entire properties.
I was sixteen years old, I could not intervene and when I thought of doing that, it was too late. But, I gave her the  comfort she needed. My mother told me that, she did that out of her sincere love for her late husband and that she had vowed not to allow any other man go to bed with her. She was a widow for  35 years before she passed on.
The problem was much and I had to join the army. When the war ended, I had no other job. At that time, late Ojukwu founded what was called Biafra Youth Force and so I became a member. After six months, retired General Gowon started arrest of the members of the group. Some of the members became victims including myself but I escaped and went to Ghana. There, some Nigerians contributed money for me to go to Poland.
I didn't know Poland was a communist country and after a while, I was  stranded. I had a girlfriend who advised me to go to Germany and pick up the pieces of my life. When I got there, I had no home until one Nigerian, Shola came to my rescue. He took me to his hostel and there, I got the first job. I was introduced to grade 11 dresses popularly known as second hand clothes.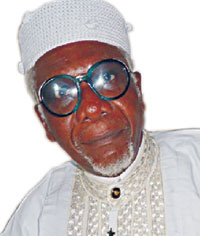 I started making money from the business. I went back to school. It was at the University that I met a seventeen old girl and I proposed to her  one year after. But, the father insisted that I will not marry her. That gave me another opportunity to gain entrance to United States Army. From there, I became a man and so I studied the State Policing Policy in Germany. It is my involvement that gave me the experiences I am using now.
I came back to Nigeria as an Industrial Engineer and Machine Builder which helped in setting up my industry. The news of my breakthrough was published in the Concord Newspapers of October 10, 1982 with my products. And in 1983, there was a change in politics and Zik was denied access to contest.
As an Igbo man, I felt cheated and so I took up the challenge to contest in Lagos. We fought and Zik was cleared. I was denied and went back to my business. But, the another challenge set in.  There was power failure,  increment of foreign exchange rate and the business collapsed. I then went back to Lagos.
There,  I had a partnership contract with Nigerian Airforce and the business blossomed such that I acquired so much wealth. But soldiers fought me and threw me out.  I went to court and I was vindicated. I was given a ransom of about N3.5million which was a reasonable money. I started another life. And I joined late Ambassador Segun Olusola on his African Refugees Foundation and from there I founded Crisis Control Foundation.
With my experience, I have been able to define the vision and mission of the foundation. Now, we are operating on what is called Societal Re-branding.  (In tears). Polygamy is a horrible issue. Let's not talk about it. I weep each moment I remember this passage of my life. I have been fighting the course of this terrible tradition. Some of these traditions are evil.  When a woman loses her husband, she automatically became a victim.
She is accused of having poisoned the husband and then, she is given an oath to swear, given water used in washing the  dead body to  drink and only in a rare case would such a woman survive. Through this tradition, lots of women have died.
I was the second son and the fourth child in the family. My mother was unable to give birth to a male child and so, it became necessary for my father to take another wife. She had a son for him out of wedlock. The child was brought to my mother and she accepted him as her son.
Two months after, she was pregnant and was delivered of a male child. And the second woman was brought to the house. My mother was living like a queen, such that she married the third wife for my father in appreciation. Things were moving on well. But, life changed after my father's death.
My mother was selling ogi just to send her children to school. Paying school fees was tough. Attempts were made to stop me but I forged ahead.
Polygamy is a dangerous tradition. It is not healthy to be polygamous. God's creation didn't permit that with all sense of sincerity.  After my father's death, I couldn't feed. I had to depend on friends. I left Ghana with the only 15 dollars given to me by a friend. I was sleeping in a train station both in Germany and Poland. Life was worse than what it is now.
The only inheritance I could get was the one I saved from the bank and the house built for my mother. I went through these challenges for 29 years. I wouldn't say I suffered. I was begging for fruits on the streets of Germany because there was nobody to help. I ran away with a visa to Poland, but I was stranded. I went to Nigerian Embassy and pleaded to be repatriated and I was refused.
But, I was opportuned to meet some Nigerians on the streets of Poland. And for the first time, I saw two Africans and I pursued them and told them my story.  They accommodated me and gave me food. And so, it became my regular base where I eat every day. After a while, I met another Polish girl who I proposed to and we became companions. She arranged for me to go to Germany and I started a new life.
The business of selling second class clothes was lucrative such that, I became very rich.  I was making one naira per day. I was living comfortably. I also invested in importing second hand tyres to Nigeria and I became a very rich young man at 32 years of age. I built a house at Shangisha estate which was later demolished during Idiagbon's regime. I was frustrated but later moved all my equipments to Nnewi.
My marriage with a German girl exposed me to join the United Nations Army.The marriage produced one son. We were officially divorced. She couldn't live in Nigeria and I never wanted to live in Germany either. It was a gradual separation based on understanding.
Right now, I have  discovered another reason for my existence and I must establish it. I am expected to assist people who are passing through hard-times.
Subscribe for latest Videos