The ancient town of Okagwe, Ohafia, in Abia State is bound to stand still come Friday, October 12, as the remains of  the former Group Entertainment Editor of Vanguard Newspapers, Ogbonnaya Amadi will be laid to rest.

According to a funeral programme released during the week, there will be a service of   songs by the Redeemed Christian Church of God, Acme Road parish, at his residence, at 7/9 Aganga Williams Street, Off Haruna Road, Ifako Ijaye, Lagos. The service of songs starts from 5pm and ends 7pm.
On Thursday, October 11,  his body leaves Lagos for his home town, where there will be wake-up the same day. Interment is scheduled to take place on Friday, October 12, at his family compound, in Okagwe after a funeral service.
Meanwhile, the entertainment journalists are putting plans together to hold a candlelight procession in honour of the deceased on Tuesday, October 11, at the popular celebrity hangout, O'jez Restaurant and Bar, National Stadium, Surulere, Lagos. The candlelight,is part of  activities  lined up for the burial of their departed colleague  who died on Wednesday, September 29, after an asthma attack.
Before he died, Amadi was the Group Entertainment Editor of Vanguard Newspapers and one of Nigeria's pioneer entertainment writers. He was passionate about entertainment and spent his entire career spanning over two decades on the beat – gathering news, setting the agenda for the industry, mentoring young reporters, and ensuring that Vanguard newspapers where he worked for many years, gain  prominence in entertainment.
Ogbonna: Lord of Nigerian entertainment journalism– Fred Iwenjora
The news of the sudden death of my friend, colleague and brother, Ogbonnaya Amadi whom I called the Lord of entertainment reporting in Nigeria  made me scream. My host in Mannheim, Germany where I am currently doing a couple of things including being a visiting reporter for African Courier, the International News magazine published in Germany and a member of the consortium organizing the Nollywood @20 E Golden Awards  rushed out of the room to see what was wrong with me.
The sad news came via a phone call from my brother from another mother, publisher of High Society Magazine, Charles Nwagbara who called very early on Thursday morning to announce it to me. I tried to get myself together because it is one of the most shocking news I ever heard in the last few months because no one expected it.
Let me hope I can do a tribute to the man who gave me the room to first contribute to Vanguard Showtime before God showed me the way to tow the movies line. It was after, that Uncle Sam discovered me and asked me to start a movies column which I called Home Video People and ran it for nine years before Benjamin Njoku took it over.
The fact is that I cannot talk about my entertainment journalism career without a mention of Ogbonnaya Dusty Amadi.
Ogbonna  was very good at encouraging unknown artistes who found their way to the Kirikiri canal for interviews and will regularly entertain them and do stories about them without fuss.
A case in point was when I was still a stringer for Showtime and Victor Gotevbe introduced the duo of KC Presh to me. This was in their early years and they were fresh from the AJ jungles but full of zest to excel and I did a story on them.In fact I was the first to write about them in any newspaper.
When I called Ogbonnaya's attention to the story of the boys and their determination to excel, he bought it hook line and sinker and reminded me of how he did same for the Pretty Busy Boys which included Late Junior and his soul mate Pretty, Showkey and Daddy Fresh and Cash man Davies. The story of KC and Presh was published pronto and they have been grateful ever since.
His battle with asthma was long drawn that he always had his inhaler in his pocket in case of any of such attacks the last of which he never survived.
As he prepares for his final journey on earth, the task now is to see that all he stood for in the issues of giving a pride of place to entertainment reporting in Nigeria is preserved and pursued vigorously by all colleagues who knew him and all that he stood for.
You are no more, yet you live on my heart— Princess Eukay Amadi, Sister in-law
Before I met you Dusty, you were already in love with me. When we met first time in Umuahia during one of your visits, you were just great and calling me your wife when I was not one yet.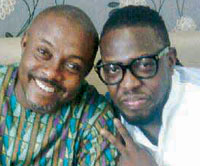 When there was doubt about my marrying your brother due to pressure, you called and cleared all doubt. I remember that evening as I waited to board the bus to Jos en-route Gombe State to continue my Youth Service when you called me. I narrated my challenges to you concerning my marrying your "kid" brother and you asked me just one question. Eukay, do you love my "kid" brother, which was the way you called him. To which I said yes, and you asked me to follow my heart which I did.
Seven years after, I am still following my heart but where are you now. You  abandon me eh! Dusty, my strength and courage, my friend, you were indeed a true and great brother-in-law. You called my husband "kid" brother so why have you left him and me. Love than death itself is more strong. You may be dead today but you live on in my heart because you showed me love.
Adieu! Dusty, you came, you saw, you conquered and like a candle in the wind, you went off in a blaze of Glory. Rest in Peace.
I never had a chance to tell you how much I love you —Rev. Endy Amadi,  brother
THE call came in about 9:00 pm. It was from a colleague of yours here in Umuahia. While Lagos was still in the dark about you, he delivered the news of your demise to me after assuring himself that Mama and my wife, Eukay were no where close and asked me to take it like a man.
Man I am, yes, but how do men take the news of their immediate elder brother's death. With a smile, a laughter, unbelief, a shrug, a cry, gnashing of teeth, I could not understand as I stood rooted to the same spot where I received the call.
Gradually, the tears came and alongside the pains, regrets, anxiety.  As brothers, growing together, we went to school together, slept on the same bed, wore similar clothes, ate from the same plate, had our arguments and fights, yet, we stuck together.
We had our jokes and pranks. While he boiled at nothing and froze at everything, he stood tall in the comity of friends because he talked frankly. He was a no-nonsense person who would not hesitate to speak his mind irrespective of whose ox is gored.
Dusty, as he was better known was a very emotional person and very little things like picking his call immediately upset him [ask my wife] and not returning the calls was warfare. What he lacked in brawns, he made up in brains and talk.
Indeed, his death is as shocking as it is embarrassing and painful because he was a very meticulous person who took his time to understudy people, situations and all and that explains why he was outstanding in his chosen career.
He knew his health situation and made sure that he had two inhalers in his car, two in his office bag, yet another two in the breast pockets of his suit. He never took chances and never took anything for granted. Yet death "came" despite these.
My brother and I had our quarrels. I hated his greater than life image of himself while he hated my confrontational attitude yet in our sober moments, we showed respect for each others modest achievements in our fields.
I make bold to say that no one knew my brother better than me because even from his office, outside his home, he would call and for sometimes, an hour and half, pour out his heart to me and often in the course of the discussion our fights would start and he would hung up.
I felt my brother thought we were in a competition and did everything to measure up to him and possibly beat him. But today, I know better. There was never a competition.
Dusty was light years ahead of me. His death opened my eyes to the knowledge that all he was doing to me was his own way to ensure that I was up and doing. Strange that after his visit to the village, he called me despite the fact that as usual, we were in our usual fights, to ask that I should go back to writing so as to take his place to which I said I was not interested.Five days later, he was dead.
As we commit  to the bosom of mother earth, the remains of my brother, Prince Ogbonnaya Nkwa[Chi] Amadi, I regret that I never had chance to tell him despite  our differences how much I loved him, and how sorry I am .But I am encouraged by my [our late father's] word "some men may go and some men may come and life must go on forever". To live is for Christ and to die is gain. You, am sure have gained eternal glory.
Rest in Peace, my brother, Don Dusty, Onkason, Crown Prince, Nna Nkwa and Entertainment King. Heaven beckons you. It is well.
…And the music stopped!
By BENJAMIN NJOKU
Yes, the music has  stopped suddenly
when the dancers are already engrossed in its beat.
Army of dancers are leaving the stage, dazed with pain and loss
Silence and darkness have become our lots;
Our world has collapsed with the exit of a mentor.
Death where is thy sting?
We live today, and pay the price of death tomorrow.
Dede Nne' I weep for your loss
Mama Jude is still in shock
Only you can wipe away her tears…
Your priceless kids are missing your fatherly presence
Your colleagues are devastated…
But now, you are no longer in our world
Had the opportunity called, you would have bargained to live on
But death never come ringing bell
As the saying goes,, it is a necessary end, it will come when it will come
Your death was an incurable pain in my neck,
Too difficult to comprehend..
What of our unfinished business?
The sun has journeyed far away
into the sky
And our day has broken forth into night…
As you begin the dance in another clime, one thing is certain
And that is; you have left your footprint in the sand of time
Forever, you will live on my mind
Good night…
Subscribe for latest Videos