WASHINGTON (AFP) – The US first lady is first among many: she's more popular than husband President Barack Obama — or Ann Romney, wife of Republican presidential hopeful Mitt Romney, a new poll out Wednesday found.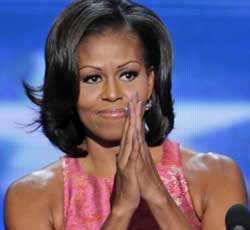 Michelle Obama has a whopping 69% approval rating among adults while her husband currently is at 56% approval, the Washington Post-ABC poll found.
In contrast, Ann Romney, who would become first lady if her husband wins the November 6 election, has a 52% approval rating — also topping her husband's 45%.
The survey, taken October 4-7, after the debate in Denver, Colorado suggested that the US president held on to an image or popularity advantage over Romney despite the bounce the Republican got from the debate.
Romney has a disapproval rating of 51 percent, the poll found.
But for the first time, on Tuesday, Romney pulled slightly ahead of Obama among likely voters, according to RealClearPolitics.
Obama appears to still have a slight lead in some battleground states such as Ohio, where Romney was barnstorming Tuesday and planned to keep campaigning Wednesday.
The Washington Post-ABC poll of 1,018 people had a margin of error of four points.