By Olasunkanmi Akoni
Lagos State Commissioner for Works and Infrastructure, Dr. Kadri Obafemi Hamzat, is the son of one of the Action Congress of Nigeria, ACN, chieftains, Oba Mufutau  Olatunji Hamzat,  a former member Lagos State House of Assembly and also a former Commissioner for Transportation in the state  (1979 – 1983) during the Alhaji Lateef Jakande administration. The Commissioner speaks on the Lagos light rail project and  infrastructural development in the state. Excerpts:
Lagos State government has embarked on the construction of light rail project as an alternative means to road transportation. What is your progress report?
When you carry predominantly people, it is a light rail, but  when it is heavy duty goods like diesel, cars, etc, it is heavy rail. But,  in most part of the world, it is light rail. It is the ecology or engine behind the rail system. Now, what we are doing in Lagos is the light rail, which is the one you are talking about. We have identified seven corridors in Lagos State where there can be rail.
So to identify them differently, that is why we have the blue line and the red line. Those are the two that we are promoting. But there is also the green-yellow and others that we have identified just like in London where you have the northern line, jubilee line among others, so that people going from one location to another can know which route to take.
The same thing also applies  in  the United States where you have the 1st, the 2nd, the 3rd, the 4th, the 5th, the 6th  lines so that you know which one to take. The blue line is from Okokomaiko to Marina. That is the one that we have started. At Orile, we are already building the stations.
What is the duration of the project?
Technically, duration is always difficult to say, because duration is also a function of many things. For example, when you get to signal, you know roads depend on signalization. Road is getting to a stage where people don't drive it anymore, so it is signal. To get the signal, how long do I know it will stay at the port? Lagos State government does not control the port.
So, there are so many varieties but, basically, the essence is for us to do it in segments. We are starting from Okokomaiko end, so, we are doing National Theatre, Mile 2 and so on. The idea is that let's link up those, because to get to Marina , it goes over water, that means that you are building a bridge, heavy-duty bridge. That is the most expensive part of the rail. So, let's start from the land, and let it start to run. Again, it is a function of resources, so it is a big job.
For example, we know we have Nigerians who have constructed rails in other parts of the world. So, we bring them. We said 'come home and do the job, instead of us getting experts from all over the world'. The challenge is that in our generation, nobody has built any rail. The last one was built by the whites in 1903. So, it looks like it is difficult.  My ultimate goal is to get the engineering right, do it well and, like I said earlier, much depends on funding.
Talking of the Lagos- Badagry Expressway, you have this corridor for light rail, and work has already commenced. We want to know the stage the project is now and what challenges are you facing and how many people have you been able to identify for compensation?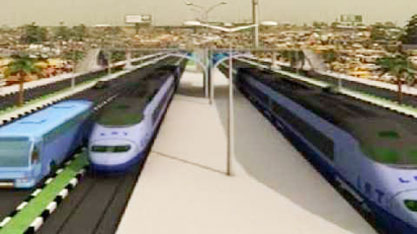 We are doing two-city changing projects, the rail and the 10-lane road project from Eric Moore to Badagry. The major challenge we are facing is funding because it is a project that will span many years. Even though, we have medium frame term of budgeting framework, you plan resources a year, but you plan projects for many years.
So, the first lane is from Eric Moore to Mazamaza, which is already completed. That is Lot 1. The second stage is Lot 2 which is, from Mazamaza to Okokomaiko. In doing that, the challenge is, we are through with the rail. Now we are building stations at Mile 2, Orile and in two other places.
There are two set of contractors working there. What we decide to do is we are doing relocation of services. We decided to slow down to see the total alignment for the two. So, the first challenge we are having is project interface. The second problem we are having is that these are different contractors, with different plan organization, hierarchy and so on.
There will be interface problems in some cases. So, as they are building those stations, we deliberately slowed down the road at that place. In fact, those stations are now above90 percent, so that the road contractor can now go in and do full work, instead of 20 or 25 percent.
So, the challenge is funding and the fact that we are doing two heavy projects. Ordinarily, when you are doing a road, you have to secure the right of way and so many other challenges, but when you are now doing a 10-lane it is a serious work. In the middle of that there is also going to be a BRT. There will be a rail, there will be BRT, now you must also know the challenges of securing the safety of the interfaces between the rail.
Still on the Lagos- Badagry Expressway, the government once said the road will be completed and delivered in 2015. Are you still sticking to that year or it has been reviewed upward of downward?
I told you the challenges that we are also having. Let me give you the statistics of this road. In order for us to do Lot 2, that is Mazamaza in front of the first gate to Okokomaiko, you need 1.7 million cubic metre of sand. Now, let us put that into perspective. If you lay two metre of sand, you will go to Sokoto and come back. That is the implication of having 1.7 million cubic metre of sand. Now, getting that sand in itself is a challenge and you must get it from somewhere. Now, you go into the deep sea and pump. It is possible that you don't get sharp sand.
There are instances where you get sludge. We will not allow you as a contractor to put sludge on our road. Really, there are various factors. The resources are also important to us because we won't shut down other projects. But given every other thing that were know now, we should be able to finish around 2014- 2015.
Talking about resources, we thought that the state government is in partnership with the World Bank. The governor once said the cost of completing the project will be about N250 billion. Are you still working with the budget or it has increased or decreased?
On  funding, the state government is not in partnership with the World Bank, the project is directly funded from the state Internally Generated Revenue, IGR. On the current cost of the project, let me say it depends. We just awarded Lot 2, which is Mazamaza to Okokomaiko, at the cost of N141.7 billion. By the time we awarded Lot 3, we will see.
The last time the governor spoke with you was about three years ago. We all know that prices of things have changed since then. So, like I said, we awarded up to Okokomaiko, by the time we do Okokomaiko up to Badagry, we will have to find out. At that time, we will know the current prices of products. So my thinking is that it will be higher than the amount the government gave three years ago.
Compensation is a long process, even now,  people are still submitting. First of all, when people submit, it is important for us to know the real owners. We are trying to avoid a situation  whereby we pay Mr. A this week and Mr. B shows up next week and says, ' I am the owner'.  But the big  challenge we have is the issue of people not having documents.  For people that have genuine proof, it is always easy to treat their cases. Like I said, some people still submitted yesterday, but we can't take the decision alone, it is a process. When the processes are completed and verified, then they are paid.
We want to know the role your father played in your appointment as a Commissioner in Lagos State, because when you were nominated as  Commissioner, some people protested in Mushin Local Government. What really happened then?
Everybody must have a father. It just happened that my own father was also a Commissioner in Lagos in 1979. I am not aware that some people protested my nomination as a Commissioner. I have been a Commissioner since 2005. I was brought home. I was an Executive Director at Morgan Stanley in the United States . I was doing very well to be honest with you.
So, I wasn't aware that anybody protested against my nomination. Like I said, I have been a Commissioner since 2005. I served under Asiwaju Bola Tinubu administration. I served in the first term of the incumbent governor of Lagos State, and I am still here today.