BY BOSEDE ADELAJA
COMMERCIAL motorcycle operators popularly called 'Okada riders', weekend, gathered in their hundreds on the popular Awolowo road in Ikeja as they prepared to march to the seat of government at Alausa.
From Balogun bus stop down the Alausa stretch of the road was occupied by the resolute riders who said they were out to protest the traffic law enacted in July especially the section that restricts their operation on 475 roads across the state.
Lagos metropolis in protest against restriction placed on their operations by the new traffic law. Despite the on going fuel scarcity in the city, the operators chanting anti-government slogans, took over the roads causing traffic gridlock.
My men are not touts—Pekis
Reacting to the development, and their last protest in September which became rowdy, chairman of the recognised union of the motorcyles body, Motorcycle Operators Association of Lagos State, MOALS, Mr. Tijani Pekis, dissociated his members from breaking law and order in the state. Rather, he said it was an attempt to enforce the traffic law as stipulated by the state government.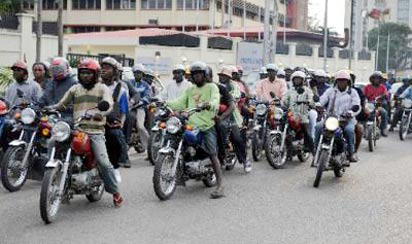 Pekis who spoke on behalf of the recognised and unrecognised motorcycle bodies in the State said his men were not touts but a body to ensure sanity on our roads and restore commuters' confidence to the motorcycles bodies.
He said: "It was the recognised body that carried out enforcement in three senatorial districts namely, Lagos Central, Lagos West and Lagos East and we started from Ikorodu to Mile 12, Ojota, Anthony, Ojuelegba, Stadium, Costain, Lagos/Abeokuta Tollgate, Abule-Egba, Iyana-Ipaja, Oshodi, Iyana-Isolo, Cele expressway and Mile 2. Also, our men were at Badagry, Orile, Bony Camp and Apogbon as well as Ajah and Epe.
"It is a continous exercise and before we embarked on it, we wrote a letter to the Commissioner of Police through the Office of Operations Officer Lagos State Police Command and we received the approval from them.
"The exercise will continue until the state government sees reasons for a rethink on the law especially on the rural areas. All hands must be on deck, commuters, riders and government must make sure we reduce the embarrassment on zero tolerance so that commuters in the rural arears will have confidence in riding motor bikes. The union is fully in support of the traffci law to ensure sanity in the state."