By OKEY NDIRIBE, GBENGA ARIYIBI & CHARLES KUMOLU
Controversy surrounding the new book written by Prof. Chinua Achebe deepened yesterday with South West and South East leaders drawing sharp divisions over the aptness of claims in the book that Chief Obafemi Awolowo implemented genocidal policies against Ibos during the Biafran war.
While Odua Peoples Congress, OPC founder Dr. Fredrick Fasheun accused Achebe of living in the past, a number of South West leaders berated Achebe as a frustrated man bent on pouring out his bitterness against a nationalist.
The denunciations against Achebe were, however, sharply rebutted by a number of South East  leaders, including the commander of the army of the Biafran Republic, Gen. Alex Madiebo (rtd.,) who said Achebe understated the hostility of Awolowo to the Ibo nation during the civil war.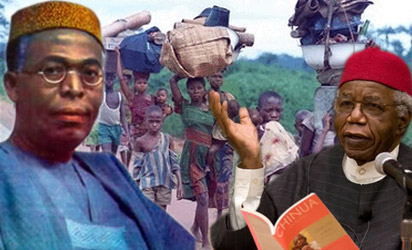 While erstwhile governor of Enugu State and former National Chairman of the Peoples Democratic Party, PDP, Dr Okwesilieze Nwodo said Achebe's assertions were correct, another former governor of Anambra State, Dr. Chinwoke Mbadinuju expressed concern that the acrimony could jeopardise on-going efforts to unify the people of the South.
In his new book, "There was a Country" Achebe alleged among others that Awolowo's desperation for power "drove him into a frenzy to go to every length to achieve his dreams. In the Biafran case it meant hatching up a diabolical policy to reduce the numbers of his enemies significantly through starvation, eliminating over two million people, mainly members of future generations."
The claim has been met with sharp denunciations by Awoists and Yoruba leaders.
Achebe living in the past — Fashehun
Continuing the rebuttal Dr. Fasheun yesterday said: "Chinua Achebe is a frustrated person. He feels that attacking noble people like Awolowo is right. Awolowo has a reputable place in Nigeria's history. The trio of Awolowo, Sardauna and Zik were leaders who did well for this country, hence their quality legacies should not be smeared in anyway. Achebe is living in the past."
"Ibos no longer care about such lamentation, what the Ibos are interested in is how they can be more relevant in the mainstream of Nigerian politics. So, Achebe's attack on Awolowo is not in the best interest of the political aspirations of the Ibos in today's Nigeria. What he has done is to distort history."
Achebe, not happy that a Yorubaman emerged Nobel prize winner — Afuye
Also reacting, an avowed Awoist who is also the Commissioner for Information in Ekiti State, Mr Funminiyi Afuye said that as an Awoist  he detested the insinuations by Achebe on Chief Awolowo in his book
He said: "With due respect to the erudite professor it appears Achebe has not been able to come out from a deep frustration of the fact that a Yorubaman emerged as the first winner of the highest literary award, Nobel Prize in literature.
"It was on record that Awolowo checkmated Ojukwu from invading Yorubaland in his expansionist ambition when he was matching his troops to Lagos. He met his waterloo at the battle of Ore."
The attacks nonetheless, support for Achebe came from the South East with Gen. Madiebo, Chief of Staff, Biafran Army, who claimed that the assertions made against Awolowo were understated.
Achebe has only said the truth— Gen. Madiebo
"What Chinua Achebe has written in his new book concerning the role the late Chief Obafemi Awolowo played during the civil war is the truth. However, the truth is always bitter. In fact, Achebe was even diplomatic. If I am to write on the same subject I would say more than Achebe did.
"Those who are attacking Achebe over what he wrote are expressing their own views; I am neither condemning them nor am I praising them."
In his comments on the controversy, one time Governor of Enugu State and former National Chairman of the People's Democratic Party, PDP, Dr. Okwesilieze Nwodo expressed a similar view.
He said: "What Achebe wrote in his new book is a fact. Those who witnessed what happened during the civil war can attest to the historical fact that Achebe recorded in his book. As the Minister of Finance and Vice-Chairman of the Federal Executive Council under the military regime headed by Gen. Yakubu Gowon (rtd.), Awolowo implemented those policies during the Nigeria civil war and immediately after.
What Achebe wrote was a fact—Nwodo
"Despite the fact that I had a lot of respect for him as one of the nation's foremost nationalists who fought for Nigeria's independence, we cannot forget that those policies were injurious to the Igbos. Those policies were a violation of the fundamental human rights of our people."
"My response to those who have attacked Achebe for stating the truth is that any country that cannot look at its history and learn lessons from it cannot survive.  "The people of every nation have to learn from their history in order to avoid mistakes of the past. It is because Nigerians have refused to learn from history that we find ourselves where we are today in this country."
Go to court if you don't like what Achebe wrote –Mbadinuju
In his comments, former Governor of Anambra State, Dr. Chinwoke Mbadinuju said: "Nobody can question or doubt the credentials and scholarship of Chinua Achebe, especially when it comes to his special area of political literature. He has been adjudged as number one in the world. It seems to me that what Achebe did amounted to an exercise of his constitutional right of freedom of expression which cannot be abridged but can only be subjected to libel or defamation of character, which is actionable in court."
He continued: " Anybody who doesn't like what Achebe has written could go to court and file an action against Achebe for libel".  Mbadinuju further expressed hope that the on-going debate would not hamper the new spirit of cooperation prevailing in the south.
According to him: "The three southern geo-political zones of South-East, South-West and South-South have just resolved to come into a new political alignment for the future. And it is now that the devil is creeping in to dislodge the political programme of the South. The implication is that our friends and brothers in the South-West may now begin to develop cold feet and go into opposition again just because of one book by Chinua Achebe. Since I wouldn't want anything that would jeopardize this new spirit of cooperation in the South, I pray to God that all groups or persons who feel aggrieved by Achebe's new book should have a change of heart to avert this brewing misunderstanding in order to enable Nigeria move forward. This is necessary in order to prevent another rift that may snowball into a fresh round of crisis of confidence."
Ezeife calls for caution
Another former Governor of Anambra State Dr. Chukwuemeka Ezeife on his part chose to be very cautious.
He said: "Although, we shouldn't speak ill of the dead, this does not mean that historical facts cease from being facts or must not be mentioned.  Facts are facts but their emotional or subjective interpretation may depend on the perspective of the user. I hope the Igbo and Yoruba are not anxious to go back into their situation of parallel lines and parallel slaves in Nigerian politics. Awolowo didn't join the war against Nigeria, but he didn't start the war against the Eastern region. He eventually joined Gowon."
In his reaction,  Dr. Sam Nkire, National Chairman Progressive Peoples Alliance, PPA, said though he had put all that happened behind him during those dark days behind the policies exhibited wickedness.
He said: "Although, I was a teenager during and after the civil war, I was old enough to father a child.  Those Federal Government policies against Biafrans which were ascribed to Chief Awolowo at that time came to be as uncharitable and wicked. However, 42 years after the war, my attitude now is to consign all that to history."  
"I recommend the book to every patriotic Nigerian and not just students of history. Achebe must not be crucified for saying the truth."