By Tony Navah Okonmah
Currency denomination may not be the direct cause of inflation but it can provide a perfect platform and unnecessary spook of the economy if not carefully managed. To claim there is no link between inflation and currency denomination is sheer ignorance or outright intentional untruth.
The claim by NEMT in the Vanguard publication of 10 September, 2012 that the introduction of the higher currency denomination (N5, 000) in Nigeria will help shore up the Naira value and that most people who store money in hard currency will now embrace the higher denomination is the worst economic theory foolery I have ever heard.
That this argument came from the likes of the Minister of Finance (Dr Ngozi Okonjo-Iweala), the CBN governor (Sanusi Lamido Sanusi), and the Minister of National Planning (Dr Shamsudeen Usman) is more surprising. Dr Usman can save us the burden by explaining how the introduction of the N5, 000 notes would assist in big business transaction and why will it not be in high circulation only to be mostly used by the banks.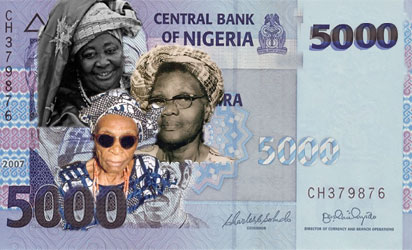 I have always wondered why the people in government are arrogant to explain their actions and intents. They assume that the majority of Nigerians are illiterates who do not understand economic principles or financial matters and must gobble every nonsense and idiocy propounded by the government. Dr Usman, your argument for the introduction of the N5, 000 denominations raised serious issues on your profile as an economist, banker and former Deputy Governor of CBN.
What most Nigerians fear about the new N5, 000 denominations and inflation is genuine and can be substantiated. The economist, Dr Usman should know of what is called "demand-pull inflation". For the benefit of laymen, this is simply a term used in describing a scenario that occurs when price levels rises because of an "imbalance" in the aggregate supply and demand.
Dr. Usman hasn't explained to Nigeria what plans they have to offset such imbalance which is the fear of the average Nigerian, more so, as he mentioned that the government's original plan is that the N5,000 notes will not be in high circulation and will only be used mostly by the banks. Of great interest is the fact that Nigeria has no developed trade system and structure, and most trade exchanges and payment transactions are in volumes of N10 and N20 notes and traders' prefer less coin cash engagement.
This makes the fear of the average Nigerian tenable and genuine because when the N10 and N20 coins are introduced, the preference for less coin cash engagement will lead to a push up in prices of goods in that price range to the next price range of N50 with no coin cash alternative. In turn, the demand-pull inflation will lead to cost-push inflation which creates substantial increase in the cost of important goods. Therefore, to say that high denomination does not lead to inflation is utter rubbish.
It is not too difficult seeing where the government is coming from or what is intended by the introduction of the N5, 000 denominations but Dr Usman made a mess and mockery of it in his argument.
The discretionary fiscal policy allows the Presidency/its agents and the CBN to create a scenario that causes demand-pull inflation by engaging in expansionary fiscal policy which I must say is not a bad idea at all if honestly pursued and executed, although, it still has it owns problems mostly being that it could lead to budget deficit.
I think Dr Usman should have first highlighted to Nigerians the benefits of this expansionary fiscal policy through the printing of N5, 000 note which they hope will spur the economy and drive growth by creating more profitable businesses and more jobs for our idling youths.
He needed to put up a convincing argument of how this can drive the economy while not neglecting the impact it will have on demand-pull and cost-push inflation. To dismiss these effects is outright ignorance and
fatal arrogance.
*Tony Okonmah, a financial and economic analyst wrote from London.