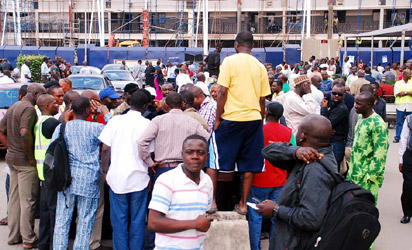 ARIK AIR GROUNDED—Aviation unions, yesterday, protested alleged debt by Arik Air to Aviation parastatals at the General Aviation Terminal, GAT, of the Murtala Muhammed Airport, Ikeja, Lagos
By LAWANI MIKAIRU & DANIEL ETEGHE
PASSENGERS intending to board Arik Air to their various destinations were stranded as the airline  flight operations were, Thursday morning, grounded by Aviation Unions: the Air Transport Service Senior Staff Association, ATSSSAN; the National Association of Aircraft Pilots and Engineers, NAAPE and the National Union of Air Transport Employees, NUATE, who barricaded the General Aviation Terminal, GAT, where Arik Air operate from.
Meanwhile, Arik Airline has responded by suspending all its domestic operations until further notice. The suspension of Arik flight operations is a major blow to the aviation industry as only three airlines are currently operating domestic flights in the country. The airlines are Arik Air, Aero Contractors, and IRS Airline. Thousands of passengers were stranded at the two domestic terminals in Lagos; the new MMA2 and GAT.
One of the stranded passengers, Mr. Micheal Opara whose 9:30am flight to Port-Harcourt was cancelled as a result of the grounding of the airline by the unions said: "We were billed to fly to Port-Harcourt by 9:30am and and now we are stranded. Nobody knows what is actually happening. The airline has not told us anything. My business in Port-Harcourt has now been jeopardised."
Asked what his next line of action will be, he simply said: "I don't know. I like flying Arik." However, another passenger who was visibly angry said Arik was to blame. He asked why the airline would be owing. When reminded that all the airlines were owing the agencies he said they should all be picketed. He, however, refused to disclose his name.
A passenger who gave his name as Mr. Sule Shehu was more critical in assessing the situation. He was billed to travel to Abuja. He said though Arik should pay its debts, the aviation workers have no right to ground the operations of an airline.
In a swift reaction, the management of Arik announced the suspension of its domestic flight operations till further notice. Addressing a world press conference at its corporate head office in Lagos, the management said:
"Due to persistent hostility of the Ministry of Aviation, and FAAN management, which has culminated in the use of FAAN staff to stop Arik Air operations and lock in checked-in passengers in Lagos this morning, Arik Air has no option than to suspend all domestic operations until further notice. This issue bothers on personal interests, and not payment of bills; since FAAN has been collecting their charges in advance since 18 months now."
Although the airline regretted the inconveniences the disruption would cause its passengers, it, however, said it would not resume domestic operations until all the issues it has with both the Ministry of Aviation and Federal Airports Authority of Nigeria, FAAN, were resolved.
The airline maintained that FAAN has refused to come to negotiating table since the beginning of the debts crisis that culminated in its operations been disrupted yesterday morning.