By JIMOH BABATUNDE in Arusha, Tanzania
Former Secretary General of the United Nation, Kofi Annan, said the progress towards achieving the various Millennium Development Goals, MDGS, in Africa rests on catalyzing a green revolution across the continent.
Kofi Annan, who is the current Chairman, Alliance for a Green Revolution in Africa, added that improving productivity and profitability of our agricultural sector is essential for improving food security.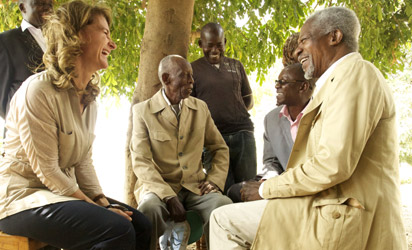 Speaking in company of Melinda Gates at the African Green Revolution Forum in Arusha, Tanzania, this morning, Kofi Annan said agriculture offers real opportunity to African states not just to feed their people and possibly be part of the global food security system, "but to create lot of employment for our young people and make living in the rural area comfortable."
"If we can do that people will not be rushing to the cities to live in the slums the way they are doing, we will be increasing incomes, and laying the foundation for progress in other critical areas."
Kofi Annan, while calling for special attention for the millions of smallholder farmers in Africa, called on African government to carry out the right agricultural policies, "providing infrastructure for agriculture, supporting their farmers who are mainly women."
He said the smallholder farmers who are mainly women in the past have carried this continent by putting food on the table with hardly any support from the private sector, the government, and the financial services or the insurance.
"Now is the time to back them up and let us go through this wonderful transformation called the Green Revolution."
AGRA President Jane Karuku added "Smallholder farmers are at the center of all we do. Our approach is clear and proven – if we provide African farmers the tools they need to grow more and improve their incomes, they will help lead us all into a more prosperous future."
Meanwhile, the Tanzania President, Jakaya Mriso Kikwete, will Friday (tomorrow) perform the official opening ceremony of the African Green Revolution Forum 2012 with the central theme of 'Scaling Investment and Innovation for Sustainable Agricultural Growth and Food Security.'
Addressing the media, Thursday, the Tanzania Minister of Agriculture, Engr. Christopher Chiza, disclosed that 14 Heads of government are expected with 23 Agriculture ministers in the continent confirming their attendance.
"The forum brings together African Heads of State, ministers, private agribusiness firms, financial institutions, farmers, NGOs, civil society organizations and scientists."
Chiza added "Public- and private-sector leaders are joining forces in unprecedented ways to ensure a more food secure future," said Yara President and Chief Executive Officer, and co-chair of the forum, Mr. Jørgen Ole Haslestad. "We have seen great success when players come together and invest strategically – we hope to build on new momentum and work together to transform agriculture in Africa."
Subscribe for latest Videos