ABUJA  (AFP) – Saudi Arabia has denied entry to some 1,000 Nigerian woman seeking to visit for Hajj because they were not accompanied by men, with most stuck at the Jeddah airport, Nigerian officials said Wednesday.
The women, who began arriving Sunday at the airport in Jeddah, in western Saudi Arabia, were facing possible deportations by Saudi authorities, said a report compiled by the National Hajj Commission of Nigeria, which oversees Nigerian participation in the Islamic pilgrimage to Mecca.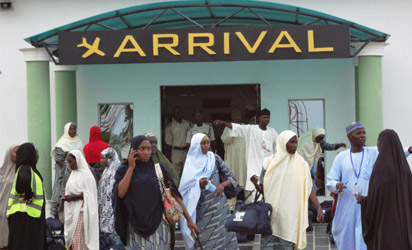 "Upon enquiries by the reception team officials of the National Hajj Commission in the airport, they were told that the pilgrims were held back because of lack of mahram (lawful male accompanying pilgrim)," said the report, which was submitted to the Nigerian House of Representatives Committee on Foreign Affairs.
About 171 of the women returned home to Nigeria on a flight Wednesday, an official said.
"These women were not deported. They were returned based on the decision by the National Hajj Commission because the embarrassment from the Saudi authorities was becoming unbearable," commission spokesman Umar Bala told AFP.
Bilateral talks were ongoing between officials of the two countries to resolve the issue, he added. He said that about 1,000 women were still blocked at the Jeddah airport.
According to the report, Nigerian pilgrims' welfare boards have in the past acted as "mahrams" and visas have been granted on that basis.
The report said that officials observed that flights which arrived at the Medina airport were not subjected to such treatment.
"Only those in Jeddah were affected. Checks at the Jeddah airport revealed that only Nigerian pilgrims were subjected to such treatment," the report said.
Last year, nearly three million Muslim pilgrims performed the Hajj, which represents one of the five pillars of Islam and must be performed at least once in a lifetime by all Muslims who are able to do so.
Roughly half of Nigeria's 160 million people are Muslim. Nigeria is Africa's most populous nation.
Subscribe for latest Videos