WASHINGTON (AFP) – Secretary of State Hillary Clinton said Wednesday the killing of the US envoy to Libya and three others by "a small and savage group" should "shock" people of all faiths around the world.
Paying tribute to Ambassador Chris Stevens and his American co-workers killed when militants attacked the US mission in Benghazi, Clinton vowed the United States would not turn its back on Libya as it builds a new future.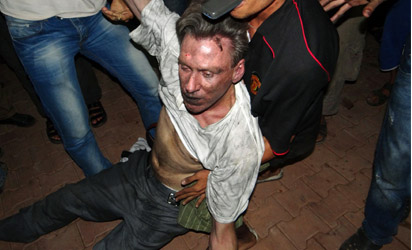 "This is an attack that should shock conscience of people of all faiths around the world," she said in a somber statement at the State Department.
"We condemn in the strongest terms, this senseless act of violence, and we send our prayers to the families, friends and colleagues of those we've lost."
She praised the work of Stevens, who was appointed ambassador to Libya in May, after the toppling of former dictator Moamer Kadhafi.
"He risked his life to stop a tyrant, then gave his life trying to build a better Libya," she said after he was killed in an attack by a mob of militants angered over a movie mocking Islam which stormed the US consulate.
The deaths have shocked the close-knit community at State Department, and after giving a statement at the White House President Barack Obama was due to visit the building to pay tribute to those killed.
Clinton said the events in Benghazi were especially difficult as they came on the 11th anniversary of the 9/11 attacks, and she had asked herself "how could this happen? How could this happen in a country we helped liberate, in a city we helped save from destruction?"
"We must be clear-eyed even in our grief. This was an attack by a small and savage group. Not the people or government of Libya," Clinton said, adding that Stevens and his team had been welcomed across Libya as "friends and partners."
She stressed that during Tuesday's attack Libyans had fought to defend the mission, and some were wounded. Others carried Stevens's body to the hospital, and "they helped rescue and lead other Americans to safety."
"The friendship between our countries, born out of shared struggle, will not be another casualty of this attack," Clinton said, vowing that those behind the attack would be brought to justice.
"A free and stable Libya is still in America's interests and security, and we will not turn our back on that."
Air Force veteran Sean Smith, a foreign service information management officer, was also killed in Tuesday's attack, Clinton said, adding the families of the other two deceased were still being notified.
"We are working to determine the precise motivations and methods of those who carried out this assault," Clinton said.
"Some have thought to justify this vicious behavior along with the protests that took place at our embassy in Cairo yesterday as a response to inflammatory material posted on the Internet.
"But let me be clear. There is no justification for this. None. Violence like this is no way to honor religion or faith."