By OPEOLUWANI OGUNJIMI
Popular Nollywood actress has revealed reasons behind the sudden end to her fourteen year old smoking addiction. She says the prayer of Pastor T.B Joshua through his Christian TV station, Emmanuel TV healed her. It would be recalled that the daring actress had battled with her smoking addiction for years.
Tonto who started chain-smoking at the age of 13 had earlier in the year revealed in an interview that smoking is her life and didn't care what people thought about it.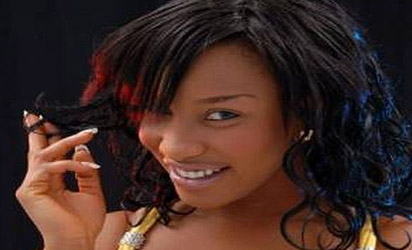 "If I want to smoke, I handle a stick of cigarette and I smoke it hard. It is my life I can decide to smoke myself to hell. It's nobody's business."
But as against what many thought, Tonto recently took to social network cite, Twitter, announced to the whole world that she'd stopped smoking.
"I've good news for those who wish me well. Its silly good news but ya'll going to love this. I quit smoking!"
Dazed, many wondered how and who had preached to her  against the fourteen year old 'love of her life'.
As a matter of fact, recently, her heavy smoking habit led to a war of words between her and Ghanian actor, Van Vicker, who complained about her uncontrollable cigarette addiction.
Many thought her new year resolution wouldn't last. However Tonto, last week in an interview  revealed that she was healed by pastor T.B Joshua's prayer.
"I didn't quit smoking by myself. I was watching a program on TV with Prophet T.B. Joshua and he was laying hands on people and praying for them. I love to watch his programs on Emmanuel TV. When he was praying, he said, 'Lay your hands on the TV' and I just laid my hands that day. I actually needed something else from God, not to quit smoking because I loved smoking!
However, after praying I sat back and I think I slept off. When I woke up, I took a stick of cigarette and I felt crazy. I couldn't even imagine that I took it up to smoke in the first place. It felt like poison!"
Three months down the line after she made the announcement via Twitter, Dikeh has remained clean from smoking.
Culled from E-247