By Ime Bassey
Following Nigeria's dismal performance at the just concluded London Olympics, former Edo State Sports Commissioner, Brown Ebewele has advised the Ministry of Sports to integrate ex-Olympians to the country's sports hierarchy.
Ebewele, who stated this in chat with Saturday Vanguard Sports, stressed the need for an overhauling of the country's sporting system following its continual nose-diving from 32nd position held after the Atlanta '96 to her resent no medal position at London 2012 Games.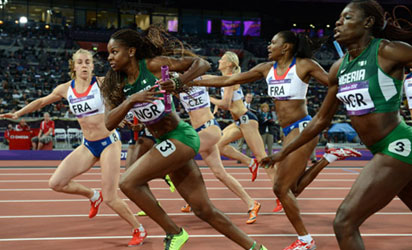 "The Sports Ministry should appoint the right people to manage our sports. They should give ex-Olympians the chance to run our sports and we will return back to our glory days. They know how they became what they are, and know how to replicate it.
"Look at the way Great Britain brought all their athletes from the previous Games together during the  opening and closing ceremony, this shows continuity.", said Ebewele
Reflecting on the Games, he said: "I wasn't disappointed because I saw it coming. I said it before the Games that we were not yet ready to compete in international events. We are not serious about anything we are doing because mediocrity has eaten deep into all sectors of our culture.
"What is painful about this is that, they just came back from London telling us they are going back to the drawing board, which we all don't know where it is. We are experiencing systemic failure that will take someone with tough mind to address," he added.