By Inalegwu Shaibu
ABUJA — In-coming first female Chief Justice of Nigeria, Justice Aloma Mariam Muhktar, who was confirmed by the Senate, yesterday, has vowed to weed out bad judges from the judiciary to restore public confidence in that arm of government.
Justice Muhktar, who was confirmed after a two-hour screening, admitted that corruption had eaten deep into the fabrics of the nation's judiciary, but assured that total cleansing would be needed to rid the sector of bad eggs.
She said: "Corruption is in every system of our society and I cannot pretend that it is not in the judiciary. What I intend to do to curb this is to lead by example and to hope and pray that others will follow. As the chairman of the National Judicial Council, I will encourage internal cleansing based on petition.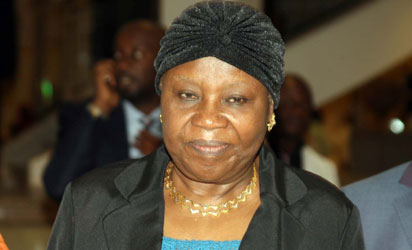 But that is not to say that I will condone frivolous petition. Each petition will be looked at on its merit. And I will also seek the permission of my colleagues in the council to ensure that discipline is enforced accordingly.
"Indeed as it is of now, it is very bad and I am saddened by it. I will try as much as possible to ensure that as for the bad eggs that are there, there will be a cleansing by the NJC based on petition."
Special courts for terrorism
The new CJN also faulted the absence of appropriate legislation to tackle terrorism, even as she kicked against the creation of special courts for terrorism and corruption related offences.
According to her, "I will start with the issue of terrorism. I knew that it is something that is aching everybody's mind in Nigeria and I know that everybody is anxious to ensure that this menace is curbed. We can only do that if there is a law in place, but right now there is no law on terrorism. Hence, I will say the ball is in the court of the executive. Once a law is passed, the judiciary will make sure that it complies with it and make sure that it deals with anybody found guilty of the offence.
"My own take is that rather than establishing a court just for that purpose, it will be better if a judge in the court is designated to hear and take these matters. If a court is created, as time goes by, the offences may continue to diminish and if a court is specifically set up for that, there will not be much for the judge to do. So in my view, I think maybe three judges, if possible, in a judicial division are designated to deal with these offences, which I think will suffice."
Plea bargain
Mukhtar, who also responded to questions from the Senators, said it was okay for plea bargain to be used in curbing corruption, adding: "I believe that there is no harm in it if it is done in good faith and it is done properly."
Accuses govs of withholding state judiciary funds
On the poor conditions of state judiciary, she accused state governors of withholding funds meant for the development of judiciary.
According to her, "Section 121 (3) of the constitution specifically provides that funds earmarked or allocated for the purpose of the judiciary should be allocated in bulk to the judiciary. But that does not happen in the states. The state executives hold on to the allocation and wait until the heads of judiciary go to them cap in hand requesting part of that fund. It is not good enough and we have been complaining about this and we will continue to complain."
On conflicting judgments issued by the Court of Appeals, she blamed it on the creation of multiple Courts of Appeal, adding that the duplication has removed synergy in the administrations of the Court of Appeals.
Mark tasks Mukhtar on bad perception of the judiciary
Senate President David Mark, at the end of the confirmation exercise, charged Justice Mukhtar to improve on the bad public perception of the judiciary and delay in justice delivery.
He said: "Clearly, there are a number of issues that the judiciary would need to tackle to be able to improve the public perception of the judiciary and also to ensure that there is steady dispensation of justice. We can only pray that Justice Muhktar will improve the condition in which she finds the judiciary. We will work together with the executive and the judiciary to ensure that there is fairness and there is progress and development in this country."