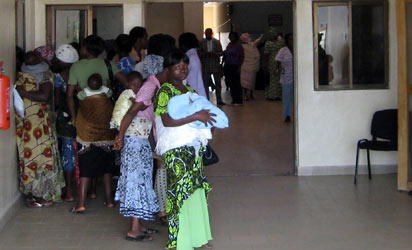 *Beneficiaries of the improved Ondo State Mother and Child Hospital initiative in Akure, during a post natal clinic day.
By CHIOMA OBINNA
Tears of joy accompanying safe delivery is fast becoming common place in communities across Ondo state.  Pregnancy is no longer the death sentence it used to be some years back.  Interestingly, it is almost like a competition among women in the state to get pregnant and even among those who had earlier stopped child bearing.
Women are  having a rethink and going back to the labour ward  following the string of safe deliveries being witnessed across the state in recent times.
The Abiye /Mother and Child Hospital initiative introduced by the State government is playing a major role in this development.  Each day, at least 25 safe deliveries are recorded at the State MCH in Akure.
Prior to the advent of the Governor Olusegun Mimiko administration in 2008, the World Bank had declared Ondo State as having the worst maternal and child health indices in the South West zone of Nigeria.
Also, a baseline survey conducted by the state showed that only 16 per cent of patients who register at the public health facilities came back to deliver there while the remaining 84 per cent patronised traditional birth attendants and faith-based organisations. This, however, increased the number of maternal and child deaths in the state.
But the good news today, is that the challenge has been surmounted all impossibilities to become one of the states in Nigeria where pregnancy is no longer seen as the easiest way to die but rather a better place to be a mother.
This has been the trend ever since the Ondo State Government blazed the trail with the establishment of Abiye safe motherhood project and establishment of ultra modern Mother & Child  hospitals specifically dedicated for ensuring survival of children and their mothers before and during pregnancy as well as after delivery in 2009.
Today in Ondo, the maternal mortality ratio is put at 100 per 100,000 live births, also within two years of the projects the State has drastically reduced maternal and child mortality ratio in the state with 30 per cent.
The progress witnessed by the state in the area of maternal health earned it the World Bank recognition – a first in the history of Nigeria and the entire African continent.
The Abiye project of the state was said to be a bold paradigm shift from what obtained previously because it sought to bring qualitative and effective healthcare services to people where they live, work and play.   If the tempo in the state is maintain, the state may be awarded the 2012 Bill Gates leadership award.
Statistics show that between October 2009 when the project was launched and June 30th, 2012, a total of 12,676 deliveries were taken, out of which 11,832 women delivered naturally and 1,844 by Caesarean Section.
However, one of the beneficiaries, Mrs. Ibiyemi who spoke to Good Health Weekly during a tour of health projects in Akure has this to say, "It has never happened in this state before but today we come in and pay nothing but get quality services.
This baby I am carrying was born just yesterday, through CS it is not up to 24 hours but I am already on my feet.   If it were in the private hospitals, I would have paid through my nose."
Critical observers say, one factor that may have earned the state this enviable status on maternal health may not be unconnected with its strategies to ensuring follow ups and reducing the delay in seeking qualitative care when complications arise.
To address this, Medical Director of the Mother and Child Hospital, Akure, MCHA, Dr. Lawal Oyeneyin said the state trained 50 Health Rangers, who in turn train Community Health extension workers to track at least 25 registered pregnant women till delivery even if it meant visiting them in their homes.
Each ranger or health facility is equipped with means of vehicular movement and evacuation of patients ranging from customised motorcycles to tricycle and 4-wheeled ambulances, adding that speedboat ambulances have been earmarked for riverine areas. Oyeneyin said to facilitate communication, individual mobile phones on a toll free caller-user group platform were provided for the pregnant women and their care-givers.
He recalled that the 2008 declaration by the World Bank that the state had the worst maternal and child health indices in the South West Zone served as a matter of urgency a wake up call for the administration to undertake as a matter of urgency the total reform of what he described as" dysfunctional health system".
Oyeneyin said the situation in the state informed the Abiye Safe motherhood project partly sponsored by the World Bank in 2009 to reduce child maternal mortality at least by 50 per cent and increase facility utilisation by 60 per cent.
He said the scaling up of Ondo State Safe motherhood programme tagged Abiye – plus is currently underway in the other 17 local government areas in phases. It is expected that collation of impact statistics will be complete by December 2012.
He pointed out that Abiye programme is structured to pragmatically address the impediments militating against ensuring that pregnancy is no longer a death sentence in Ondo State.
On his part, the State Commissioner for Health, Dr. Dayo Adeyanju said all the latest innovations in the state is hinged on improvement of maternal and child health in pursuit of the Millennium Development Goals, MDGs, 4 and 5.
Adeyanju noted that the Abiye safe motherhood project was sponsored by the World Bank and piloted in Ifedore Local Council with a mandate to develop sustainable, equity-based healthcare services that will provide universal access to the people.
He said healthcare service in Ondo State especially at the Mother and Child Hospitals under the Abiye safe motherhood programme is free for pregnant women, children under five, and elders above 70 years.
"Our investment in these areas is a deliberate investment which is basically to improve the human development index. For us in Ondo State, we realised the fact that there is usually the rural and urban disparity in terms of maternal and under five mortality. Often times the disease burden is always in the rural areas and facilities are always located in the urban centres which also inform our citing of some major projects in the rural areas."