*Telephone conversation between duo released
By Uduma Kalu
LAGOS – Fresh facts emerged yesterday to corroborate Sunday Vanguard's story of the alleged telephone conversation between Mr. Lawan Farouk, House of Representatives Committee Chairman on the management of subsidy funds, and Femi Otedola, Executive Chairman, Zenon Oil and Gas, in the unfolding $3 million bribery scandal.
Channels Television yesterday obtained the recorded audio conversation which transpired between both men as reported in the Sunday Vanguard edition of June 17, 2012.
Sunday Vanguard's report had exclusively disclosed that Hon. Farouk, whether acting on premonition or instinct, decided against going to the airport to collect the alleged of $2.5m – having allegedly collected $500,000, earlier.
The Sunday Vanguard report of June 17, reads:
"Now, whether Farouk had a premonition that he was likely to be set up or that he just didn't want to be spotted at the airport in the company of Otedola, he simply refused to meet Otedola at the airport afterwards.
"Instead, according to records of the telephone conversation that was bugged, Farouk instead suggested that he would send a third party to collect the money."
According to the recordings, he gave the telephone numbers of the nominee.
He, according to the recorded conversation between him and Otedola, actually spelt the name of the nominee to Otedola.
"But all these were activities in futility.
"The high command of the SSS would not have a third party collect the balance of $2.5m.
"A senior security source told Sunday Vanguard that the reason why the airport operation was aborted was that since it was Farouk that was being expected to show up and he was now planning to send another party, there was no need to continue.
" Had he shown up and collected the money, he would have been arrested immediately, a source confirmed."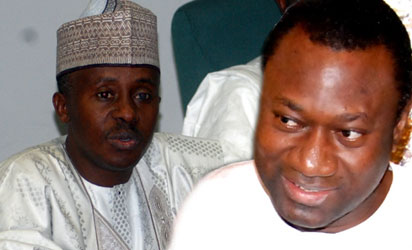 In the recording, the voice said to be Otedola's asks how the outstanding bribe money should be delivered as Lawan is unavailable.
The audio conversation started with the MD/CEO, Zenon Oil and Gas, Femi Otedola saying he did not want to take the money to his house. "I don't want to take it to my house; it is a lot of money" he said.
Then the lawmaker replied that he was on his way out and by the time he returned, he would have to head to the chambers of the House of Representatives.
Otedola then asked, if he should reschedule his planned trip to China, but Farouk said no and offered to bring in a third person to collect the bribe.
The lawmaker gave the phone numbers 08036513355, naming the person as TJ.
Acknowledging the transaction, Farouk responded affirmatively to Otedola's remark that if he received the initial payment, then there would be a balance of $2.5 million, saying "that's right" while he said, he would be calling the third person to ensure the collection of the initial payment.
The conversation verbatim
Otedola: How are you sir? I don't want to bring it to my house
Lawan: Oh, you would take it to your house
Otedola: No, I don't want to bring it to my house; it is a lot of money
Lawan: err… so where? Because I'm rushing to the… they are at the airport now?
Otedola: ? Yes they are in the airport in the aircraft
Lawan: Well, I can't come over now and before they can come over now unless I send somebody to but
I can't because…by the time they come I should be…I have a lot of things to do myself
Otedola: Is there anybody you think I can give it to or maybe I should just postpone my trip to China till tomorrow?
Lawan: No, no it's ok…I'll arrange it with someone…let me give you his number 080
Otedola: hold on hold on
Lawan: 08036513355
Otedola: (Repeats number after him)What's the name?
Lawan: TJ
Otedola: Sorry?
Lawan: aaarrh… TJ
Otedola: Ateezay?
Lawan: TJ!
Otedola: Teezay?
Lawan: No, Tj
Otedola: OK. So I will give him the balance; that is erm… 2.5 million dollars, yea?
Lawan: that's right. Hold on. I'm calling him to be sure his phone is on…..
Lawan Farouk reacts
Meanwhile, Mr Farouk Lawan has reacted to the audio conversation which was broadcast on Channels Television saying Mr Otedola manipulated the audio and challenged the business mogul to produce the complete audio video unedited and undoctored.
In a statement issued on behalf of the lawmaker by his counsel, Chief Mike Ozekhome, SAN, he said,
"we have listened to and watched the audio with our client, Mr Farouk Lawan. On his instructions, we hereby  state that the audio is infertile, vague, puerile and inadmissible in evidence by any Court Of Law or Tribunal.
"Professionally, Channels did make the vital point that the audio was "purported to be their voices". One simple question here: where is the visual of the audio? Recall that Mr Otedola had told the whole world that he used SSS to carry out a so called "Sting Operation", which showed Farouk Lawan not only pocketing the sum of  N500,000 US Dollars, but also putting some under his cap, in Mr Otedola's Lagos home. On Farouk's instructions, we had debunked this allegation and challenged Mr Otedola, or the Police and SSS to produce this complete audio video, unedited and undoctored.
"Mr Otedola had the opportunity of doing this through Channels TV. But he did not. Rather, he brought highly doctored, manipulated and incomprehensible voices purported to be his and Lawan's. He will certainly require forensic evidence to prove this to be true in this highly technologised world of manipulative evidence that can easily turn a man into a woman. Certainly, the audio was a sorry anti-climax to what Nigerians had been expecting.
"Even at that, let us take the audio "evidence" itself for whatever, it is worth. The conversation started somewhere in the middle, not from the beginning and ended abruptly. Our client hereby still challenges Mr Otedola to air the entire audio visual and also the complete video for Nigerians to see the setting and  environment in which the alleged bribe took place, who said what, to whom and for what.
"Secondly, our client believes that the entire footage is devilish, satanic, luciferous, mischievous and completely taken out of context. Even then the audio shows that it is Mr Otedola offering to pay the balance of the alleged bribe of N2.5 million US Dollars, not Mr Farouk Lawan.
"Even from what was said, there was no mention of the purpose of the alleged balance of N2.5 million US Dollars, or any mention of Mr Otedola's indicted companies, Zenon Oil and AP Petroleum, Whose desired removal from the Committee's indicted companies list allegedly formed the fulcrum of the bribe itself. If it was actually a "sting operation", why is it Mr Otedola and not the SSS officially releasing it on Channels TV?  The audio has raised more questions and doubts than answers. Mr Farouk Lawan says it is a doctored anti-climax".