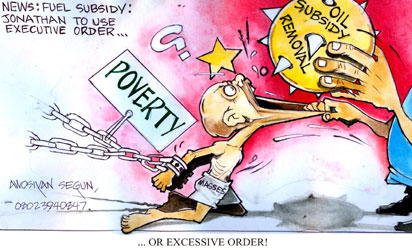 By Clara Nwachukwu & Kunle Kalejaye
As controversies over the fuel subsidy rage, there are indications that the Federal Government may adopt the option of deregulating the downstream petroleum sector, in a bid to stop the corruption that has trailed the process, particularly in the last three years.
Government has already spent more than half its budget for subsidy payments in 2012, and has declared that it is very unlikely it will seek a supplementary budget to support the funding of claims for the rest of the year as suggested by a committee it set up to review subsidy funds management.
The committee, in a report submitted to government last month, said: "The total provision for subsidy payments in the 2012 budget of the Federal Government was N888.1 billion, inclusive of N231.8 billion for 2011 outstanding subsidy claims," and N656.3 billion for 2012 subsidy claims.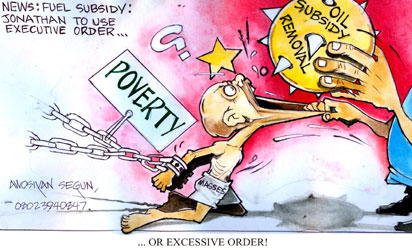 It is obvious that the 2012 budget provision will be insufficient given that N451 billion had been spent already for 2011 claims (N241 billion to private importers and N21 billion to NNPC).
Against this backdrop, government may decide to deregulate the sector sooner than anticipated as recommended by a committee rather than choose the option of either increasing the budgetary provisions for subsidy payments or making drastic changes in the Petroleum Support Fund, PSF, used for financing subsidy claims.
C'ttee's recommendations
The Aigboje Aig-Imokhuede 10-man committee suggested three ways to end the malfeasance that is fuel subsidy in Nigeria. They include:
Deregulation of product pricing, i.e. elimination of subsidy
Increase in the 2012 budgetary provision for subsidy payments
Implementing drastic changes to the PSF scheme and enforcing stringent compliance going forward.
It added: "This is without prejudice to the Committee's recommendations for refund of subsidy payments to the Federal Government for a total sum of N422 billion (provided that the parties involved in the transactions are unable to provide evidence contrary to the committee's findings).
Of the three choices prescribed, the most likely may be deregulation, which process government started on January 1, amid nationwide protests before resorting to partial deregulation.
Even with partial deregulation, the money realised from the difference between the old and new pump prices could hardly finance the palliatives envisaged, let alone provide a buffer for subsidy payments.
Furthermore, considering the plethora of regulatory lapses associated with PSF, through which fuel subsidy is managed, it may be difficult to prevent oil marketers and trading companies from resorting to the numerous ways of using false documentations to make claims.
Lloyds' evidence
Of the N422 billion to be recovered from the identified oil marketers and traders, shipping intelligence agency, Lloyds, disowned false shipping documentations through which about N60 billion were paid to them as claims.
In some cases there were no proof of the mother vessels claimed to have been used to import the products, while in some others the vessels were anywhere in the world but near West African waters or Nigeria's for that matter.
In yet more curious cases, the vessels were already declared dead and could not have carried any petroleum products at the time of the claims. As shown in the various Lloyds' observations and committee's conclusions below, the committee observed that there was "no proof of the existence of the mother vessels' bill of lading or the daughter vessels' bill of lading for some transactions for which subsidy was paid.
"The total value of subsidy paid in respect of these transactions was N11,762,998,358.89.
"It appears that PPPRA paid subsidies for products that were not supplied and/or delivered."
The Lloyds' List Intelligence (as of June 1, 2012) revealed that the mother vessels for the transactions were not in the location claimed at the time that the daughter vessels supposedly loaded from them. However, subsidy was paid on PMS that might not have been delivered for a total sum of N21,361,071,313.24.
The List also revealed that the mother vessels that daughter vessels supposedly loaded from at Offshore Cotonou in respect of the transactions could not be traced and thus may not exist. Yet subsidy was paid on the transactions for a total sum of N9,039,699,976.06. This implies that subsidy might have been paid on non-existent transactions.
'Resurrected' vessels
The Lloyds' List Intelligence (as of June 1, 2012) revealed that mother vessels for the following transactions were no longer operational as the vessels had been declared dead, yet they were claimed to be in operation by some oil marketing and trading companies:
A dead vessel named MT Louisiana Getty, which was changed to Philip Lousiana since 1975 before she eventually died as duly reported by Lloyds' List Intelligence, was used to consummate PMS import transaction.
The name of another dead vessel, KRITI AKITI, which was changed since April 17, 2010 before she was decommissioned and eventually died on July 06, 2010, was also used for PMS import transactions.
Another dead vessel, originally named MT Hellenic Blue that had her name changed to MT Nireus since January 26, 2006, before she eventually died on February 17, 2010.
There was also a case of another vessel called MT Envoy River, originally called MT Envoy, which was decommissioned and later died on January 9, 2012, but at the date of claimed shipment on December 30, 2010, she was in far away Norway. This vessel, which is now dead could not have trans-shipped to MT Madonna 1 at Offshore Cotonou.
Therefore, petroleum products could not have been loaded aboard these vessels for which subsidy was paid to the tune of N8,138,502,416.70. This implies that subsidy claims were paid on transactions that were not certain.
Masters Energy Oil & Gas Limited and Caades Oil & Gas Limited made subsidy claims using the same mother vessel, MT Zhen Star that could not be located on the Lloyds' List Intelligence. This mother vessel's bill of lading, dated October 19, 2011, supposedly had 58,617.005MT of PMS. The total subsidy claims on the shipments was N3,902,554,490.16.
However, the subsidy on this transaction must have been wrongly paid since MT Zhen, which was supposedly used could neither be located on the Lloyd's List Intelligence nor anywhere on the West African Coast.
More shady deals
lt was noted that a mother vessel, MT Anema E. Core, discharged her cargo, using 2 jP Bills of Lading i.e. 28,370.198MT, dated February 1, 2011 and 31,647.147MT dated February 2, 2011, into MT Greataf (mother vessel), which subsequently off-loaded all her cargo of 60,017.346MT into MRS Dantata Jetty, using four daughter vessels namely: OTB S- 125, OTB Hestia, OTB Kirikiri and OTB Hera.
However, it was noted that IMAD Oil also claimed to have taken a total of 11,096.97MT using the Bill of Lading dated February 1, 2011, from MT Anema E. Core, the same vessel which had purportedly discharged fully into the MRS Dantata Jetty.
There is no copy of the Bill of Lading for ship to ship transfer from RBD Anema E. Core to MT Greataf.
The implication is that all the transactions above should not have been processed for payment if proper scrutiny of documents presented were made considering the capacity indicated on the Bills of Lading of the mother vessel (MT RBD Anema E. Core).
Between Cotonou, China, South Pacific
It was observed that two oil marketing and trading companies (Brila Energy Ltd & Nasaman Oil Services Ltd) benefited from subsidy payments using PMS purportedly discharged by two mother vessels off the coast of Cotonou.
However, these mother vessels were at that period located precisely in the Far East (China) and in the South Pacific using the Lloyds' List Intelligence Vessel tracker.
There is no basis for the subsidy payments made to the two companies since the mother vessels that discharged PMS were nowhere near the West African coast at the time of purported discharge of PMS.