BY CLIFFORD NDUJIHE
Dr Austin Ndigwe, special adviser to the National Chairman of the All Progressives Grand Alliance (APGA), Chief Victor Umeh, on Inter Party Affairs, in this interview, speaks on the crisis in APGA and says that stakeholders must rebuild the party in memory and honour of late Dim Chukwuemeka Odumegwu-Ojukwu. Excerpts:
What is really behind the crisis in APGA?
There is no serious problem, it is just that Sylvester Nwobu-Alor decided to fuel an artificial crisis because they do not want to conduct Local Government election in the state and because the National Chairman refused to tail towards Governor Peter Obi of Anambra State on who succeeds him come 2014. Nwobu-Alor announced that he has dissolved the Anambra State and National executives of the party respectively. Thereafter, a peace meeting was called at the home of former Minister of Health, Dr Tim Menakaya.
At that meeting were APGA stakeholders including Gov Obi, Mrs. Bianca Ojukwu and others. There, Obi was accused of being behind his uncle's pronouncements. He, however, denied his involvement and stated that Nwobu-Alor was totally on his own. He even urged the party to set up a disciplinary committee to investigate and tackle Nwobu-Alor. The party then went ahead to set up a panel, which consequently invited Nwobu-Alor to ask him some questions on why he made those utterances.
He snubbed them and went about boasting that nothing would happen and that whatever he was doing or saying had the blessings of Governor Obi. And the moment the party suspended Nwobu-Alor, they instigated five members of the party's National Executive Committee (NEC) to break into the national secretariat to say they have suspended the National Chairman, Umeh, and secretary, Alhaji Sanni Shinkafi.
Umeh's offence
They claimed he has not organized convention in the last five years, has not rendered the accounts of the party and has been running APGA as a one-man show. If Umeh has committed any indictable offence, you need to follow due process through the party's NEC to tackle it.
Don't you think Umeh should account for N20 million he is said to receive monthly to run the party?
It's not true. Obi agreed to provide a N10 million naira monthly allowance to our late leader, Ojukwu and then to Umeh for the running of the party from the national headquarters down to the wards. He ended up doing that for just about four months and stopped because he said that Umeh refused to dance to his tune.
When did the allowance start and  stop coming?
This year. For the past five months he has not given Umeh a kobo with which to run the party.
Don't you think that APGA needs peace after Ojukwu and that this crisis dishonours Ojukwu?
Despite Gov Obi's claim to be Ojukwu's first anointed son, he has not has done anything in honour of the man's memory. Or how else can you explain a situation where the governor uses his old uncle, Nwobu-Alor to cause disaffection and work for the disintegration of APGA that Ojukwu worked so hard to set up? Till date no single thing or memorial has been done to edify and immortalize Ojukwu in his home state.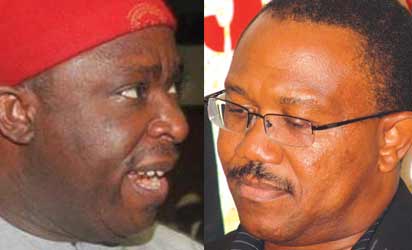 But barely weeks after his burial, Governor Rochas Okorocha erected a gigantic monument in Owerri after Ojukwu, to celebrate their hero. He has set up Ikemba Foundation, for Research and Development, with an internationally acclaimed diplomat, Prof George Obiozor as its Director General.
Why coming up with these allegations now?
We have given them time to realize that APGA is never a family affair and hence doesn't belong to them alone. This party was founded on very sound principles by men and women of vision, honour, integrity, sacrifice and tenacity long before Obi came in from the then All Peoples Party (APP) along with the incumbent Anambra State chapter Chairman, Mike Kwentor, from his London base and said he wanted to run.
It was this same Chief Victor Umeh with Onwuka Ukwa who took Obi round, seeking and getting the blessings of the churches, the masses and the late Dim Chukwuemeka Odumegwu Ojukwu.  Gov Obi is a Special Adviser to President Goodluck Jonathan, and we don't have anything against that. Working for Mr. President means working for the Peoples Democratic Party (PDP).
What is your comment on allegations that the cabinet shake-up is meant to remove Umeh's sympathizers?
To a large extent, yes. It was not just to get at those who have sympathy for Umeh, but some commissioners like Chima Nwafor (Commence, industry and Tourism) resigned long before the cabinet reshuffle because they got tired of saying and proposing the same thing in so many ways and languages- 'Obi, please conduct council election.'
The governor kept gerrymandering. The party had it so rough during Obi's re-election and during the last general elections because members, supporters and even citizens were distraught, really getting impatient with all the excuses against the conduct of election to install full democratic leadership at the grassroots, at the 21 councils in the state, to make the electorate to feel proper impact of democracy down the line.
Why are you against Obi's choice of likely successor ?
If he wants to install his lackey, APGA has a constitution that must be followed. For one to stand for nomination for any election he/she must be a member from the ward, known by the local government area executives who would attest to his character, contributions to the party at least for a minimum of three years. The person must be known to the state exco because governorship race is not like a councillorship bid.
With these myriad of problems can APGA tackle future challenges effectively?
What has been playing out are mere cosmetic problems unleashed to discomfiture APGA and then use same blackmail Umeh and to stop or slow down his momentum. The party is moving well. The NEC meets on July 23, 2012 and we have written to INEC, intimating them with our three-point agenda for our next national convention, the Anambra 2014 governorship election primaries and the selection and ratification of our new party leader.  Ojukwu is late and therefore the NEC need to appoint his replacement. It could be Mrs. Bianca Ojukwu, Obi or Okorocha, or any other person the NEC would choose.
Can APGA really use Anambra and Imo states as spring boards and testimony to convince other states?
Well, all APGA members are very proud of Okorocha. To some extent, Obi has tried, but he has refused to understand that people who toiled and staked their lives, liberty and comfort to enthrone him should be appreciated and carried along. Yes, Anambra State government does not owe any bank, state or any development partner. But that is not what mattes. It is better you borrow to do massive development projects in the interest of the people than to keep away from debt and leave the state in dilapidation in virtually all sectors.
How do you view Mrs. Bianca Ojukwu's connection in this matter?
It's unfortunate because her late husband was our great supreme leader and because of the deep respect we have for him we don't want to join issues with his wife. But it's sad that less than a month after Ojukwu's death they went and lured her into political mess. I least expected her to make certain political moves and utterances that she did lately. For example, in Igbo tradition it was an abomination for her to attend any public function or make statements until she concludes the mandatory 6-12 months period of mourning her husband. That is when she removes her black mourning cloth.