By Kingsley Adegboye
… As LAWMA introduces waste banks, buy-back programme
Blocked drains, gutters and canals that emit foul odour have continued to be a regular feature of Lagos metropolis and indeed other urban centres in the country. The unfortunate aspect of this development is that many Lagos residents have come to accept it as part of city life.
Most parts of the sprawling city are flooded during rainy season due to blocked drains, gutters and canals arising from the mountains of refuse that litter every part of the densely populated commercial nerve centre. It is commonplace to find pure water sachets, plastic bottles and in some cases old tyres   indiscriminately disposed of by people ending up in these drains, gutters and canals. The result is that most of them are blocked all year round.
This ugly scenario poses a great challenge to the concerned authorities.  Efforts by the Lagos state government to make residents pay some money to have their wastes disposed of by government approved agents PSP have not  failed to yield positive results. The introduction of waste bins  and bags in front of every house as it obtains in organised societies has not been properly embraced, as many households cannot afford the waste bin not to talk of paying for regular evacuation of the waste generated by them.
Vanguard Homes & Property learnt that the volume of waste generated in Lagos is so much that the only way to take care of it, is by burning them at landfills or garbage dumps. But this leads   to air pollution and the attendant health hazards.
In a bid  to have a refuse -free city, the Lagos State Waste Management Authority LAWMA  recently initiated the recycling of waste to wealth and buy- back waste programme where people can make money from waste items that usually litter the streets of Lagos.  The agency has set up waste banks established at designated spots across the city and Local Government Areas  for easy accessibility and collection of these wastes.
LAWMA's Recycling Manager, Mrs. Titilolu Adeyo told Vanguard Homes & Property, that the buy- back project was initiated because the landfills cannot continue to take all the non-biodegradable materials. She pointed out that it was also noticed that plastic bottles and such items were becoming a menace to the environment because of the attitude of the people to discard refuse indiscriminately which end up in canals, drainage channels and the rest thereby causing floods during rainy season.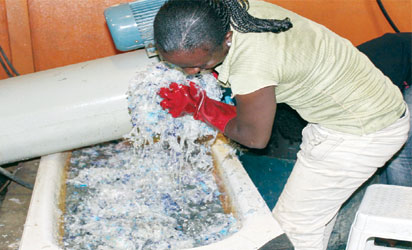 Mrs. Adeyo added that to arrest the situation, LAWMA decided to put value on these waste materials by buying them back from members of the public with little money. "So, we buy here at this landfill, just as we have other designated spots where we equally buy these materials so that people don't have to go very far to sell these waste materials. We buy the pure water sachets for N5 per kilogramme provided it is clean and moisture free. We buy the plastic bottles at N20 per kilogramme.
"There must not be water inside the bottles, as they will be weighed on the scale to determine the cost. So, that is the essence of the buy back project. However, after the buy back, we recycle the pure water sachets into black nylon bags as you can see from our recycling plant here.
"We give the recycled bags to people who need them. The idea behind putting money value to pure water sachets is to discourage people from flying them all over the place thereby degrading the environment. Again, the idea behind the buy back project is to create job market for people just as unemployed Lagos residents can tap into the recycling business which is lucrative, as a way of encouraging people to be self employed," she said.
Continuing, the LAWMA Recycling Manager said:"To make our land fill sites less odorous and over packed with waste, we have adopted a zero waste initiative to improve life in the society. The best way to become eco-friendly and help protect our environment is by recycling. This helps to eliminate the problem of landfill areas becoming filled with junk that could harm the soil as well as the environment.
"Under the adoption of our zero waste initiative, we have drastically reduced the volumes of waste being disposed at the various landfill sites by employing waste to wealth alternatives. Out of approximately 9,000 metric tonnes of waste generated daily in Lagos, about 1,200 metric tonnes of waste is now being converted to other useful resources under a formal arrangement with the private sector as follows-  Waste to Compost Plant at Ikorodu, eight percent, Waste Paper bailed at Ojota, one percent   Plastic/Nylon recycling at Ojo and Ojota, two percent, Other informal activities; five percent", Mrs. Adeyo explained.
Indeed, Waste recycling is not something new, particularly in the developed world. But in the developing countries like Nigeria and others, emphasis is just being given to it as a means of giving value to waste materials that constitute nuisance to the environment. In fact, recycling is a key element of the modern waste reduction which is the third component of the "Reduce, Reuse, Recycle" waste hierarchy.
Environment experts describe it as the process of transforming used materials into new products. Recyclable materials include  several kinds of glass, paper, metal, plastic, textiles, electronics and others. As in any other process, the recycling process is methodological. Recyclable materials are first gathered at a collection centre, then sorted, cleaned, and reprocessed into new materials bound for manufacturing.
Recycling prevents waste of potentially useful materials, reduces energy usage and reduces air pollution as well as water pollution. It also prevents habitat destruction, loss of biodiversity and soil erosion associated with logging and mining.