By Abdulwahab Abdulah
As today is observed as World Blood Donor Day for the recognition and appreciation of millions of blood donors across the globe by the World Health Organization (WHO), the issue of blood donation  has again come to front burner, even as the act of donating blood to save life is now more  becoming controversial.
In the ordinary sense, it is important to ask for the necessity behind the call or demand for blood donation as it is practiced today across the world.
Medical sources revealed that blood donation became necessary in order to fulfill obligations such as taking care of surgical patients especially those with cancer, accident trauma patients, women with pregnancy-related complications such as hemorrhage and ectopic pregnancies.
Others that may need blood transfusions to survive are children with severe forms of anemia who may be short of blood in their body.
To fulfill the above obligations, which has almost become a great task for hospitals and medical personnel, it is probably easy to conclude that donating blood should be a compulsory task for every human being that meet the minimum requirements needed to donate blood for free to do so.
Considering the importance of sourcing for blood to fulfill the above listed obligations,  question may be asked whether it should be made compulsory for donors to do so, especially when it is now compulsory for  the spouse of a pregnant woman to donate blood before she can be registered at public hospitals for pre-natal medical services.
This practice was a basis of a petition recently written by a non-governmental organisation, Women Advocates Research and Documentation Center (WARDC) to the Lagos state governor, Mr. Babatunde Fashola, SAN, requesting that the state government should as a matter of policy stop what it called "Compulsory Spousal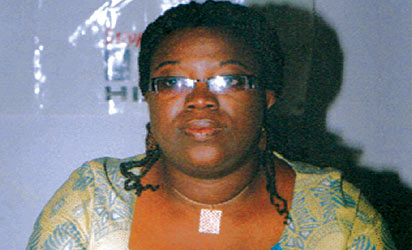 Blood Donation Policy", to protect the fundamental rights of some of the women who may one way or the other prevented from having opportunity to get blood donated to the  blood  bank before they can enjoy the government facility in the public hospitals in the state.
According to the executive director of WARDC, Ms. Abiola Akiyode-Afolabi who signed the petition, " our investigations and findings have revealed that majority of women who couldn't fulfill the obligation of donating blood as condition precedent to register for pre-natal find themselves either losing their pregnancy or pay dearly while running away from implementing the government's hospital policy."
In the petition which was addressed to Governor Babatunde Fashola, SAN, Akiode-Afolabi, who is a lawyer appealed to the governor to use his good office to reverse the conditional donation of blood,
She noted that the "call to the state government was imperative to enable pregnant women access maternal health facilities and services in all Lagos state owned hospitals as the existing compulsory spousal blood donation policy inhibits pregnant women from accessing ante-natal services, and as a result, women have suffered untold hardship even some losing their pregnancies or lives."
According to her , "the compulsory spousal blood donation has multiple negative consequences on pregnant women who are unable or unwilling to compel their husbands to donate blood. These consequences includes: husbands' refusal to permit their wives to access antenatal, intra partum, and post-natal services; women's exposure to domestic violence if they attempt to compel their husbands to donate blood; additional hardships for pregnant women who are unmarried, or whose husbands become ill, abandon them, or pass away during the course of the pregnancy.
"These women have no option but to pay the fee in lieu of blood donation, which they may not afford." She stated further that "the practice of compulsory spousal blood donation is contrary to the Nigerian National Blood Policy (the Policy), developed by the National Blood Transfusion Service, Federal Ministry of Health, in April 2006. The Policy provides guidelines for blood banking and transfusion services."
She added that "blood therapy is a lifesaving component of modern health care … (and) blood should be sourced from low-risk, voluntary non-remunerated blood donors."
Akiyode-Afolabi argued further that 'compulsory spousal blood donation' was not in line with internationally recognised principles and well established standards, developed by the WHO and other key international organisations that are involved in or depend on the provision of blood services.
Apart from the above reasons offered, over the years there have been running battles between the hospital authorities and some individuals who have refused blood transfusion on the ground of their religious belief.
Without mincing words, the process no doubt has also become a big challenge to many prospective blood donors who may be willing to submit themselves to donate blood but are afraid to undergo series of preliminary tests that will be carried out on them before they can be certified to donate their  blood.
To address  the issue of compulsion in the donation of blood, Vanguard Law and Human Rights sought the views of legal and medical experts  who argued that the idea of donating blood to save life is a sterling one. However, majority of them were of the opinion that under the law and natural justice, one cannot be compelled to donate blood compulsorily.
A lecturer at the Faculty of Law, Lagos State University, Ojoo, Dr. Lateef Ogboye  who differentiated between blood and transfusion and blood donation said the  practice of blood transfusion could  be encouraged but not make compulsory.
He said, "In term of blood transfusion, an adult of sound mind can consent or not to allow a transfusion to be carried out on him or her. There is no way you can force a person to perform blood transfusion or donate blood. First, whoever is carrying out the transfusion must agreed with the person, from whom he intends carrying out the medical transfusion.
"However, concerning a minor, you have to get the consent of his or her parent or guardian. It is concluded that their (minors) view is as same as that of their parents.
This however may not be applicable to a pregnant women. A decision may be taken by the authority to save her pregnancy in some cases.
"In term of blood donation,  if a woman say she doesn't want to donate blood, nobody can force her to do so. By extension under the law, it is very wrong to force the husband of a pregnant woman or her relatives to donate blood compulsorily. I do not think it is right, it is illegal for the authority to force anybody to donate blood. In most of the cases where people were forced to donate blood they can challenge this in court.
What happens in the case of a pregnant woman, who donates blood through her husband or one of her relatives and eventually the blood is not used?  So, donation of blood supposed to be voluntary.
"In general discussion however, donation of blood by a willing donor is good for both the donor and those who may need the donated blood. So, the exercise is encouraged and anybody is free to donate blood if he is certified."
Speaking in same vein, a medical practitioner, Dr. Akeem Agboola said the poor attitude of Nigerians to call for blood  donation may be responsible for government's action in making it as part of requirements to register in the children hospitals in the state.
He argued that donation of blood is almost equal to giving life. However, he disagreed with the idea of  forcing people or making  the donation of blood as condition precedent before registering a pregnant woman in public hospitals.
He said, "They (government) do not have to make the blood donation as a precondition for ante-natal booking. In a situation whereby people did not voluntarily go to the blood bank and donate, you can imagine what happen. If people are doing that voluntarily, may be the condition will not be applicable.
"If you look at it, most of the blood being donated are not being used by these women. The blood are donated in case the women will need blood during child birth. So, for this reason, I agree to that, that government can in a subtle manner encourage blood donation.
"If there is another means of getting blood from the people, that is, people are donating blood voluntarily, the condition of government  taking steps to compel people to donate may not arise. However, if there is another way of getting blood from the people voluntarily, it would be better.
"What I observed is that the blood being collected are being kept as an insurance against any eventuality. In a condition where the husband of the pregnant woman is not healthy to donate blood,  the family of the woman or that of the husband can donate."
Speaking in line with the call made by WARDC, Dr Agboola said,  "If  the state government feels that that is the only way in which the people can donate blood into the blood bank for those who need it at point of death, one cannot blame them.  In order to prevent our government from doing that, we should also encourage ourselves by donating blood voluntarily for the blood bank.
In his own view, a Lagos lawyer and human rights activist, Mr. Bamidele Aturu said, making it compulsory to donate blood in the hospital in whatever form is wrong. "Asking  somebody  to donate blood without his consent is illegal. It is not a consent. Such a consent can be regarded as consent under  duress.
"I understand the importance of donating blood. It is needed to take care of human being, this has to be done through persuasion. It is good  for us to donate blood.  But in a situation where you force somebody to donate blood overtly or covertly, and the person dies in the process, his/her relatives can claim damages. Also, one can equally claim damages if one is forced to donate blood.
"I appreciate the need to donate blood, we should encourage Nigerians to do that. But this can't be a condition precedent, or be forced to do so."