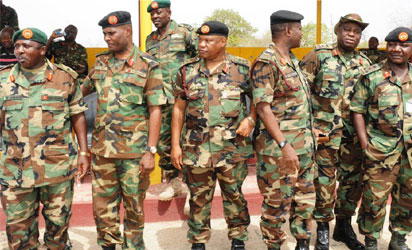 By AbdulSalam Muhammad, Kano
KANO -Nigerian Military has announced plan to deploy more troops to boost the existing manpower in the trouble commercial city of Kano
Addressing the troops in Kano during an official visit, Chief of Army Staff, Lt General,  Azubike Ihejirika declared that "the commercial status of the city and its place in the socio economic baseline of west Africa can not be compromise.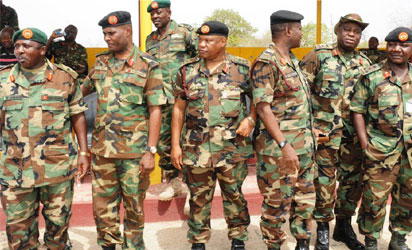 "We want Kano to return quickly to peace because of its role in the socio economic baseline of not only Nigeria but West Africa and to this effect more troops will be deploy so that you have the time to rotate and rest", Lt General Ihejirika stressed.
Kano, a city of over nine  million people is one of the states in northern Nigeria facing serious security challenges and hence in recent months economic activities in once the bubbling city has been crippled .
The Chief of Army Staff who commissioned several projects executed by the Nigerian Army to boost Military civil relationship with the local community however failed to reveal the total number of troops to deployed
Lt General Ihejirika who was full of praises for the combatants troops over the way and manner it has handled insurgency so far further tasked them on professionalism.
He said that "political and traditional rulers in the city appreciates the good job you are doing and want you to sustain it and I must remind you not to give to anger  in your conduct  while countering insurgency"
"Bear in mind all the time that your job is service to the people and in doing that you must resist anything that will compromise professionalism", The Chief of Army Staff stressed.
The 18th Chief of Army Staff dispelled insinuation of mutiny among Nigerian troops in Sudan, pointing out that what happened was that the unit on ground are through with their oversea assignment and were been held back by certain administrative hiccup by United Nation and that also has been resolved.