By Gift Gabriel
Life is truly what we choose to make of it. From a very humble career as a bank secretary cum yypist, she has become one of Nigeria's richest women. Wondering how that happened? Her creativity earned her golden fingers that turned everything into immediate success in her hands!
From that humble career which was imposed on her by her father and then to fashion designing which she later had to venture into, Mrs. Folorunsho Alakija has proven herself a genius! Her foray into the oil business, which saw her becoming the Executive Vice-Chairman of Famfa Oil & Gas Limited, is also not an exception. This 61-year-old former President of the Fashion Designers Association of Nigeria – FADAN – is also a philanthropist of note.
Today, she opens up on her journey to fame and success. Enjoy!
Treading a career path chosen against one's will could be frustrating. How did you cope?
I didn't like it at all when I first started my secretarial Studies. I felt as if my ability had been undermined. I felt frustrated! I however took it as a career and worked hard at it. I had always loved the idea of being a Lawyer because I had an inquisitive mind. That hope was however dashed by my father who insisted I should study secretarial studies.
However, I made it work for me because whatever I take up, I always want to do it well. So, that saw me through the years of being a confidential secretarial, a personal assistant, and secretary to several Managing Directors at the now defunct IMB where I worked, until I decided to move out when I observed that new intakes were being ranked and promoted above me.
But didn't you feel inferior when these new intakes at the bank were being promoted above you?
I didn't feel inferior because I knew that I wasn't inferior! But I felt frustration because I knew that if I was given the opportunity, I would prove myself. But when it got to the point that others were being placed above me, I knew I had reached a crossroad where I needed to make a decision. I do not blame the bank because they were actually capitalising on degrees.
I'm however glad I took the right decision at that point. I believe very strongly that God ordered my footsteps because He had planned out my destiny. So, I traveled abroad to study fashion designing. As a matter of fact, my youngest son was two years old then. The condition I had with my husband under which I would go to study abroad was to take the youngest two of my four children along with me, which I did.
Let's look at the immediate success you recorded as soon as you joined the array of fashion designers in the country
That was the Lord's doing. Precisely three weeks after I formally launched my label, Supreme Stitches, I won a national award as the Fashion Designer of the Year 1986. To the glory of God, people liked my designs because I was creating them from within. I would say my creativity had always been inborn.
Would you compare the success you recorded in fashion with that of the banking industry?
Of course the success I achieved in fashion was a lot more! In the banking industry, I was not only part of a crowd but also wasn't making national news. I was doing my work diligently and was appreciated by everyone, most especially when I headed the corporate affairs department.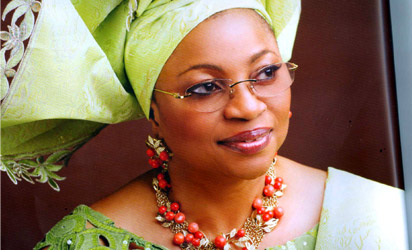 I was able to start many things that the bank never did. In fact, the creative aspect of me was harnessed, as I even created a corporate image for the bank when its name was changed. However, whatever I did was for and within the bank alone. It was just within a little island, compared to dealing with the general public like in fashion where people were inspired by my designs in so many ways.
So, what has life taught you about passion?
To me, passion is whatever you derive pleasure in doing, something that comes to you naturally. When passion is involved in whatever activity, struggle becomes less. Though I may not be making clothes anymore, fashion will always continue to be part and parcel of me because it's something that I love. I still note down designs as they come into my head. I also delight in encouraging younger designers.
Do you see any link between passion and success?
The mere fact that you're passionate about anything doesn't mean you'll automatically be successful in it. You may not make money out of it, but you'll enjoy it. It does not guarantee your getting to the top of the ladder! It will put food on your table if you decide to make it a source of livelihood, and it will set you apart from others because it gives you place, but that still does not determine the degree of success. The sure fact however is that it will get you off the ground. Then if you add hardwork to it, it will get you on top of the ladder.
So, how did you venture into the oil and gas industry?
In the 1990s, in the course of my discussion with a friend whom I was designing clothes for, my family and I got involved in a deal to purchase an oil field. After three years, we were allocated an oil bloc which nobody wanted at that time because it was deep offshore, over 1,500 meters deep and very expensive to explore at that time. We were approached by Texaco late in 1996, and, after three months daily negotiation, we signed on the dotted lines.
Chevron took over Texaco after a few years, but, to the glory of God, we actually stocked oil in commercial quantity, and we were told that the oil had been collecting in there for 17million years, and then we just considered ourselves very lucky. That was how FAMFA Oil was born. I and my husband and our four sons are all heavily involved in the business.
You seem very busy and quite successful, but do you ever find time to go into the kitchen?
Absolutely! Just yesterday, I still cooked beans for my church fellowship members. I always cook when my husband is in the country. I've had cooks for years, but there's always a difference when you add your own personal touch. At weekends, I cook. I also cook each time he's arriving from his trips because he always prefers to eat from my own cooking at such times. Also, we eat together. I do believe that no matter her level of success, a woman must always remember that she must not depart from her kitchen.
Many marriages are on the rocks because many women find it difficult to combine marriage with affluence. Why has yours remained the envy of many since 1976?
Money has nothing to do with love. Love comes from within. Money is something you acquire along the line. Only love keeps people together. From the time that we started courting, it has been like that, and we thank God that to His glory, we've known one another for 40 years. I pray also that God continues to unite us. I believe that if love is the foundation of a union, God will prove Himself faithful.
Every married person has a duty to ensure that they make their marriage work because nobody dragged them into it. Even looking after the children in that marriage calls for both parents to impact into them the skills, love, knowledge and talent required to enable them live fulfilled lives. When we shirk our responsibilities, we're being careless.
I understand that you now cater for widows and orphans in four states?
Taking care of widows and orphans is a calling, and it is in the fear of God that I am doing so. I'm not doing so because I have the resources, but because God has called me to it. He has also been faithful in providing the resources. I however had to register a platform, Rose of Sharon Foundation, a few years ago, to reach out to more widows and orphans. Rose of Sharon is also a means of giving back by my entire family on behalf of Famfa Oil.
You seem a very religious person, but do you know many are quick to forget God as soon as they acquire material comfort?
I don't see any reason why anyone shouldn't successfully combine his or her faith with affluence. As far as I'm concerned, wherever we get to in life is not because of what we have done, but because of what God has done through us. If God does not approve our success, we can never get there but can only try!
So, if you're blessed with fame and fortune, remain thankful and do not become boastful because pride goes before a fall. I'm grateful to God for making me who I am, and the way I am. I always look back and remember that nothing is as a result of what I have done but for what He's done through me.