By Ebun Sessou
Rt. Rev. Peter Awelewa Adebiyi was born on the April 27, 1943 at Osi-Ekiti precisely 69 years ago , to a fairly educated father, Chief Samuel Ogunmola and Madam Alice Fatinuwe Adebiyi both of blessed memory.
He  enrolled at St. Paul's Primary School, Osi-Ekiti in 1949 at the age of six and earned a double promotion twice because of his brilliance. Between 1958 and 1960, he could only find solace in community secondary modern school Osi-Ekiti, instead of a standard secondary school because of his parent's financial constraint.
But, he was determined to pursue his education to the zenith, he attended All Saints Teachers' College, Usi Ekiti between 1963 and 1964 where he bagged a Grade III Teacher's Certificate, which enabled him to teach as a trained teacher at St. Philips Anglican School, Aramoko-Ekiti where he was also the Organist.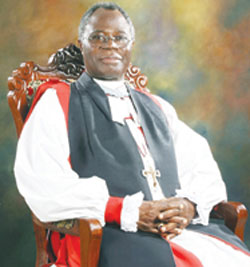 While waiting for concession to enter into a University, he was persuaded to seek admission into Emmanuel College of Theology, Ibadan by the late Venerable Joshua Sapaye Oloniiyo of Ilara Mokin who was then the Vicar of his church in Aramoko.
And from the time of his call , he has spent his his life serving in the vicarage of the church.
He became a Deacon in 1970, a Priest in 1971, a Canon in 1983, an Archdeacon in 1990, and consecrated Bishop of Owo Diocese in 1993. He was translated Bishop of the Diocese of Lagos West in November, 1999, the position he is occupying till date. He is our ICON on this edition of Past Perfect as he takes us round his life and the success story behind his calling as a priest.
Life as a child started in Ado-Ekiti formerly known as Ondo State. There was no clinic in the entire town where I lived except for one "Ile abiye"that came years after. Children who were born and survived at that time  cheated death because so many children died before seven days. The fact that infant mortality was raging at that time didn't give many children grace to be alive till date. But, few children who survived then are still grateful to God.
My mother told me how  chicken pox killed my sister and some other children.
She told me how I was stricken with sickness at seven months and how they  doubted my survival.  The fact that, I couldn't suck breast raised an eyebrow for them. Fortunately, I grew up in a Christian home. Although, I didn't know what Christianity was all about.
I started school early and I enjoyed every bit of it. Even though, life was rough because my parents were poor. I was going to school bear footed. Our clothes were made by our mothers on the loom and we must be careful since it was only one uniform. There was no pressing iron, we use pillow to make gators on our clothes. And we don't have comb so our hair was always shaved. There was only shewing sticks available to brush our tooth and for those whose tooth were brown, they use charcoal so as to make it look white.
I was under the care of my parents so there was nothing like hunger even during famine. My mother told me how famine raged during the second world war and how  poverty was the order of the day.
Although, my father was a polygamist with thirteen children. My mother had six children while I'm the second child. There is none of my father's children that can he or she can recall a pathetic story of his or her life.
Polygamist in my father's house was a unique one because the most senior wife of my father prepared food for the rest of the family. But when she died, my mother came on board. One can hardly know who is the mother of whom and that is unique thing that is in my family. My father managed his life and his wives properly. We were told that the first wife had issues with infant mortality and that was the reason why he married another wife. The woman had eleven children but only one survived.  My mother had eight children but lost two while the younger wife had six children too. Today, their great grandchildren are close to forty. And I have thirteen grandchildren.
I didn't go to secondary school. My father had no money for me to further my education. After my primary school, I was instructed to go to Ibadan to for apprenticeship in tailoring. But, my elder brother from my mother's side, who was in teacher's college in 1956 advised me to go and work until he comes out of the teacher's college and I did.
And he promised to train me. So, I relocated to Ikere Ekiti to be a patent medicine retailer, I was employed. I was earning ten shillings per month. But within that year, I was transferred to another place and later I became a master in the business. Then, I'd stopped hawking, I was permanently in the shop. In January 1958, my brother had graduated from the college and so, he sent me to a community secondary modern school instead of the standard secondary, a three year course which was less than a secondary and the subject taken there were lesser than that of secondary school. It was an innovation of chief Obafemi Awolowo. If not for him, people like me would have been a rotten farmer or an old tailor but for that initiative of having a place for children whose parents are financially incapable, it was a great opportunity.
When I graduated, I moved from being a pupil teacher to a trained teacher in my hometown. I was also trained as an organist, so I became my town's organist and a trained teacher. Then, I obtained General Certificate Examination, GCE in 1967 and I had five results at a sitting which was very rare. I was the only person who got such a good result. Then, I believed I was now a university candidate but I couldn't go to the institution because the Vicar of the church where I was working advised me that I should go to Emmanuel College so that I can become a priest. And because it was the will of God, I went to Ibadan for a theology school in 1967. I was there until 1970 where I became a priest that I am today.
As a priest, I was transferred alongside Bishop Adetiloye in 1985 in Archbishop Vining Memorial in 1987 and I became the vicar of Archbishop Vining Memorial and at the same, I was a part time lecturer at Lagos State University until I became an Arch-deacon in 1990. In 1993, I was elected as a bishop to the Diocese of Owo. I was in Owo for six years. Then twelve years ago, I was translated back to Lagos as the first bishop of the diocese of Lagos West, the position I occupy till date. And to the glory of God, I will retire by the coming year.
The priesthood is a God's given profession. Despite my qualification, I concentrated on the priesthood. The Lord has assisted me in it. And when I became a priest, I'd never lived anywhere more than the vicarage of the church. There was never a time, I wasn't a vicar of the church and to me, priesthood is a God's given legacy and the Lord has assisted me.
Although, I never dreamt of becoming a priest. I lived with my brother who was a Catechist but I didn't like the way, they were been treated. I wanted to study music as an organist because I was a composer and I was composing music for ceremonies, so my intention was to go to the University of Nsukka where music was offered with decency. But, I was persuaded by the vicar of the church where I was serving as an organist to go to Emmanuel College. Even when I went for interview, I wasn't prepared because I was not interested. Even when I pretended I wasn't financially buoyant to travel, the vicar gave me money, all he wanted was that I should become a priest. And at a reception that was orgainsed for me after my graduation as a priest,  my brother confirmed that when I was four years old, his father, a renowned Ifa priest said his father foretold what my future holds. In his Ifa divination, he told my grandmother, "Your son will become a priest of a white garment God".
There, I was advised not to depart from the calling and I thank God for that today because I am enjoying the presence of God now. I am divinely called to be a priest of God.
God has always been with me. There is nowhere I am without success. I have never managed failure. I have one year more to serve and I know that God will help me through. And that is why I still keep  cordial relationship with all the members of each church I served. Although, it has been difficult but there is no regrets even when I had professional hazards on this job.
Asked on what next for him after his retirement next year, he said, "I have a lot of things to do. I have a lots of manuscripts that I am working on. And to continue in my fatherly role to members of the Anglican church. I am also ready to share my priesthood experience with people and how we built our diocese with the sum of five hundred thousand naira only. Now, we have over three hundred churches.
On how he met his wife, he said, "My wife is Caroline Adebiyi is 67 already. I met her after my teacher's college. I was a super organist at Aramoko, Ekiti, while she was a member of the choir. I used to see her amongst choir. She was a quiet person. Whenever the rest of the choir members were discussing, she was always sitting alone knitting clothes. Though, I didn't intend to marry her. But God's paln was different.
In a dream, I was sitting on a sofa with my mother and I saw somebody whose face I can't  recoginse. That man handed Caroline over to my mother and said, "This is the woman that would build your house for you". That was the beginning. Then, I started concentrating on her and six months later, I made my intention known. That was how it all started. We have lived together for forty-two years and the marriage produced eight children. My wife is loving, generous, caring, industrious, and a virtuous woman.
Subscribe for latest Videos