By Simon Ebegbulem
John Odigie-Oyegun, a retired Federal Permanent Secretary was the first democratically elected governor of Edo State, a leading light in the All Nigeria Peoples Party (ANPP) and the party's Vice-Presidential candidate in the 2011 election. Odigie-Oyegun, however, recently decamped from the party to the Action Congress of Nigeria, ACN for reasons he claimed to be the good work of the incumbent governor, Comrade Adams Oshiomhole.
In this interview with Vanguard in Benin City, he gave reasons why he dumped the ANPP for the ACN and also made a call to President Goodluck Jonathan to concentrate on delivering the dividends of democracy to Nigerians by shunning the clamour for the 2015 presidential contest, at least for now. He also spoke on other state and national issues. Excerpts:
Some were surprised when you joined the ACN. Why did you dump the ANPP?
Well, I don't know if I will agree that a lot of people were surprised that I left ANPP. But I know what most seem to be telling me is that they were surprised that I was there for that long. They are now glad that I have disengaged from the ANPP. At the risk of being immodest, they said we know your politics and we thought that you will be better utilized some where else.  At the end of the day they turned out to be correct.
As a matter of fact when I left the ANPP, I had two thoughts: to retire from active politics after all I am 72 or to just as I have been doing, personally support the candidature of Oshiomhole, but then, all of a sudden the whole might of the ACN descended on me in this house, coming to Benin in a private plane just to say we need you on board. I am human and I felt honestly, very flattered. I now said okay I will think about it and that was how I made up my mind to join the ACN and I have been very glad about it.
How do you rate the chances of Governor Oshiomhole and that of his PDP counterpart, Gen. Charles Airhiavbere in the forthcoming election?
It is a comparison that is difficult because it is a comparison that does not exist. The white man says a bird in  hand is worth two in the bush. Realities are realities. We had 10 solid years of PDP rule in Edo State and at the end of it, there was nothing. I am a very fair minded person not because I have joined the ACN. Though Prof Osunbor, while he was governor tried to do a few roads but there was nothing on ground in Edo state under the PDP.  So the people finally had the courage to change from PDP to ACN and elected Oshiomhole and since then the difference has been so clear.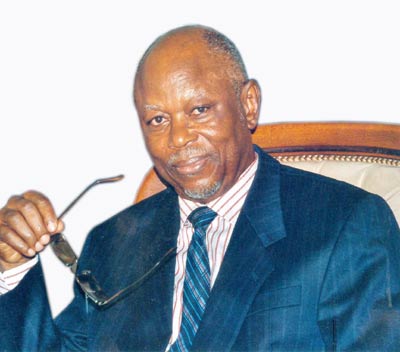 One month of Oshiomhole, no exaggeration is intended, is more than the ten years that the PDP spent in Edo State because when you leave Edo State today and come back after one month there is no way you cannot see something new.
And you have the reality today that he is not only building roads, schools are being built, health services are being built. In places where they have not seen water like in Edo Central, he has provided water. So he is impacting on every facet of life in this state.
Clearly the man has performed and he has performed clearly beyond the imaginations of people like myself. Part of the rumour they carry about is that, ooh the state is deeply in debt. All of the projects are going on expeditiously, no one has been abandoned. So when any state is lucky to have a man like this why do you want a change? As far as I am concerned, anybody who does not vote for Oshiomhole must be a very unusual person indeed. You don't have to join the ACN to vote for Oshiomhole, but if you cannot say thank you to somebody who has done so much in so short a time, then some thing must be wrong.
The PDP candidate, Gen. Charles Airhiavbere is a Bini man like you and politicians are already campaigning on ethnic lines, do you see that affecting the election?
It does not work at all. You see Bini people have a saying that look after all your children because at the end of the day you don't know who will save you when you are old. As far as I am concerned, Oshiomhole is as Bini and even more Bini than any Bini man. He is one man who believes in the commonality of the culture of Edo State and that is real. We are certainly one people culturally, we have the same root. Yes the Bini are the majority group, we are the majority voice but that does not mean that the others do not exist, they do exist and we must give them their own pride of place in this state of ours.
People are already drumming support for President Jonathan's second term, what does that portend for our democracy?
It does not portend well for President Jonathan and I think he should come out very strongly to tell those around him and those who are purportedly speaking in his favour or against him to all shut up. He should come out very strongly to say shut up. I do not want him to say yes I want to contest or that I don't want to contest because it is not yet an issue.
The people of this country have elected him for four solid years, irrevocable mandate.
He has just spent one year during which time I expect that he has been putting together projects and policies that will start solving the nation's problems in year two and year three. They must leave this man alone to prove himself and work other wise if he starts from today to start organizing how he will be nominated and elected in 2015, then they are setting him up to fail in his first term. And my advise to him is to face his first term. Prove to Nigerians that you are the President they elected. Leave the rest to God to decide after all it was God that put him where he is. He should continue to trust in God but he should concentrate today on delivering to the people of this nation on the many promises he made.
There has been this allegation by South South leaders that  Northern leaders are using the Boko Haram sect to destabilize Jonathan, what is your view on that?
I will be deceiving you if I do not say that I am very very worried about the trend of events in the North. I do not know how it started;  because there is no coherent explanation yet for what is going on. I am not too sure that we can interpret it because Boko Haram preceded Jonathan. Because If you remember the time their leader and his people were executed, it was before Jonathan came. Yes of course it is possible that those who don't want Jonathan would have fanned the flames again to bring him down. But I don't know.
What is important is that we have a serious problem and it is a problem that we must address both militarily and also by extending the olive branch. Without the help of the Northern establishment it will be very, very difficult. People compare it to the militancy in Niger Delta but it is very different. The leaders of the militants in the Niger Delta were very well known but the Boko Haram who is their leader nobody knows. What do they want? Nobody knows. However, without intense military pressure which will rob them of that belief that they can win, they will not sit down to talk.