By MOSES NOSIKE
Chief S. Nwobu Alor, first chairman of APGA is now Special Adviser, Parks and Markets to Governor Peter Obi of Anambra State.  In this interview, he reveals that what is going on in the party chaired by Victor Umeh is not in line with the tenets of democracy, hence the need to restructure the party. Excerpts:
Crisis in APGA, what is your own story?
People keep saying Nwobu Alor is quarreling with Victor Umeh, it's not true. I don't even believe there is crisis in APGA. It's just an issue of mind. The mindset of the national chairman is that, he would be the chairman of the party for life and control everything, even the governor. He decides who to be employed. He makes a list of those to be appointed and when the governor protests, he gets angry to this point he becomes too aggressive and forgets entirely the management of the party.
All attempts to call him to order did not yield any result. We've called him several times to run this party, and that this is the only instrument we have to get into the Nigerian nation and to take our right, but he refused. When things got out of hands, we started losing, and the fact is that we can't even win the five eastern states which could have been a must.  Igbo believe in this party. They regard this party as their property. It's not just a political party. But because of bad management and dictatorship, people lost interest and look at where we are. We can't even win here 100%.
Other parties are here winning something, I feel like crying, it hurts.  I asked, what are we doing? The only way we can make it is to restructure the party, he refused. At a stage, our two governors wrote to him that the party must be restructured; he agreed initially but later changed his mind that the party members had not been treated well and nobody knew how.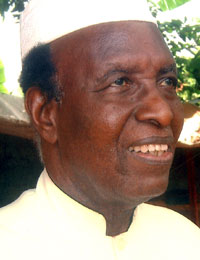 SOLE OWNER
So, I had to come out to tell the people that this is the time for us to come out and know if he is the Sole owner of the party. So what he does is, if you criticise him, he removes you and this is the way we lost all the important personalities in the party. The party is now empty.  That is why I said we must remove him. He didn't know what to do, and he said I have been removed, forgetting that for the past seven years, we have not had congress to elect state executives or ward congress, local government and state congress and then elect officers.
No election, nobody is elected. He is the picking them, putting them into position and using them as instrument of operations. As I'm talking to you now, it is only on the pages of newspaper that I saw that I was expelled. They have not written me to come and explain. But in our constitution, if you commit anti-party offence, they will write you and list the offences and ask you to come and defend yourself, they set up a panel and you go to the panel and defend yourself. The panel will now make the recommendations to the party, the party will now look at it to know whether you are wrong, suspended or expelled, and then they will write you on whatever decision.
CONDEMNATION
All he did was to ask them to call a press conference and condemn Nwobu  Alor.  I have never seen such a thing in my life. It's terrible. What he wants is to run me down in order to get to the governor, which he has tried through the youths but he didn't succeed. Now he felt he can go through the media and said I have been sacked. What am I gaining from the party, I don't hold any office in the party, not even village chairman and I'm not contesting anything.
I'm not fighting for anything; rather I am the one giving money to the party, giving them appointments, helping them in schools, giving those who are in trouble cash and you are asking me to get out, you are losing and not me. I will save a lot of money and energy, so it doesn't make sense to me.
Now that the national secretariat is shut down, what is the way forward?
Like I said,  the party needs restructuring, and there is no going back on that. Works started at the secretariat . First and foremost, there will be ward congress, starting with local government, state and national congresses. Then elections will be conducted in line with the party's constitution. The way Victor Umeh is running the party is not in line with the tenets of democracy and that is why we have to do something before things get out of hands.
For some years now, Anambra State has been experiencing political crisis. What do you think can bring lasting solution?
If we can go back to our mind, educate our mind, be more articulate in what we do and say, apply  truth in everything we do or say, we will now find where we went wrong. That is why I have been saying we need lectures, workshops; unfortunately it's not easy, to let people know that running your fellow man down is a bad syndrome, it's a bad act. My prayer is that God  may get into the heart of these people and show them the light so that they would do the right thing because I believe that God has power to do everything. And my advice to these people is that what they are doing is actually against them.
If you run people down or pull him down, it is very active in Igboland, if we continue to do that, we will run far behind other states because they are discouraging people who are out to do something and, when you are doing that, then your state is running backward. There is a saying, in fact, I have asked people to stop saying Ndigbo has no king, it's a curse, that means Ndigbo don't respect kings, it's not good. When somebody is at your front and is achieving, you accept it, praise him and God will praise you.