A Chemist turned banker and now, suave politician, Governor Abdulfatah Ahmed's legacy is not likely to be in any of his former or present trades.
In a recent session with a delegation of Vanguard in the Government House, Illorin, the Kwara State governor's erudition in the matters of agriculture was clearly evident. Speaking with a passion for farming that belied his intellectual inclinations, Governor Ahmed brought to bear an uncommon reasoning that had for long been neglected in the formulation and implementation of policies concerning agriculture.
It was not as if the Vanguard delegation on a business mission had not been forewarned. The team comprising Fred Odueme, Assistant General Manager, Brands and Marketing, Eze Anaba, Deputy Editor, Emmanuel Aziken, Political Editor and Demola Akinyemi, Kwara State Correspondent had been prepared by Dr. Muyideen Akorede, Senior Special Assistant to the Governor of what was in the offing. But when Governor Ahmed opened up, the fecundity of his ideas could hardly be faulted.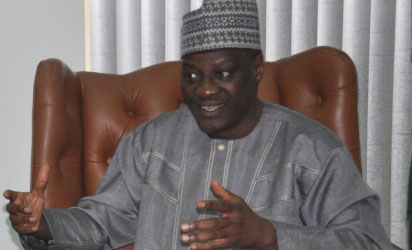 "Yes, so much have been said, some label it as Saraki's business, but one thing is clear as crystal, we understand commercial farming in kwara today better than any state in Nigeria.
Commercial farming
We know the challenges of setting up commercial farming, we know the huge gap that exists between commercial farming and subsistence farming and we know what we need to do to move our farmers from subsistence farming to commercial farming.
These are lessons we have learnt, and which we are ready to translate into a working tool to drive our subsistence farmers to truly become first set of commercial farmers in the country."
Governor Ahmed did not speak out of lack of experience. As commissioner for Finance and Economic Development between 2003 and 2009 and subsequently Commissioner for Economic Planning and Development, Ahmed was a central figure in the formulation and implementation of the agricultural policies of the Bukola Saraki administration.
Governor Saraki had taken opportunity of the gaffes of President Robert Mugabe in Zimbabwe in mistreating the Caucasian farmers and luring them to set up shop in Kwara State. Governor Ahmed as part of the inner circle of the Saraki administration was central to the matter and hence his consolidation of the plans first enunciated by the Saraki administration.
With the benefits of the policy now trickling down and benefiting the Kwara economy, Governor Ahmed has remarkably renamed the former Zimbabwean farmers as New Nigerian farmers!
Giving an example of the impact of the New Nigerian Farmers, he disclosed how they have been able to raise output per hectare in Kwara from the national average of 18 tonnes per hectare to an amazing 40 tonnes per hectare.
"Whatever technology has been used by the new Nigerian farmers is currently being transformed to our subsistence farmers to learn on how to grow cassava to commercial levels," he stated as a matter of justification of his agricultural policy.
That is not talking about the Fulani
cow rearers who the governor said make as much as N150,000 on the supply of milk weekly.
It is not as if Governor Ahmed is building his agricultural policies in the air. For example, the administration has envisioned a 10 year strategic partnership with WAMCO, makers of Peak milk that would see farmers from the state progressively increase the supply of milk to the company.
In a nutshell he summarized the problems of successive agricultural policies articulated by past administrations including the Operation Feed the Nation, OFN and the Green Revolution, he said:
"The first reason is that we have never had a strong agriculture policy in this country, the second reason is that we have not been able to work out a platform to grow an agriculture business in this country and the third one is because you see, we have largely been feeding ourselves through subsistence farming and the lack of attempts to transform this subsistence farming to commercial farming has led to gradual degradation from our human capacity and also the soil capacity to drive an agric business," Ahmed said.
Noting that successful nations were able to express themselves only through exploiting their core competences, he said:
"Our core competence is agriculture and we must begin to see how to genuinely move this forward. I have been a major advocate of agriculture and I have seen different people asking me, are you a graduate of agriculture? And I say No! .But it is crystal clear that we cannot move forward, we cannot get it right without agriculture. We have seen countries that have moved from just low level to high level largely by transforming the way they drive agriculture."
"For us in Africa, we have over time been major suppliers of agric feed stocks for industrial development and I want to say categorically today that there is no country today that has developed by being a supplier of raw materials. You must begin to see when you have the capacity to develop raw materials to forwardly integrate it, which is when it truly begins to transform to truly GDP that will sustain growth and development."
Seeing Governor Ahmed talk about agriculture it is quite possible for one to believe that nothing else is happening in the state.
Are you not foreclosed on other sectors, he was asked?
"This government is a planned government; we have policies on water, roads, energy, education and policy in agriculture. Nobody must move more than 500 meters to access primary health care, nobody must assess potable drinking water beyond 500 meters," he responded.
"Between you and me, its an articulated governance that we have in Kwara State and this is strongly connected with the smooth transition we had largely because some of us were part and parcel of that administration that also developed policies which we have fine tuned and we are now navigating to consolidation."
Subscribe for latest Videos