BY DAPO AKINREFON
SENATOR Ifeanyi Arthur Okowa represents Delta North Senatorial District in the Senate. A former Commissioner in Delta State and one time Secretary to the State Government, SSG, the medical doctor turned politician and chieftain of the Peoples Democratic Party (PDP) spoke to newsmen in Lagos during a recent visit. Excerpts:
WHAT is your appraisal of 13 years of democracy in the country?
I think, as a nation, we are moving forward. There is no doubt that we still have challenges at the moment but we are obviously progressing even though at a slow pace. One thing we must thank God for at the moment is that, at the least, as at May 29, we marked 13 years of consistent  democracy.
We never had it before, that means we are moving forward. Therefore, leaders at the levels of government, parties and whatever, it is time, in my opinion, we must take stock of our successes and challenges and from the lessons learnt from such, we would be able to move this country forward in a much more better way.
In these 13 years, democracy has truly grown but to what extent have we kept faith with democracy ourselves? We must therefore ask: do we really have democracy at the moment that is sustained?
Having said that, do you think the National Assembly has fared better in the last one year?
I think it has been quite interesting because the legislature itself has been maturing over time and this is the 7th Senate. I do believe that by all standards from what I have seen, a lot have been done by the 7th National Assembly, including the 7th Senate . The Senators have shown a lot of commitment and more of the successes we have seen, I would attribute to quality and experienced leadership that means well for this country and is committed to advancing the frontiers of democracy and  good governance.
When you have a leadership that is committed to growth and good governance, it tends to drive all those within the Senate to work towards achieving good governance.
That is what we are doing. From screening of ministers and other nominees, a lot of bills in the House, some have gone through second reading, a lot of oversight functions are going on in the various committees that were constituted like the one we just completed, which is an oversight function on projects by the NDDC and the Niger Delta Ministry and that is going on.
Beyond that we had to conduct investigations into other areas of governance.
You are aware of the investigation into the Privatization and Commercialization by the BPE and also the ongoing probe in the Aviation Industry, the ongoing probe of the Subsidy Regime by the Senate.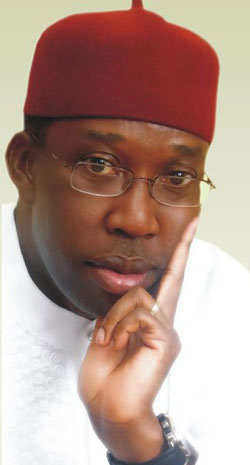 Why we conduct these investigations is not only because of the fact that we want to expose corruption but also because we want to ensure that people are put on their toes, so that they will not just do things the way they were done in the past.This is a new Nigeria , we are talking of Transformation by Mr. President and therefore we need to carry out that Transformation in our daily attitude, in our work place and in project execution and supervision. You can give out a project and if you do not supervise it well that project will suffer.
So we want to stimulate people into going out to carry out ministerial supervision by the various agencies. Generally, I think the  National Assembly is living up to expectation doing what it has to do and I must thank the leadership of the National Assembly for showing the way.
Nigerians are pessimistic that despite the various probe Panel sinstituted by the National Assembly, nothing has been achieved. Is there any hope for a difference?
It is important for the President and the executive arm of government to know that Nigerians are watching. In the NASS, we believe that whatever we are doing is in partnership with the Executive arm of government because if you are helping them to expose areas of weakness, it is also instructive that they too take quick actions in order to put things right so that they can give confidence back to the NASS and more importantly to the people of Nigeria.
However, we all have to be mindful of the fact that when the Senate or the House of Reps passes a resolution and forward to the presidency, there are processes that are put in place. It is not what you have today and you take action tomorrow. Some will have to go through administrative processes before the required action is taken.
And some will even require that the president sets up a review committee, and so may even go to the level of a White Paper being done before, even a decision is taken at the Federal Executive Council.
We do know that some of the resolutions taken have been acted upon and so I want to believe that those that are left are going through these processes.
But it is important that they take note of the fact that Nigerians are waiting and whatever actions they would take enable Nigerians to pass a judgment whether government is serious or not with the Transformation Agenda that we have. And so all the people given assignment by the President to work on the resolution before a decision is taken must speed up action on them.
What is your position on the proposed constitutional amendment, state creation and the clamour for state Police?
They are both controversial issues and that is why the Constitution Review Committee has asked for Memoranda from all those who are willing. And I believe that being a very proactive NASS, ours is to look at the various memorandum, take public hearing and aggregate the views of our people and then come back to go through those aggregates and take a decision.
Two third support
You know that whatever resolution we take at that level is also subject to Two-Third support from all state assemblies including the FCT.
Would you say your stay at the Senate has affected positively on your Senatorial District?
At the personal level, I have participated fully in all the activities in the Senate and I have been able to move a bill passed the Second Reading, at the moment I still have three bills waiting for Second Reading because there are lots of Bills out there. But I have also made my own contribution in the various committees that I found myself working in.
And I have been able to use the opportunity afforded to reach out to some ministers for their support for projects in our area. In particular there is this bridge that has for long been abandoned that connects Edo State Ubiajia, it has been brought back into the budget now, it is about N700million in the budget for the project to come back on stream and I find that interesting.
Though I put in my best but the credit must go to the Minister of Finance, Dr. Ngozi Okonjo-Iweala for her intervention in many ways. There are other projects like roads, the Ajaokuta-Aladja Railway, and there are water projects that are in various areas of the district that are captured in the budget.
Besides, we are trying to ensure peace in Delta North PDP so as to work as a united political family. I am sure that soon there will be total reconciliation.
Subscribe for latest Videos