By JIDE AJANI
Congress for Progressive Change, CPC, presidential candidate in the April 2011 election, General Muhammadu Buhari, and leader of the Action Congress of Nigeria, ACN, Asiwaju Bola Ahmed Tinubu, may have agreed to bury their differences and aspirations as the CPC and ACN rapprochement continues to gather momentum.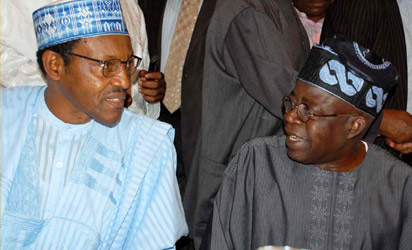 The two met in Kaduna at the residence of  Buhari last Thursday. Both men also drove together to Kano to the waiting embrace of a mammoth crowd.
It was gathered, at the weekend, that discussions between both men  centred on how to proceed preparatory to the 2015 general elections.
Of specific concern, Sunday Vanguard was told by a source privy to the meeting, was the issue of presenting a "united front for the presidential engagement".
Although talks are still on, the source said that one of the first steps to be taken by each of the parties "would be the movement towards the centre".
To this end,  both men are said to be disposed to a compromise that "would see each relegating his ambition for the common good of the proposed alliance".
If all goes well, both men, according to our source, would seek and anoint candidates for the presidential election.
In fact, the reason  both leaders have decided to commence talks in earnest is "just so they would avoid the type of last minute rancour that led to the collapse of talks last year", a source said.
It would be recalled that last-minute efforts by the ACN and CPC to forge an alliance for last year's presidential election  collapsed.
The inability of each of the party's leaders to subsume their ambitions led to the collapse of the talks.