By KATE OBODO
As tributes continue to pour in for the late Super Eagles striker, Rashidi Yekini, former Green Eagles and Kwara State Football Academy  goalkeeper's  trainer, Amusa Adisa  has said that  the Kwara-born player would have live longer and more productive to the country.
He said the news of Yekini's death came to him as a big shock, adding that the system as well as the actions of some of his colleagues in the national team contributed to his state of mind which culminated to his death last week.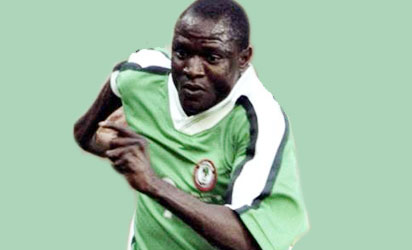 "We  were  shocked at the news of his death,  especially for somebody who has contributed immensely to the development of football in this country. He was also African  footballer of the year. His  death was a rude shock to the enter nation and the football world. Nobody can do anything about it because  God giveth and He  taketh too. We only  pray that is gentle  soul rests in peace.
Continuing, he said, "Nigerians were not fair to him but he has his own grievance. Even though we tried to keep him busy, he refused saying he doesn't want to have anything to do with Nigerian football again, claiming that some of his team-mates and some people  were envious of his success in the team."
According to Adisa, "scoring goals was the bane as he claimed they ganged-up against him,  saying  he was taking the glory of the Eagles success alone. As a result, he cut off from all activities of football in the country.
We tried as much as we could to him bring back during the (2010) World Cup but he refused. We tried to disabuse his mind from these thoughts but he refused, insisting he didn't want to have anything to do with Nigerian football again. That was where the  problem started."
Asked how best he thinks Yekini should be best remembered, Adisa said," I think the government should immortalise his name  and also help his family because he did so much for the country's football."
Meanwhile, during the week one of his former team-mates, Victor Ikpeba debunked claims on a cable television channel, Supersports that there was a gang-up against him (Yekini) by his team-mates at the 1994  FIFA World Cup.
Ikpeba, also a former African Footballer of the year said though there is always rivalry in the game of soccer especially when a player is successful in a team, stressing that whatever he (Yekini ) had in the team was as a result of the help of his team-mates.
He said that because of Yekini's laid back attitude he didn't come out and share the glory with his team-matesplayers.
"I think he had a good relationship with us( players). We were like one big family in 1994," he said.