By TAYE OBATERU
Almost everything about the story is related to the Word, the Holy Bible. It is a story involving a pastor's mother-in-law, told by a pastor and corroborated by pastors and Born-Again Christians.
When, in John Chapter 11 of the Holy Bible Jesus Christ was told that Lazarus, the brother of Mary and Martha, was ill, he said it was for God's glory. Lazarus eventually died and was laid in the tomb for four days before Jesus eventually got there.  And a miracle happened:  Christ caused the resurrection of Lazarus.
Well, that was in the time of old.
Today, in Akure, Ondo State, a state where intriguing mysteries would never cease to happen, a similar miracle unfolded recently – mind you, here was the same Akure where a lady travelled to, entered a bank and splashed human faeces on a female banker on allegations of husband snatching.
A 67-year old mother of three resurrected 12 days after being pronounced clinically dead! Stranger than fiction you might say.
But this is the story of Mama Victoria Gbemisola Babatunde (née Bolarinwa) who was certified dead on January 7, this year but is now back to life, hale and hearty.
She would have been buried almost immediately she was certified dead.
But something delayed the burial: The nationwide strike against the removal of fuel subsidy made it impossible for the children to gather to arrange her burial.
A date was eventually fixed and the children were on their way for the burial when they learnt that she had resurrected!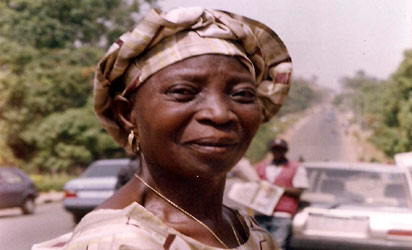 The moving story was told to Sunday Vanguard by her son-in-law, Pastor Andrew Ozoemena, who had earlier, last Sunday, given a testimony at the Living Faith Church, Jengre Road, Jos, where Mama, as she is popularly called, used to fellowship before she relocated to Ondo State following the persistent crisis in Jos.
Members of the Elders Council of the church to which Mrs. Babatunde belonged had actually contributed some money in support of her burial when they heard of her demise only to be told later that she was back to life.
Many, like Thomas in the Bible, doubted the story until they learnt of her arrival in Jos. The home of the Ozoemenas, located around British American Junction, Jos, had since her return, become a centre of attraction as many go there to catch a glimpse of the 'resurrected' woman.
Pastor Ozoemena, a missionary, married to Abimbola, Mrs Babatunde's first daughter, narrated the story to Sunday Vanguard in what he tagged a "Millennium Testimony".
Excerpts:
"On Saturday, 7 January, 2012, around 10 p.m., my wife received a call from her uncle, Pastor Amos, who is based in Akure, Ondo State, that Mama, my mother-in-law, who had been with him, was seriously ill and on admission in hospital. He said the sickness was so serious that she could give up the ghost any time soon.
We began to pray to ask God to have mercy on the old woman and spare her from dying now. We held on to God's promise in Luke Chapter 1:37, that "with God nothing shall be impossible" and I kept on rejecting the idea of my mother-in-law's death, declaring that she will not die now.
"However, another call came in by 2 a.m. that is Sunday morning that she had been confirmed dead by a doctor's report.
The news was devastating, but there was nothing we could do, so I went into prayers and asked God to take control. We knew we had to start planning for the burial and we planned to travel on Monday (January 9) to Akure to make necessary arrangements. But this was not to be as the protests and nationwide strike against fuel subsidy removal made it impossible to travel.
"Meanwhile, we were also told that the corpse of Mama was rejected at the hospital in Akure because of the strike, so the only available option was to invite mortuary attendants to embalm her at home. We kept on praying and believing God for the strike to be called off soonest to enable us travel for her burial. With a death certificate already issued, we began to break the news of her death to our friends, relations and others close to us and many visited or sent their condolence messages.
I told my wife to inform her mother's church members and the pastor in Living Faith Church about the death of her mother and she eventually did on 18 January, 2012 during the church's midweek service. At the end of the meeting, the elders of the church even gave my wife some money in support of the burial.
"Contrary to our expectation, the nationwide strike lasted for more than a week thereby further delaying our journey to make the burial arrangements, but little did we realize that God was using it to achieve a purpose. This is because, if not for the strike, she would have been buried.
We had sent money for necessary burial arrangements to be made but it was impossible to go ahead with the burial since all Mama's three children were based outside Ondo State and it would have been against Yoruba tradition to bury her in their absence. Pressure was mounted on my wife, being the first child, to find a way of getting to Ondo for the burial to go on but all efforts to travel failed.
"Since the corpse was at home and not in the mortuary, as I earlier explained, the family had to employ the services of mortuary personnel who visited to administer a vaccine called clurophune on daily basis to preserve the body from decaying.
We did not realize that God was already doing a miracle, but on the fifth day after her demise, my brother in-law called to inform us that her body had begun to grow warm. Based on this development, we intensified prayers and urged God to give us what we said would be a testimony of the millennium.
"In a dramatic turn of events, Mama sneezed and opened her eyes on the ninth day of her death, as the mortuary attendant was busy taking care of her body. The startled mortuary attendant ran out of the room and called on family members and those around to come and witness what she saw.
After sneezing and opening her eyes, she did not utter any word for three days, making people unsure of her actual state. Three days after this incident, that is, on 20 January, the 12th day of her being pronounced dead, she spoke to her younger brother (Pastor Amos) and even drank water and ate some food.
This  development was kept away from us because the mortuary attendant was said to have advised against breaking the news in view of similar past experiences when people came back to life momentarily after days of being pronounced dead only to be found dead later.
Since the burial date had already been fixed for Saturday, 21 January, my wife took off for Akure on Friday the 20th while I was to travel by night bus that same night to join her the next morning. She eventually arrived in Akure at about 10p.m. that day only to be told that her mother had just resurrected.  Naturally, she was shocked and did not believe it initially until the whole thing was explained to her.
"After she recovered a little and regained her memory, Mama told her children that she would like to come to Jos to share her testimony and the message which the Lord gave her for the body of Christ. Right now, she is staying with me and my family in Jos. Since her arrival, people come to my house on daily basis to hear her testimony.
"Three days after her arrival in Jos, my wife and I took her to the Jos University Teaching Hospital (JUTH) for medical examinations and necessary treatments. We were also privileged that one of our neighbors, Evangelist Femi Alu, linked us with his friend, Evangelist/Doctor Ezekiel, a Sri Lankan who works in JUTH. When he heard the testimony of my mother-in-law, he was astonished seeing the same old woman on her feet.
"He and other doctors said it was very rare to see someone who was dead for many days come back to life with all the parts of the body still functioning normally.
They said that some people who died and eventually came back to life often experienced malfunctioning of parts of their body. Some of them became blind, deaf or became paralyzed, but my mother-in-law's case was exceptionally different. With this testimony, some of the doctor's colleagues got born again, that very day at the hospital. The doctors carried out some tests on her and the results showed that she was formally dead.
Even the acid called clurophune that was injected into her body for the preservation of her corpse from decaying was also indicated on the results."
MRS BABATUNDE'S TESTIMONY
"I went to heaven and I saw Jesus seated at the right hand of God. Jesus took me to hell and I saw those who had been in hell for more than a thousand years and they were being tormented day and night. I also saw the angels worshipping and singing round the clock in heaven and the gates and the entire streets of heaven were pure gold.
"Thereafter, Jesus now told me to go back to the world and accomplish my purpose on earth and to inform other Christians about what I saw."
Commenting on Mama's testimony, Pastor Ozoemena said: "If a woman (widow), aged 67, still has some purpose to accomplish,  I believe this is a wake-up call for we the younger generation and the entire body of Christ in the world."
IN PART 2, SUNDAY VANGUARD WOULD PRESENT THE OUTCOME OF ITS BID TO GET THE PURPORTED DEATH CERTIFICATE ISSUED IN AKURE
Subscribe for latest Videos