By SOLA OGUNDIPE
WIFE of the Kwara State Governor, Mrs. Toyin Saraki, has called for the private sector to lead in harnessing solutions that will reduce maternal and child mortality in Africa while illustrating the potential impact that African-focused Intergrated Maternal, Newborn and Child Health, IMNCH, initiatives such as the WellBeing Foundation, Africa (WBFA), Personal Health Record could have in addressing systemic health system failures.
Speaking in Kampala, Uganda, during the Africa regional consultation on maternal health, with the theme: "Achieving MDG 5; Challenges, Opportunities and Lessons Learned", Saraki, who is the  WBF Africa's Founder-President, emphasised the role of regional partnerships and multi-sector solutions in advancing MNCH in Africa.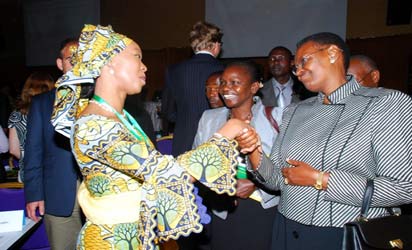 At the event convened by Partners in Population and Development, Africa Regional Office, PPD-ARO, and global advocacy organisation Women Deliver, she stated: "There is a disconnect between the policy, the legislative foundation, the budgetary appropriation, the public health service provider, and the very women and children through whom we are aiming to attain the MDGs 4 and 5."
She described the WBFA IMNCH Personal Health Record,PHR, is a multi-sector solution to the problem of maternal and child mortality in Africa, that aims to bridge the divides that cause  health system delivery failure by ensuring pregnant women and mothers receive a full continuum of care.
Speaking on digitisation of the revolutionary life-saving tool, Saraki said the WBFA's substantial investment in the PHR digitisation process presents an opportunity to amplify it as a key frontline resource.
"Through digitisation, we aim to transform the delivery of services to women and children across Nigeria, and the whole of Africa, through greater improvement in decision making at the local, national and regional levels."
She was optimistic that the development would bring key MNCH commodities, including the PHR to global frontlines.
The PHR, which was nationally adopted into Nigeria's Midwives Service Scheme in 2007, empowers women with a documented record of their medical conditions, details of every stage of her pregnancy, and the life of her child for the first five years and beyond.
Already having empowered over 200,000 lives, the Wellbeing Foundation Africa aims to improve the lives of 5.3 million women and children through the dissemination of the WBFA IMNCH Personal Health Record by 2015.
It was gathered that the MNCH agenda the Wellbeing Foundation Africa has contributed to in Kampala will form a core part of the deliberation at the upcoming 126th Inter-parliamentary meeting, while also feeding into the UN Secretary General's review of the performance and development of the MDGs up to and beyond 2015.
WBF Africa's Executive Director, Mr. Temitayo Erogbogbo,  showcased WBF's various private sector engagement initiatives in support of the UN Secretary General's Every Woman Every Child effort, highlighting the positioning of the WBFA IMNCH Personal Health Record as a key PPP tool in Africa.