Hollywood A-list actor, Rockmond Dunbar  who last year traced his African roots to Yoruba race  was full of life at the just concluded 8th edition of AMAA.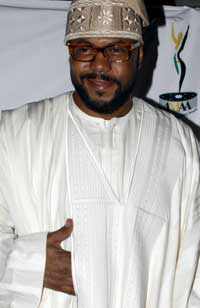 The actor, best known for playing Benjamin Miles 'C Note', Franklin on the thrilling and dramatic series 'Prison Break' (FOX, 2005- ) stormed the  event in the company of his mother.
According to him, he brought his mother to Nigeria to link her up with his ancestral home. "I came to this event with my mother, I want to show her that this is where we come from," Dunbar said excitedly.
For the actor and his mother, it was a kind of homecoming to their ancestral land. Only recently, Dunbar was welcomed to the Yoruba community at the Egbe Omo Yoruba Convention held in New York, where he was re-christened Omobowale Adunbarin.
Dunbar was one of the Hollywood top stars that graced this year's AMAA. Others were  Morris Chestnut ,Lynn Whitfield, Maya Gilbert and Jimmy Jean Louis  who hosted the awards night alongside OC Ikeje.