By SIMON EBEGBULEM
Nosa Adams was not long ago the Publicity Secretary of the Edo State Chapter of the Peoples Democratic Party, PDP and before then Chairman of Egor Local Government Council before joining the Action Congress of Nigeria, ACN. Having crossed over to the ACN last July, he was in September appointed as Executive Director, Emergency Management by Governor Adams Oshiomhole.
Claiming to speak from a position of knowledge, Adams in this interview asserts that his former party's strategy of rigging would not work in the face of what he asserts as the marvels of the Oshiomhole administration during the forthcoming election.  Excerpts:
THE governorship candidate of your former party, the PDP has emerged. How do you rate his chances against the ACN's Adams Oshiomhole?
Without mincing words, I will tell you that twenty PDP cannot defeat Oshiomhole in Edo State. I regret ever pitching tent with the PDP. Basically, they are reactionaries that are basically not responsive to the yearnings and aspirations of the people of Edo State.
Now we have a governor that has performed so well, a governor that came to turn around things for the better and is putting smile on the faces of the people. We have no option than to support this government. So I have no doubt that whoever the PDP brings, Oshiomhole will win this election with a large margin. Oshiomhole will not only win the election but he is going to defeat Gen.Charles Airhiavbere their candidate in his own ward in Oredo.
But you are a beneficiary of the PDP as Council chairman, later State Publicity Secretary of the party before joining the ACN, why was it difficult for you to remain in the PDP and fix the anomalies?
The godfather will never allow you make a genuine input. This is a matter of bowing to the pressure of your people. I am a politician of many years experience. I have been in this game in my Local Government for close to 35 years so I have a lot of supporters. But my people were able to convince me that Oshiomhole deserves our support because of his performance.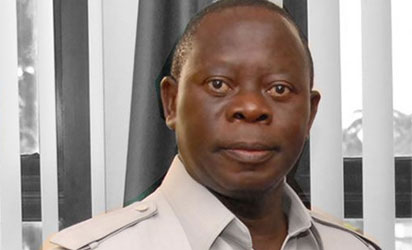 Again, leadership is all about providing dividends of democracy to the people but when you are in a party that is deceiving people, the people will always revolt. I see my stay in PDP as a misadventure because I am a progressive.
Even if you are blind or deaf in Edo State today you will know that Oshiomhole needs to be encouraged, you can even die for him if possible. His achievements alone, his political outreach is enough to give him victory. It is just for some of us to make effort and encourage him but Oshiomhole does not even need any leader to win election in Edo state. He has endeared himself with the people of the state because of his performance.
But what do you think is the problem with your former party the PDP?
First and foremost PDP is basically a one man show in Edo State. Besides, the leaders lack direction, no vision. It is a party of self centered political activists. The PDP has always gone into elections poorly prepared because they believe that the only way for you to win election is through rigging. But things have changed now, you cannot rig election any more in Edo State because Oshiomhole has come to change the system. People are better organized now and more ready to resist rigging now than before.
PDP does not believe in democracy particularly in Edo state. Look at what happened in the last governorship primaries of the party, it was just a charade. The delegates were coerced to vote for a particular candidate and that was what has torn the party apart today. The godfather instructed all the leaders to vote for a candidate and the problem they are having now is that it will even be difficult for Chief Anenih to win his own ward now in the coming election.
So how prepared is the ACN for the election?
Considering the structure on ground, considering the popularity of the Comrade Governor in the state, the infrastructural development on ground, the ACN is fully prepared for the election. PDP cannot win even a Local Government in Edo state. You know that I was in the PDP before and the only thing they know is rigging but unfortunately for them, that will not be possible any more.
I see the ACN winning the 192 wards in Edo state including the godfather's ward and Airhaivbere's ward. They know this very well but they are just deceiving themselves hoping on federal might. What is Chief Anenih going to use to convince the people of Edo State to vote for PDP? Is it the appointments that he has been giving to his sons and loyalists? But out of the 192 wards in the state there is no ward that Oshiomhole has not built one thing or the other.
Can we know how your department has been able to respond to emergencies so far?
The Emergency Management is an office under the office of the Executive Governor of the state and we always join other interventionist agencies to do basically three things, to create awareness by way of enlightenment on why people should avoid a situation that will give rise to crisis or disaster.
That enlightenment we have been doing, going round the state to sensitize our people on the need to avoid those things that will endanger their lives. Because it is the belief of the Comrade Governor that all these amenities and infrastructure that he is providing for the people of Edo State, that they just have to live to enjoy them.
Thirdly, it is also to prepare ourselves for any emergency situation. Whenever there is any problem in any community we move in immediately to provide relief materials. Recently rainstorm blew off the roofs of some houses and schools in Ikpoba Okhai Local Government, we got the governor involved, he quickly went there himself to assess the situation and he has since given order on how to get the school rebuilt immediately.
And that is the Governor for you. He does not like our people suffering. He has told us that in the event of any disaster, not only will there be quick response, we will make sure that it does not occur again.