CNPP hails Buhari for quitting 2015 presidential race
By Chris Ochayi
ABUJA –  Conference of Nigerian Political Parties, CNPP, Sunday commended the presidential candidate of Congress for Progressive Change, CPC, in April 2011 presidential elections, Major General Muhammadu Buhari, rtd, over his decision to quit presidential contest in 2015.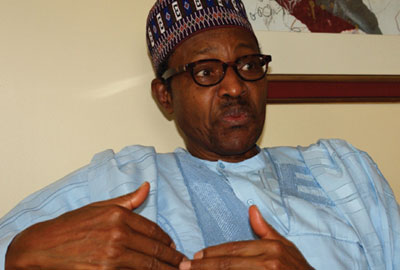 The umbrella body of registered political parties said in a statement by its National Publicity Secretary, Mr. Osita Okechukwu that by the decision, General Buhari has demonstrated a rare courage and good statesmanship
Okechukwu quoted Buhari as saying, "I will remain in politics even though I may not contest the 2015 presidential elections. But whatever it is I will remain politically active for the struggle of bettering the lives of Nigerians. You should also look for my replacement."
According to him, "we commend Buhari for his statesmanship demonstrated clearly by throwing the presidential race open for the younger generation, quitting while the ovation is high and his avowed commitment for the struggle to better the lives of our dear country men and women.
"It will be recalled that prior to the 2011 presidential election Buhari made it clear that he will not contest again; warning Nigerians of the danger of missing his sterling qualities of integrity, anti-corruption and cleansing of the Augean stable if they allow election riggers to steal their votes. Regrettably this happened, hence the deplorable worst-off condition, uncertainty and hopelessness Nigerians found themselves today.
"Buhari is still hale and hearty, as fiddle as a gazelle; however, it is our candid view that Buhari as a pivot and rallying point of a granite coalition of progressive political parties, not necessarily a presidential candidate stands in a better position to wage the struggle of salvaging and rescuing Nigerians from the stranglehold of Electro-phobia, endemically corrupt and incompetent Peoples Democratic Party, PDP, leadership.
"Accordingly, while we shop for his replacement across the length and breadth of the country, we call on Buhari to stand by his position and lead the vanguard to vote out the PDP, without the distraction of presidential candidature; in this context he will undoubtedly carve his name in gold and enroll in the hall of fame of democracy in Nigeria."