By Franklin Alli
CEMENT manufacturers in Nigeria have called on the  Federal Government to ban the importation of bulk cement before the August deadline set by government, claiming that the volume of cement currently produced in the country  is enough to meet local demand.
"Government should enforce the ban before the August deadline",  said Mr. Daljeet Ghai,  Group Chief Executive, Dangote Cement. "Dangote alone has the capacity needed to meet local demand and sustain supply of the commodity across the nation", he said.
Group Chairman/CEO, Lafarge, Bruno Lafont also said that with the new plant commissioned by the company, the country is now self sufficient in cement.
The current production data from  the various plants in the country, obtained from Cement Manufacturers Association of Nigeria, CMAN, show that the country's total cement production capacity is now  at 22.5 million metric tonnes (mmt) per annum while the country's cement consumption is 18.5mmt.
Dangote alone currently accounts for 15 million mmt annum (Ibese- 6mmt, Benue Cement- 4mmt; Obajana- 5mmt) while Lafarge Wapco Cement Plc group is contributing 7.5mmt (Ewekoro l- (1.2mmt; Shagamu Cement Plant- 800,000metric tonnes and Ewekoro ll- 2.5mmt). Unicem produces 2.5mmt while  Ava cement produces 500,000 metric tonnes.
Citing the example of the company's Ibese cement plant as basis for  confidence in the ability of  local manufacturers to meet domestic demand and still be able to export,  Dangote's Ghai   said, "Ibese plant is grinding 480,000 tonnes per month, while daily production is 16,000 metric tonnes at  2,400 metric tonnes per hour.
"The Ibese plant, started with a daily production of 12,000 metric tonnes in February, but barely two months after, production  moved up to 16,000mmt, which is  it's full installed capacity, and this  would lead to the achievement of the yearly target of six million metric tonnes of cement."
Vijay Khana, Deputy Director, Operations, Ibese Cement plant added that on a daily basis, the company supplies   the market with more than 200,000 bags of cement from the plant.   " We load 250 trucks daily; a private truck can carry 600 bags, each Dangote truck carries 800 bags; while smaller trucks carry 300 bags."
Similarly, Nigeria's second largest cement producer, Lafarge Cement Wapco Nigeria Plc, said they are ready for the import ban.  "For sure, I see it (ban on cement import) happening. The best thing for Nigeria is for us to manufacture here; if we manufacture here, we create jobs here, and we save the economy in terms of foreign exchange," said Lanre Opakunle, Plant Manager, Ewekoro Cement Plant II.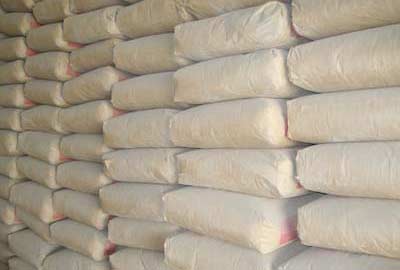 "We have been contributing a lot towards the halting of importation. In the past six months Ewekoro 11 plant have flooded the South West, our core market and beyond with more than 120,000 metric tonnes. A tonne of cement is 20 bags.
"In terms of the total volume, we are pushing into the market 5,000 metric tonnes per week. This translates to over 20,000 tonnes per month and 160,000 tonnes from September 16th  last year  till-date. For us, what is important is the availability of cement out there in the market.  We are stepping up to increase it further.  We have the potential for over 40,000 tonnes of cement that we can ship to the market.  What has happened in the past is that because of the scarcity of cement, distributors and retailers hike prices of the commodity.
"The advantage we are having now is that with the volume we are supplying into the market, it does not give room for people to play with the price. At about this period last year the price of cement sky-rocketed as a result of scarcity of the commodity.  But this is not the case this year. Today, a 50kg bag that used to be sold for N2,200 and above now sells for N1, 600 in Lagos and beyond."
He attributed the success story being recorded to the efficient running of the kilns and the plants' dedicated workforce. "I am happy to let you know that the plant is running 99.38 percent effectively.  The efficient operation of the plant is more about the people that are running it and also about our knowledge of the equipment and our ability to master any problem that potentially comes up; and I am also happy that we are running like a plant that has been in operation for ten years."
"That has helped us to stabilise our operation and it is one of the reasons why we have been able to reach the level of 99.38 percent production level.  Now, in terms of output, there are different volume additions from our plants and we see that the different cement plants in the country are growing their capacities.
In Ashaka we are growing our volume to 1.3 million metric tonnes per annum.  So, all these in a very short time will stabilise the Nigeria cement market.  We don't want a situation whereby we create job in other countries. If you promote import their exit strategy is very easy.  If the price starts going down, they will stop importing and that is part of the challenges we had in the past.
"The total capacities of Lafarge Group are Ewekoro 1 and 2 produces 3.5 million tonnes, Ashaka is going for 1.3 million tonnes, which is 4.8 million tonnes and you have Unicem, Calabar doing 2.5 million tonnes and Sagamu is 1 million tonnes. So we are talking of 8.3 million tonnes from Lafarge.  That is our installed manufacturing capacity".
Group Chairman/CEO, Lafarge, Bruno Lafont, said: "This new plant brings our capacity to more than 8 million tonnes of cement in Nigeria alone. We are determined to continue to make a meaningful and valuable contribution to the socio-economic development of Nigeria. That is my pledge to all of you.  So this new plant will help to keep Nigeria self-sufficient in cement. It will create the foundation for future economic development in your country. It will employ, and provide skills for hundreds of Nigerians and it will benefit hundreds more indirectly. It is something for us all to be proud of."
It would be recalled that the late President Umaru Musa Yar'dua lifted the ban on importation of bulk cement in 2009, and granted import licenses to six new firms along the existing cement producers to flood the market with the commodity and crash the price.
The six new companies that got the import licenses to complement existing ones were: Minaj Holdings Limited, Enugu, Madewell products, Sapele, BUA International Limited, Kano; NICA Limited, Maiduguri; Reagan Renaissance Limited, Calabar and MAAN Labadi, Lagos.
They joined the seven existing players: Lafarge Cement WAPCO Nigeria; Ashaka Cement; Benue Cement Company, Gboko; Obajana Cement,  Kogi; UNICEM Calabar; Cement Company of Northern Nigeria, Sokoto and DURECHEM, Ogun State.
In view of local producers' total installed cement production capacity and their ongoing expansion activities, the country seem to be on the march to exiting cement import this year and to begin export next year. In the words of Aliko Dangote, President and Chief Executive, Dangote Group, "We are marking the closing ceremony of cement import in Nigeria."