BY CHARLES KUMOLU
…as Anyaoku, Maitama Sule, others lament
FOR a man, who is believed to have been the pivot of the opposition against attempts towards the institution of a one party state, it was not a surprise that an event convened in his honour, would spark debate on the Nigeria question.
The 4th Bola Tinubu Colloquium, was an avenue for people with same, and  opposing political ideologies, to agree and disagree on pertinent national questions.
The event, which was  part of the activities marking  the 60th birthday anniversary of former Lagos State governor, Bola Ahmed Tinubu attracted eminent Nigerians across the various socio-political divides to Lagos.
The ceremony kicked off behind schedule, after Tinubu walked into the  venue  at 4.10pm, accompanied by his wife, Oluremi, and other associates. With an opening prayer by the Lagos State Works Commissioner Dr. Obafemi Hamzat, the curtain was raised for the ceremony.
National question
Leading the pack of those, who answered and raised more national questions was the Chairman of the occasion,  former Commonwealth Secretary General, Chief Emeka Anyoku, who informed the audience at the Expo Hall of Eko Hotel that he accepted to chair the occasion because of what Tinubu represents.
Unlike other fora, where much time was expended on praising the person in whose honour the event was convened, Anyoku avoided entertaining the audience with Tinubu's achievements.
Rather, the first class diplomat delved into pertinent issues of national significance, which had lately constituted threats to the corporate existence of Nigeria.
Holding the audience spellbound, Anyoku observed that if Nigeria must survive its current multifaceted crises, the current 36-state structure must give way for a federating nation of six regions.
"I do believe that rather than our present  system, current unitarist federalism will better promote peace, stability and development in Nigeria'.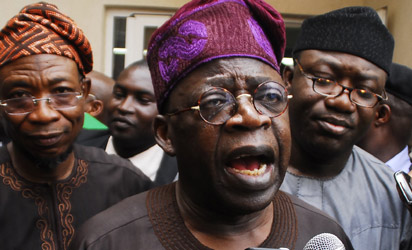 "To return to true federalism, we need a major restructuring of our current architecture of governance. We need six federating units instead of our present 36 states which only sustains an over dominant centre but also compels the country to spend less than 74 percent of its revenue on the cost of administration' he said.
He stressed that, "if the existing 36states must be retained, they could be made developmental zones with minimal administrative structures within the respective six federating units. I do not believe that we can successfully tackle the serious challenges currently facing our country on the basis of our existing constitution and architecture of governance''.
For this to be possible,  Anyoku suggested fundamental changes in the 1999 constitution. He said, "without far-reaching changes to the 1999 constitution and present governance structure, our quest for peace, stability and development will remain elusive. And to effect such changes, we need a national consensus which can only come from a dialogue among representatives mandated for that purpose by the citizens of this country.
"I must hasten to say that my support is for a national conference without the epitaph sovereign. This is because we already have in place an elected structure of governance that includes the presidency in which the citizens have for sometime vested the sovereignty that truly belongs to them".
"In other to give it legitimacy and better chance of enduring, the outcome of the national conference must be submitted to a referendum of the population of the country and to those who feel that a national conference at this time would lead to the break-up of the country. I would say that the benefits accruing to the country and all its citizens from its size and strategic location are sufficiently weighty and obvious to outweigh any temptation to dismember the country"
First republic four regions
Going down memory lane, Anyoku  observed that, "there was no doubt that Nigeria was making more progress in national development in the early years of its independence when it practised a true federalism of four regions with more extensive powers devolved from the centre to the regions, those were the days of the significant export of groundnuts, hides and skins and the tin ore from the North, Cocoa from the west, rubber from the mid-west.
There were also the days of such achievements of free universal primary education and introduction of television in Chief Awolowo's western region'.
Anyaoku however stated, 'We need to convene a national conference of appropriately chose representatives of the six geopolitical zones to dialogue on how to face these serious challenges. I believe that if we are to recapture the zeal with the then regional premiers and their electorates, we should aim at getting national conference."
Also revisiting the national question, an elder statesman Alhaji Maitama Sule, regretted that he does not know what is wrong with Nigeria.
He however, hailed Tinubu's leadership qualities, just as he urged others to emulate him. Sule  said Nigerians should strive to raise leaders and not looters.
Other highlights of the programme were the launch of a book, entitled: "Asiwaju Leadership in troubled times", edited by seasoned journalists; Tunji Bello, Sam Omatseye and Segun Ayobolu; cutting of the anniversary cake by the celebrant, and introduction of the 'Tinubu Institute of Policy and Governance' to the public.
The book was reviewed by a frontline journalist, Kunle Ajibade. Another accomplished journalist, Dele Alake, former Information and Strategy Commissioner, gave the toast to the celebrant.
Speakers at the colloquium, which was chaired by 79 year old Chief Anyaoku, were former members of Tinubu Executive Council; Lagos State Governor Babatunde Fashola (SAN), his Osun State counterpart, Chief Aregbesola, former Attorney-General and Commissioner for Justice Prof. Yemi Osinbajo and his colleagues Dr. Leke Pitan (Health and later, Education), Yemi Cardoso (Economic Planning), and Wale Edun (Finance).
Roll call
Dignitaries present  were former Chief Justice of Nigeria Mohammed Uwais, former governors Lucky Igbinedion (Edo), Diepreye Alamieseigha (Bayelsa), Ibrahim Shekarau (Kano), Aremo Segun Osoba (Ogun), Chief Bisi Akande (Osun), Abubakar Audu (Kogi), Governors Ibikunle Amosun (Ogun), Aregbesola (Osun), Fashola (Lagos), Aliyu Babangida (Niger), Kayode Fayemi (Ekiti), Dr Doyin Abiola, former Punch chairman Chief Ajibola Ogunsola and the Alaafin of Oyo, Oba Lamidi Adeyemi.
Also at the event were House of Representatives Speaker Aminu Tambuwal, Prince Bola Ajibola, Alhaji Abubakar Ahmadu, Senators Ganiyu Solomon, Gbenga Ashafa, Segun Obadara, Sani Abu, Femi Lanlehin, Ajayi Boroffice, Abba Buka Ibrahim and AyoAdesegun.
Others were former presidential candidate of the ACN Nuhu Ribadu, Abike Dabiri-Erewa, Alhaji Yakubu Balogun, Justice Christopher Segun (rtd) Alhaji Lateef Jakande, Chief Molade Okoya-Thomas, Alhaji Tajudeen Olusi, Ayo Opadokun and rights activist-lawyer Femi Falana.
The dignitaries also included Osun State Deputy Governor Grace Laoye-Tomori, Alhaji Yusuf Ali, Mrs. Oprah Benson, Mr. Opeyemi Bamidele, Mr. Moruf. Akinderu-Fatai, Apena Kaoli Olusanya, Pa Adebayo Faleti, Senator Babafemi Ojudu, Chief Fred Agbeyegbe,  Mrs. Abba Folawiyo, Erelu Bisi Fayemi, Dr. Adebayo Adewusi,  Mr. Ayo Adewale, Mrs. Jumoke Okoya-Thomas, Prof. Siyan Oyeweso, Ambassador Segun Olusola, Mr. Ayilara, Mr. Demola Seriki, Alhaji Mutiu Are, Chief Funso Ologunde.
Others are Prof. Ropo Sekoni, Afeez Ipesa-Balogun, Mr.Awodeyi Akinsehinwa-Apata,  Iyiola Oladokun, Sir. Pius Akinyelure, Mr. Gboyega Oyetola, Prof. Wale Omole, Prof. Adebayo Williams, Dr. Jayeola Ajatta, Mr. Kayode Opeifa, Ademola Sodiq, Pa Abiodun Sunmola, Olorunfunmi Basorun, Rotimi Obadofin, Bunmi Omoseyindemi, Louis Odion, Shettima Yerima, Chris Ekwilo, Femi Gbajabiamila and Babatunde Adewale Jimoh.