Major-General Tajudeen Olanrewaju, former Minister of Communications and member of defunct Provisional Ruling Council (PRC), is a chieftain of the People's Democratic Party (PDP).  At his Lagos home on Tuesday, the former General Officer Commanding (GOC), Three Division of the Nigerian Army, told Saturday Vanguard that consensus in party politics as done by the PDP at the last weekend national convention was the best alternative to crisis resolution at elections.  Excerpts:
PDP, last Saturday, completed the process for electing its officers at  various levels with the national convention in Abuja.  What is your assessment of it?
My comment is not now.  But I can tell you for now that the party looks as if it is going to be greater and more successful going by the new set of leaders elected at the various state congresses including Lagos where the new chairman, Navy Capt. Tunji Shelle (rtd) has just emerged and the national convention where Alhaji Bamanga Tukur and the former Governor of Lagos and Osun states, Col. Olagunsoye Oyinlola had respectively emerged national chairman and national secretary.
I must also commend the emergence of Engr. Segun Oni, the immediate past governor of Ekiti State as national vice chairman, southwest of the party.  I must congratulate and commend the party's delegates for their ability to detect their capability to move the party forward and then elect them as leaders.  I am seizing this opportunity to call on them to forge unity among the various groups in the party so that we can make headway more easily in 2015.
How do you see Engr. Segun Oni's ability to perform when it comes face-to-face with the PDP's many challenges in the Southwest?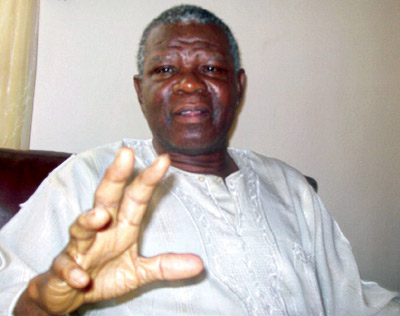 As a former governor, he has the strength and we just need a positive change from him knowing fully well that the party in  the Southwest lived from five to zero and he should reverse it.  He has a big task in his hand.  He should try to reverse it and bring PDP into reckoning again.
My hope, with the combination of Oyinlola and Oni, is that we can get back our confidence by 2015 and more or less, I think the most important thing is to get the confidence back.  Also they must plan not to fail.
In a swift reaction to the consensus arrangement that brought up the chairmanship of Bamanga Tukur and virtually the national secretary, Col. Oyinlola, the ACN Publicity Secretary, Alhaji Lai Mohammed, said the whole process  lacked internal democracy.  What is your take on that?
For now, we know him to be the Gobell of the ACN.  He is doing what he's paid to do and that doesn't mean that he's saying the fact.  He is like the Gobell; you know the propagandist, he's paid to do his job.  But it's good for Nigerians to read between the lines.
Can a kettle call a pot black?  He is like the German propagandist, who served Hitler till the end of his life and so what do you expect? I mean he will never say that ACN is doing anything wrong but you cannot fool Nigerians because they understand precisely what the party stands for.  Lai Mohammed is my friend (laughs) but you know Gobell used to turn facts upside down.  So, as a result, criticizing the PDP is a job he's paid to do.  But Nigerians cannot be fooled.
That is what I can say concerning Lai Mohammed.  He happens to be a brother and a friend, but these are the facts.  I give him kudos for playing his roles as a propagandist but unfortunately he's turning facts upside down and Nigerians cannot be fooled.  You know, that is the point.
But Chief Obasanjo was said to have imposed his own people who emerged at the convention particularly in the southwest congress and that President Jonathan couldn't check that.  Don't you think that could have informed the ACN's spokesman's criticism?
Well, is it possible for one man, among so many people, among so many leaders of the party, to choose for the people?  I think that is very much impossible.  Even if he was doing that, then it meant that majority of the party members agreed with him!  If the majority did not agree with whatever he wanted, I don't think he would have had his way.  That is the better way to say it.
I am asking this question because people said the PDP consensus didn't necessarily express the will of the party members.  What is consensus in your own understanding?
From my understanding of the ANC of South Africa and what they call the Congress Party of India that have been in existence for over a hundred years, they have been led by people of substance where issues are discussed among the leaders, we believed that the best way to move the party forward was to reach a consensus to sort of calm the strained nerves.
When you look at the options of consensus or voting, whatever may be the case, you are looking at those two options, you have to look for one that is more appealing to the Nigerian people and members of the party.  And that is why consensus is always preferred to the issue of voting in this kind of situation.  When you are talking of voting, you know that people are saying "money is politics and politics is money" but then in the area of consensus, it is more or less a common agreement by people of like minds, which eliminates the use of money in reaching agreement or consensus.
When you look at the nature of voting in this country, you will see that money plays its own part, which I think is not good enough.  Just look at the other party where decisions are made either by a leader which cannot be opposed.  If for instance you look at a party like ACN, many Nigerians believe that it is money that is at work in the choice of candidates.  It may not necessarily be the choice of the people or the party members.
Therefore, consensus is the most viable and reasonable alternative to chaos and therefore the issue of consensus has been accepted as a very reasonable way of conflict resolution, particularly when it comes to issue of choices.  It has helped the PDP in the past, it is helping it today and it is going to help it in the future.  That has always been the issue even in the older democracies.
Let's take the party system in Britain for example: the Conservative as well as the Labour Party.  Even in the Labour Party they have too many candidates there and usually when they have their party congresses or conferences, sometimes you find consensus as one of the instruments of choice.  Same goes with Conservative.  Do you understand?  Consensus has always been a very useful tool for choosing candidates in a party system.
To those who say consensus is a bad way of choosing leaders, I want to say, in my view, that consensus means that many people would have submitted themselves to common sense, common choice, common destiny and therefore consensus becomes a very reasonable alternative, like I said earlier on, to voting in a kind of environment we find ourselves today.
It is to really manage crisis and try to find solution to crisis.  It has worked now, it worked in the past and it is more than likely that it's going to work in the future.  That is my view.  You need to convince a lot of people before you can come to consensus point and that kind of conviction is the large instrument that can bring about consensus in situation of this nature.
If you impose, there will be chaos, there will be misunderstanding.  But if you are a consensus candidate, you must have been able to convince a large number of people to accept you as a consensus candidate.  Even when there is an opposition, once consensus has been reached, you find that the opposition is in the minority.  Go and check.  And if you look at the day the elections were held; people were opposed to consensus and elections were held.  It means that those who insisted on election caused elections to hold and they lost because they were in the minority.  That is a very good example of what I have just told you.
It has always been like that.  I have studied the party system of most countries of this world and the consensus has always been scientific approach in resolving conflicts in the order of which people are talking about.
What happened in ACN was imposition and that was why the many intra-party oppositions and wrangling came up.  But in PDP, tell me, since the last convention, have you heard of any public roar against the emergence of this new set of leaders in the party?  No? Okay, that shows the general acceptance of it all.
Those people that called themselves progressives in the Alliance for Democracy (AD) era, they wanted to pick a presidential candidate between Falae and Ige and they wanted a consensus arrangement but because Ige was insisting on voting, they went into voting and he lost while Falae won.  Those who preferred Falae won because the majority had reached a consensus over him.
That was the rumour we heard (laughs).  And it is correct because 90 percent of consensus candidate will always win.
That was how Falae became presidential candidate of AD at that time.  When, in ACN, Asiwaju Bola Tinubu put his consensus candidate there as governor and those aggrieved candidates went out to other parties to contest against the consensus candidate at the election, the Tinubu consensus candidate won and those that refused to accept the arrangement lost (laughs).